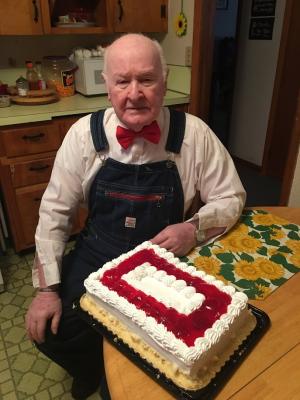 Sharon Kenneth "Bub" Vance, 92, died Friday evening, August 2, 2019, at his home in Jonesborough, Tenn., surrounded by members of his loving family following a seven-month battle with cancer.
Born March 11, 1927 in Crossnore, NC, "Bub" was one of three albino children born to Jeter H. Vance and his wife, Blanche Snodgrass Vance, who together owned and operated a popular store and café during the Great Depression. Jeter Vance was one of the first mayors of Crossnore.
Bub grew up in the family business and became a great cook, himself, eventually preparing large meals for local construction crews who were in the area building roads. Even in his advanced age, Bub loved being in the kitchen, especially where he enjoyed baking and canning garden goods.
Along with the rare genetic condition of albinism came serious visual impairment, but that did little to inhibit his skills as an auto mechanic, for which he was well known. He operated a garage at his home in Crossnore for many years, ran a service station, and worked for various automobile dealerships through the years. He had a real love for cars and trucks, and throughout his life, literally owned hundreds of vehicles.
He loved country music and was an accomplished dancer and, along with his wife, Rita, spent Saturday nights doing the two-step at a favorite night spot near their home, right up until his diagnosis in January. He also loved to square dance, and in his early years, enjoyed roller-skating. He and Rita loved taking day trips out into the countryside and enjoyed stopping at yard sales along the way. He also loved to read and work puzzles and could solve the complicated Sudoku puzzles quicker than most.
Bub attended Crossnore High School, served as a member of the Crossnore Volunteer Fire Department for over 30 years, and was a longtime member of Crossnore First Baptist Church; after moving to Jonesborough in the late 80s, he attended Pleasant Valley Church of the Brethren.
Bub was the last of his generation, having outlived dozens of cousins and other relatives in the Aldridge, Vance and Snodgrass family line. Until recently, he shared the designation of longest-living relatives with cousins Bob Aldridge and Tudor Vance.
Bub was preceded in death by his parents, and two sisters, Mary Lou Pritchard and Juanita Jean O'Connor. The deaths of his wife, Mary Agnes Bare Vance, to whom he was married for 30 years, and the deaths of his three sons, Jerry, Mike and Sharon Eugene "Buddy" Vance, left painful voids in his life.
He later remarried and is survived by his wife of 28 years, Rita Archer Vance of the home, who lovingly and patiently cared for him In his last days and brought much joy to his life, his son, Bruce Vance of Piney Flats, Tenn., and his daughter, Patty Vance Knowles of Elk Park, NC. His stepchildren, Lee, David and Cissy Archer of Jonesborough also survive, as well as several grandchildren, including Justin Knowles, and step grandchildren, Aiden and Belle Young, Kaylee and Brayden Archer. He is also survived by several nieces including Gail Polson, Sherrie Norris and Sandra Galloway, and one nephew, Joe Pritchard, all of North Carolina, a second cousin, Rosalee Odoms and husband Paul, of Johnson City, and several close friends, including Tommy Carpenter, Bill and Edna Vance and Ruth Hahn Herbert from North Carolina, and a special sister-in-law, Loretta Bare Freeman and her husband, Eugene, of Martinsville, Va. He will also be missed by Rita's family in Jonesborough, including Zula Carroll and Lee Slagle, special friends Jim and Carolyn Rogers, Shelby Summie, Kathy Saylor, Lois and Randy Peterson, Valerie and Darrell Phillips, and his pastor, Don Hilton.
The Vance family would like to thank Avalon Hospice for the loving care they administered in the final days of his life.
A memorial service for Sharon Kenneth "Bub" Vance will be held at 4 p.m. on Sunday, August 11, at the Vance home at 172 Bob Crookshanks Rd. in Jonesborough. A headstone bearing his name in the Johnson Cemetery near Crossnore will serve as a reminder of a life well lived for many years to come.
In lieu of flowers, memorials may be made to The Vance family and sent to Rita Vance at 172 Bob Crookshanks Rd. Jonesborough, Tenn. 37659. Dillow-Taylor Funeral Home in Jonesborough, Tenn. Is serving the Vance family.