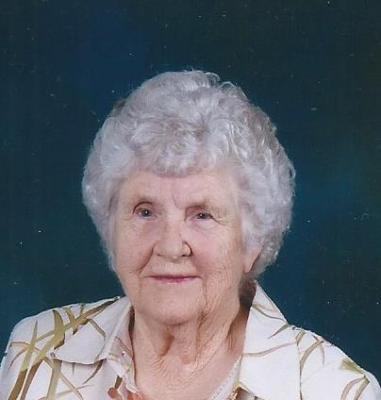 Mrs. Esther Shanks, age 89, Jonesborough, passed away Tuesday, July 30, 2019 at Four Oaks Healthcare Center.
Mrs. Shanks was born in Washington County and the daughter of the late Fred Burnie & Ola Pearl White Southerland. She was also preceded in death by her husband, Luther Shanks.
She was a member of Bowmantown Baptist Church.
Mrs. Shanks loved to garden, cook and do crafts.
Survivors include a son and daughter-in-law Larry & Linda Shanks; daughter and son-in-law, Jill & David Jones; grandchildren, Tonya Flores and husband Jason, Lisa Wilcox, April Wilder and husband Matt, Andrew Jones and wife Johnna, great-grandchildren, Tyler Wilcox, Sadie Wilcox, Marisa Flores, Jack Flores and Damien Wilder; brother, Fred Southerland; sisters-in-law, Eva Southerland and Nola Broyles; and several nephews and nieces.
The family would like to extend a very special thank you to caregiver at home, Sandy Rogers, Governor's Bend Assist Living and Four Oaks Healthcare Center for their wonderful care.
Funeral services will be conducted 8:00 pm Saturday, August 3, 2019 at Dillow-Taylor Funeral Home with Pastor Josh Grizzle officiating. The family will receiver friends from 6:00-8:00 Saturday prior to the service.
Interment services will be conducted 2:00 pm Sunday, August 4, 2019 at Fairview Cemetery.
Pallbearers will be Larry Shanks, David Jones, Andrew Jones, Tyler Wilcox, Matt Wilder, Mike Southerland and Tony Southerland. Honorary pallbearers will be Damien Wilder, Sadie Wilcox, Jack Flores and Marisa Flores.
08/05/2019
Deborah Jordan
Tonya I was so saddened when I saw your message about your grandmother. I will hold your family close to my heart with prayers for peace and comfort. While at this time I realize very few words help, but you have so many beautiful memories to cherish forever.
08/02/2019
Jackie Walker OConnor
I am so very sorry to hear of Esther's death. She was my best friend throughout high school. May God be with you.
Jill, so sorry for your loss. I really liked your mom. Prayers for you and your family.
07/31/2019
Patrice Sexton
I am so sorry for your loss. Kristin enjoyed reading her mail to her, cleaning for her, spending time with her and helping with her as much as she could. Mom(Ruth)and Kristin enjoyed sharing desserts with her, sharing dinner with her and sharing conversations with her. When Dad, Mom and Kristin moved here in 2004, there was an immediate friendship formed. I met Ms. Esther shortly after and found her to be such a sweet person. She will be very missed by many, but espescially by Kristin. Kristin loved her dearly. Many thoughts and prayers! Patrice
Jill and Lisa, I'm so sorry about your loss!! Keeping you both in my prayers. Love, Susan
07/31/2019
Louis and Danette Miller
We are so sorry for your loss. Esther was such a sweet and caring lady. She was part of our family and a loyal, loving friend to Dean and Dawson for many years. Now she is rejoicing in heaven, united once again with her husband and best friends!