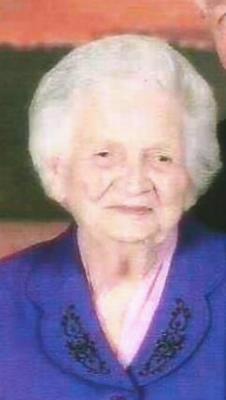 Mrs. Elva Isabelle "Hez" Hunt, age 95, Johnson City, passed away Monday, July 29, 2019 at Hillview Healthcare Center.
Mrs. Hunt was born in Johnson City and the daughter of the late Noah Jenkins Sr. and Nora Nichols Jenkins. She was also preceded in death by her husband, Argil G. Hunt, son, Argil A. Hunt, daughter, Sharon Hunt Buchanan Edwards, two brothers, Eugene Jenkins and Noah Jenkins Jr., three sisters, Ann Glover, Louise Austin and Bessie Brummitt.
She attended Knob Creek Church of the Brethren.
Mrs. Hunt worked at Johnson City Hosiery Mill and Glory Rayon. She was a lifetime member of Asbury School PTA.
Survivors include three sons, Gary Hunt (Janice), Johnson City, David Hunt (Sherry), Elizabethton and Randy Hunt (Christine), Johnson City; twelve grandchildren, Ronda Ball, Jennifer Meade, Angie Hunt, Jason Hunt, Ryan Buchanan, Brandi Forbes, Whitney Forbes, Jessica Hunt, Katherine Hunt, Joshua Hunt, Allie Hunt and Aireanna Roark; eight great-grandchildren, Brendan Meade, Arwen Meade, Julie Hunt, Jordan Hunt, Kirstin Ball, Kadence Ball, Levinia Hunt and Logan Deakins; two sisters, Christine Riddle, Johnson City and Pauline Gallamore (Bill), Paris, TN; and many nephews and nieces.
Funeral services will be conducted 7:00 pm Friday, August 2, 2019 at Dillow-Taylor Funeral Home with Rev. Dexter Brummitt and Rev. Danny Osborne officiating. The family will receive friends from 5:00-7:00 pm Friday prior to service.
Interment services will be conducted 11:00 am Saturday, August 3, 2019 at Roselawn Memorial Gardens.
Pallbearers will be family & friends.
Memorial donations may be made to Alzheimer's Northeast Tennessee Chapter 207 N. Boones St. Suite 1500 Johnson City, TN 37604, American Heart Association 3101 Browns Mill Rd. Suite 6-321 Johnson City, TN 37604 or Knob Creek Church of the Brethren 2591 Knob Creek Rd. Johnson City, TN 37604.
I so enjoyed knowing this sweet woman. I believe she is with Argil and can see all her loved ones who were waiting for Miss Hez. God be with her family.
When I first started going to Knob Creek Church, Argil and Mrs. Hunt were there nearly every Sunday. He always held her hand, leading her to their pew on the left. Although she could not see us well, she was friendly and sweet to everyone. Her decline was sad to see, but now she is seeing with new eyes those things the Lord has prepared for her. Condolences to all the family.
07/31/2019
Jeanette Royston Knight
So sorry for this loss. I've known the Hunts all my life and loved them.
07/31/2019
Tracie Samples Williford
So sorry for your loss. Argil and Hez were my extended family. I loved them so much. My childhood is full of memories of being at their house. My thoughts and prayers are with the family.
07/30/2019
Debbie McKeehan
This saddens me beyond measure. Hez was the truest and most honest person I have ever known. She taught me many things years ago - things that I still carry with me today. Though sorry she is gone, we can be comforted knowing she has a knew body now, and she is with family that has gone on before her. I am sure they were waiting at the gate to greet her! My deepest condolences to the family - may you find comfort in knowing she is free of all the pains she endured for years.
07/30/2019
Carol Williams
sadness for the family, but rejoicing for Hez as she is reunited with the love of her life, Argyle...many hours spent with her and Argyle...a blessing to know her and be able to spend time with her and Argyle. prayers for the family.
Though i have not seen aunt hez in a while; my memories of her and the family are pleasant. Too often we lose our way and touch with family in the process of living life. Death is not an ending. We should rejoice that we had time with her on this earth. There is no pain to endure; or troubles or toils for her to worry about. May she be embraced in the loving heart of christ and may family find solace in the friends, family, and memories of her.
07/30/2019
Jarvis and Doris Barnett
Aunt Hez was a great Lady and will be missed . Will be praying comfort for the Family as only God can give. Love and Prayers Jarvis and Doris