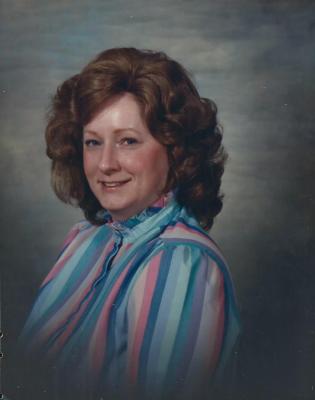 Mrs. Marie F. McLaughlin, age 66, Jonesborough, passed away Saturday, July 20, 2019 at James H. Quillen VA Medical Center.
Mrs. McLaughlin was born in Morgantown, WV and the daughter of the late Theodore H. & Carolyn Snyder Fowkes. She was also preceded in death by a cousin, Jane Herman.
She was a member of Fountain of Life Bible Church.
Mrs. McLaughlin was a US Air Force Veteran, serving as a Medic. She was currently a senior at ETSU due to graduate in December. She worked for Buckle as a Seamstress.
Survivors include her husband, S.W. McLaughlin, Jonesborough; two daughters, Jennifer Stuart (Kelsey), Jonesborough and Mary McLaughlin Street, Chuckey; sister, Ann Brown (Terry), Duluth, GA; grandchildren, Caleb Street, Abbi Stuart, Kyle Stuart, Jessie Stuart and Garrett Stuart; nephews, Andrew Brown, Auckland, New Zealand and Daniel Brown (Dana), Atlanta, GA; and a cousin, Sue Langseth (Chris), Kansas.
The family would like to extend a special thank you to the nursing staff at the James H. Quillen VA Medical Center for their wonderful care.
Memorial services will be conducted 7:00 pm Wednesday, July 24, 2019 at Dillow-Taylor Funeral Home with Dr. Matt Young officiating. The family will receive friends from 5:00-7:00 pm Wednesday prior to the service.
Inurnment services will be conducted at a later date.
07/25/2019
Randy and Debbie Rogers
So sorry for your loss,Marie was a beautiful and inspiring lady .Didn't have the prevalage of knowing her very long but at the same time felt like I had known her forever.You all are in our thoughts and prayers.Remember how blessed you were to have her in good times and bad.
07/24/2019
Penny Whitehead
So very sorry. Prayers for the whole family!
07/24/2019
Sue & Chris Langseth
We are so very sorry to hear of Marie's passing. We are so glad we were able to visit Marie and Mac recently. We had a wonderful time and enjoyed their great hospitality. She was a strong, beautiful lady. May you find comfort in the memories of her. God bless you - Love, Sue & Chris
07/24/2019
Carmen & Jim Randolph
Sonny, Please accept our condolences for you & family!! We will keep you all in our thoughts & prayers! May God give you & family comfort & strength during this sad & difficult time. Always, Carmen & Jim Randolph
07/21/2019
Becky and Johnny Slagle
We are heartbroken for your family. Marie was a beautiful Lady. We will never forget our beautiful wedding cakes or the fact that she was very sick the day of our wedding but made them and helped serve at our wedding. We'll never forget her smiling face and her laughter. Dear Mac, Jennifer, Mary and family, we pray for God to give you His peace and comfort. Muclove.
07/21/2019
Mary Ann Reiley
I am sorry for your loss. God Bless You all.