05-24-2019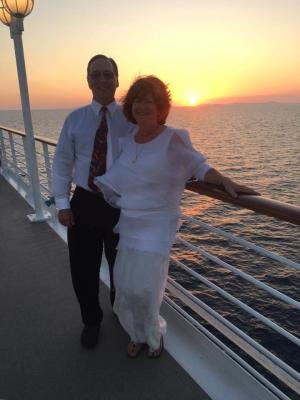 SERVICE SCHEDULE

Terry C. Borel MD, passed away May 24th, 2019 at his home in Johnson City, TN.
Terry was born in Kansas City, KS to Pierre and Joyce Clevinger Borel. He earned his Bachelor's Degrees and Medical Degree from Kansas University. Upon completing his Psychiatric Residency in 1982, he went on to serve in the US Air Force from 1982-1985.
Dr. Borel moved to Johnson City, TN in 1986 to practice at Woodridge Psychiatric Hospital. During this time, he met April Kincheloe and they were married on April 1st, 1989. They became parents to their one and only son, Pierre E. Borel in 1994.
Dr. Borel worked at Woodridge Hospital for 33 years and served as medical Director for several years.
His hobbies included Tennis, Gardening and traveling extensively with his family.
Dr. Borel was preceded in death by his parents Pierre and Joyce Borel, brother Paul Borel and brother-in-law, Stuart Thomas.
He is survived by his wife April and son Pierre. Brothers and sister, Roger (Marilyn) Borel, Timothy (Penny) Borel and Becky Thomas; father & mother-in-law, Carl and Nancy Kincheloe; brothers and sisters-in-law, Victoria and Carl Zimmerman, Karyl and Jack Maddox, Julia and Murphey Johnson, John and Cynthia Kincheloe; and several nieces and nephews.
In lieu of flowers the family requests donations be made to Salvation Army, 204 W. Walnut Street, Johnson City, TN 37604 or Haven of Mercy Miniseries, 218 Broadway Street, Johnson City, TN 37601.
The family will receive friends to celebrate the life of Dr. Borel Saturday, June 15, 2109 from 2:00-5:00 pm at the McKinney Center, 103 Franklin Ave., Jonesborough, TN 37659.
Dr. Terry C. Borel spent his life helping others and he will be forever missed by all!



Would you like to leave an eulogy or condolence for Terry C. Borel? If so, simply click HERE
EULOGIES & CONDOLENCES
06-15-2019
Douglas Borel
Most of my recollections of my cousin are from childhood and adolescence, during week-long stays with my Uncle Pete and Aunt Joyce in Kansas City. What a special time it would be for me and my brother to join forces with Roger, Paul and Terry, and eventually Becky Sue and Timothy! Bold and adventurous describes this group, and Terry was no exception. I will miss his bright smile and his eagerness to join in on the fun. Years later that enthusiasm (and streak of mischief) was still evident as he shot baskets against the clock at the Sprint Center and racked up a humanly-impossible record. Let's all remember the good about good- old Terry!
06-13-2019
Anthony Jones
April, I send this as a message of love and comforting to you and your family during your loss of not just your husband, but an AWESOME man, which showed in his care of those he served and worked with at Woodridge, of which 1 was me. I pray God's strength, and blessings and pray you trust him love and comfort now and going forward. Love, Anthony Jones
06-12-2019
James A. Nidiffer
As an attorney in Johnson City, I was appointed to judicial commitment hearings by the court, and Dr. Borel was always willing to discuss my clients situations in order for me to be better prepared for the hearings. Based upon our mutual obligations for the commitment hearings, I became to know Dr. Borel quite well, as a kind understanding physician. And, Dr. Borel was always professional when he testified in court on the cases in which he was involved. I am sure his passing will be filed with sorrow by many in the community. My condolences to his famuiy.
06-12-2019
Tim and Penny Borel
April and Pete, Our hearts hurt for your loss and know that we loved Terry beyond words. We are there for the two of you always.
06-12-2019
Trish Garst
So sorry for your loss. He was such a sweet and kind man. He will truly be missed. Prayers for your family. ❤❤❤
06-12-2019
Veronica Gonzales
My deepest and sincere condolences to the Borel family. Dr. Borel was my Psychiatry preceptor. He was kind, patient, and compassionate to his patients. I am grateful for the opportunity to have met and learned from him. I will always remember the empathy you had for your patients and your love for Reeses peanut butter cups. Thank you Dr. Borel. May you now be at peace.
06-11-2019
Rhonda Sheffield
April, so sorry for your loss. I will never forget you.
Dillow-Taylor is a third generation family-owned business...established in 1929
---
Dillow-Taylor Funeral Home and Cremation Services
P.O. Box 98, Highway 11-E, Jonesborough, Tennessee 37659
Office: 423.753.3821 Fax: 423.753.7409

Hours of Operation:
Monday - Saturday: 8am - 5pm
Sunday: 12pm - 4pm
---