06-04-2019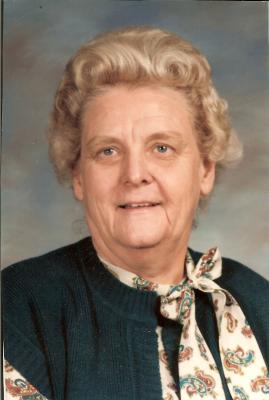 SERVICE SCHEDULE

Louise Welch
(June 22, 1925 - June 04, 2019)
Mrs. Mary Louise (Freeman) Welch, 93, a resident of Johnson City, and formerly of Union City, died June 4, 2019, at the Johnson City Medical Center.
Funeral services will be held at 3:00 pm Saturday at Bishop Street Church of Christ with Wesley Jackson and William Denman officiating. Burial will follow in Fremont Cemetery.
Pallbearers will be August Welch, Josh Welch, Tyler Welch, Travis Welch, Bryan Shannon, Gerald Cox, Jeff Harris and Matt Campbell. Honorary pallbearers will be Johnny Freeman, Larry Thompson, Baxter Wheatley, Terry Stone and Bart White.
The family will receive friends from 5:00 pm until 8:00 pm Friday at White-Ranson Funeral Home, and from 1:00 pm until the hour of service Saturday at Bishop Street Church of Christ.
Mrs. Welch was born on June 22, 1925, in the Fremont community, daughter of the late Oscar and Edna (Caldwell) Freeman. She married Edward L. Welch April 5, 1945. He died January 2, 1977.
Mrs. Welch was a teacher from 1960 to 1969 at the former Central Elementary School and then became Principal of Central Elementary School, retiring in 1989, after thirty years in the Union City School System. She was a member of Tennessee Education Association and the Union City Retired Teacher's Association. She was also a member of Bishop Street Church of Christ, Union City.
The family requests memorials be sent to: Bishop Street Church of Christ 908 Bishop Street Union City, or the Obion County Library.
Mrs. Welch is survived by a daughter and her spouse, Cora (Robert) Shannon of Alamo; two sons and their spouses, Don (Susan) Welch of Oak Ridge, Tn. and Brent (Catherine) Welch of Johnson City; a daughter-in-law, Charlotte Welch of Seattle, Wa; six grandchildren and their spouses, August Welch and Erin Welch of Seattle, Wa, Josh Welch of Kissimmee, Fl, Tyler (Emily) Welch of Rancho Cucamongo, Ca, Travis Welch of Brooklyn, NY, Bryan (Elizabeth) Shannon of Memphis, and Marybeth Shannon of Alamo; and five great-grandchildren, Archer Welch, Indalo Welch, Aqel Welch, Makarius Welch and Marleigh Shannon.
She was also preceded in death by her son, Barry Welch, and her brother, Jack Freeman.



Would you like to leave an eulogy or condolence for Louise Welch? If so, simply click HERE
EULOGIES & CONDOLENCES
There are no comments at this time...
Dillow-Taylor is a third generation family-owned business...established in 1929
---
Dillow-Taylor Funeral Home and Cremation Services
P.O. Box 98, Highway 11-E, Jonesborough, Tennessee 37659
Office: 423.753.3821 Fax: 423.753.7409

Hours of Operation:
Monday - Saturday: 8am - 5pm
Sunday: 12pm - 4pm
---