06-01-2019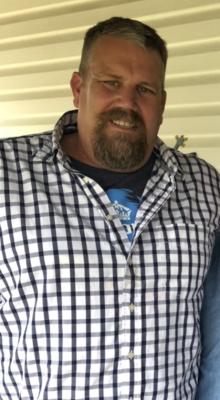 SERVICE SCHEDULE

Mr. Bryan Hensley, age 48, Limestone, passed away unexpectedly Saturday June 1, 2019 at the Johnson City Medical Center.
Mr. Hensley was a native of Rogersville, Tennessee and the son of Kathleen Gibson Hensley and the late Willie Hensley. He was also preceded in death by his brothers David and Calvin Hensley.
He was a hard worker and expected those working with him to work hard. He loved his family and enjoyed spending time with them.
Survivors in addition to his mother include his wife Susan Painter Hensley, son Joseph Lowery (Emily), god-son Jaden Rice; nieces and nephews Beth Conley (Will), Hollie Painter, Braxton Hutchens, Chandra Mallett, Cheyanne Mallett, Wesley Lyles, Mitchell Hensley, Jessie Hensley and Cody Hensley; sister Sue Lyles (Bill); brother Keith Hensley (Cindy); sister-in-law, Linda Hensley; brothers-in-law William Painter, Mark Painter (Tracy) several other nieces and nephews and a host of friends to many to mention.
The family will receive family and friends Thursday June 6, 2019 from 6:00 to 8:00 PM at Dillow-Taylor Funeral Home.



EULOGIES & CONDOLENCES
06-21-2019
Jerry Honeycutt and Callie
We are so sorry to have just heard about Bryan today. We would certainly have been there, Susan. Please let us know if there's anything we can do. Our thoughts and prayers are with you.
06-07-2019
Sandra, Billy & kids
Sue,We are so sorry about the passing of Bryan...you are in our thoughts n prayers
06-06-2019
Danny and Kim Dykes
We are saddened to hear about Brian. He was such a kind and caring person. He will be missed. Susan you are in our thoughts and prayers.
06-06-2019
Scott and Lanee Klepper
You all are in our thoughts and prayers.
06-06-2019
Donna Painter and Patty Painter
Dear Susan and family, We're so sorry to hear about Bryan's passing. We didn't get to meet him but, always knew he was a good family man. Thoughts and prayers are with you and your critters.
06-06-2019
Gregg and Marty Cloninger
We were so shocked and saddened by Bryan's passing. Bryan was a super builder and above all a very fine gentleman. God needed a special person in heaven to help this world and Bryan is certainly that man. Susan, you have our deepest sympathies and may God give you peace and strength to all of the family.
06-05-2019
Mike&Tammy Johnson
We were so shocked to hear of Brian s passing. Our deepest sympathy to each of you. We will keep you in our Thoughts and Prayers.
06-05-2019
Scott Crawford
Bryan was a good man , who will be greatly missed by everyone. I am very sad to have lost my childhood friend of 35 years.My condolences and prayers to all the family.
06-05-2019
Cody and Sandy
Susan Cody will always think of Bryan as a dad figure rather than an uncle..... He will be missed so much. Prayers for you and Jaden Sandy
06-04-2019
Dawn Hoskins
Brian was one of a kind. Can't imagine this happening and I'm so sorry. My family will be praying for yours. If one thing was ever true he loved his family.
06-04-2019
Dana Lilly
We are praying for peace and comfort for you Susan as well as Bryan's many friends and family. The love that he had for you was clear to me the moment I met him! You guys are so good to your family and friends! I know that he will continue to take care of you, even from Heaven. Our deepest sympathies, Dana, Dallas, Mae, and Caiden Lilly