05-19-2019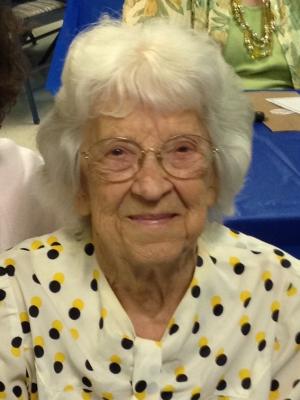 SERVICE SCHEDULE

Mrs. Phyllis Mae Ball Croyle, age 102, of the Conklin community, passed away Sunday, May 19, 2019 at Johnson City Medical Center following a brief illness.
Mrs. Croyle was born June 25, 1916 to the late John Byrd (J.B.) & Doak Ferguson Ball.
She was a graduate of Washington College Academy and East Tennessee State University. She worked as a beautician in Jonesborough, Johnson City, and Greeneville before becoming a teacher in the Washington County School System. She taught for 34 years at Embreeville, Conklin, South Central and Martha Washington schools. She spent the last 15 of those years at West View where she retired in 1982.
She was a member of Grace Independent Baptist Church.
In addition to her parents, she was preceded in death by her son, Marvin Lee Croyle, her husband, Marion Lee Croyle, one brother, Vestal Ball and a sister, Velma Harris.
Survivors include a granddaughter, Natalie Croyle Waddle and husband Toby; great-granddaughters, Anna and Emma Waddle; daughter-in-law, Jean Hylton Croyle Dunbar and husband Larry; sister-in-law, Irene Street.
The family would like to thank Pam Wilhoit, Dr. Dustin Clark of Black Bag Family Healthcare, the staff of JCMC 4200, and Ballad Health Hospice for their loving care of Phyllis.
The family will receive friends from 5:00-7:00 pm Monday, May 20, 2019 at Dillow-Taylor Funeral Home.
Private graveside services will be conducted at a later date.
Her granddaughters would be honored if any of her former students would share their memories of her in notes, cards or online.



Would you like to leave an eulogy or condolence for Phyllis Mae Ball Croyle? If so, simply click HERE
EULOGIES & CONDOLENCES
05-26-2019
Rebecca Harris
She was a sweet teacher. I had her at West View back in the 70's. So so sorry for your loss. Love and prayers!!
05-24-2019
Russell Treadway
Croyle family. you have our sincerest condolences on the passing of Mrs. Croyle. I have wonderful memories of being in her class. I vividly remember her drawing lines on the board to demonstrate how to properly construct sentences & correct punctuation. I also know she cared for & loved her students. She taught a whole slew of Treadway's including my mother. I also know she loved her Lord & she is home with him at rest. We will keep all of you in our thoughts & prayers.
05-23-2019
JR Street
Aunt Phyllis and uncle Marion, (Maron to us)would come over to our house almost every Sunday afternoon, and sit and talk what seemed like forever to a kid. Maron would chase us around with his stub of a thumb . He lost it in an accident working for the County. My most embarrassing moment in 3rd grade is when she intercepted a note from me proposing marriage to a little girl named Donna. Of course the whole family got a big laugh that next Sunday afternoon. We loved her dearly and wished we could be there to see her one last time. Johnny and Tina, Ponce DeLeon Fl
05-19-2019
Cherie Treadway Matthews
Mrs. Croyle was was one of my very favorite teachers! I remember her as kind, caring and fun! I believe my 3rd grade class was the first year West View was built in 1959-1960. I chuckle each time I think of a fun memory I have when we were learning "Descriptive Words." Mrs. Croyle described a " bright red juicy Apple." She asked Jon Jablonski to add descriptive words. He replied, I see a bright red juicy apple with a Big Fat Juicy Worm in it." 60 years later, I chuckle.
Dillow-Taylor is a third generation family-owned business...established in 1929
---
Dillow-Taylor Funeral Home and Cremation Services
P.O. Box 98, Highway 11-E, Jonesborough, Tennessee 37659
Office: 423.753.3821 Fax: 423.753.7409

Hours of Operation:
Monday - Saturday: 8am - 5pm
Sunday: 12pm - 4pm
---