04-11-2019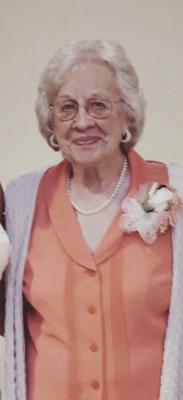 SERVICE SCHEDULE

Evelyn Kathleen Bair Tester, 90, Jonesborough, passed peacefully on to meet her Saviour, Jesus, in Heaven on April 11, 2019. Evelyn was a loving and devoted wife, mother, and grandmother that spent her life as a homemaker for her family. She enjoyed visits with her friends and family, bird watching while drinking her coffee, and watching and discussing her favorite soap opera. She loved cooking for her family and her many camping and beach trips with friends and children. She was a member of First Baptist Church of Jonesborough and a friend of Lenny Smith, pastor of McKinley Memorial Bible Church in Johnson City.

She was preceded in death by her loving husband of 56 years, George Lewis Tester, infant daughter, Karen Tester, parents, Bose and Ada Bair, sister, Vivian Littleton, and grandson, Jason Dale Lloyd.

She is survived by her two daughters: Kathy Lloyd (Lynn) of Jonesborough and Janice Jackson (Jimmy) of Johnson City, and three sons: Scott Tester (Kelly) of Sevierville, Randy Tester (Connie), and Kenny Tester of Jonesborough, a sister, Janette Groos of Jonesborough, and brother, Jack Bair (Pat) of Johnson City.

Mammaw Snookie, as she was lovingly called, cherished nine grandchildren: Jamey Jackson (Paula), Kelly Lloyd Casey (Rob), Brad Tester, Brian Tester (Emily), Reggie Jackson (Kendra), Beau Hicks (Jessica), Kimberly Tester Salter (Micheal), Brittany Tester Moore (Brian), Josh Tester (Maddisyn) plus her 20 great-grandchildren and one great-great grandson, and several nieces and nephews.

Receiving of friends will be Sunday, April 14, 2019 from 1-3:00 pm at Dillow-Taylor Funeral Home in Jonesborough. The memorial service will begin at 3:00 in the chapel with Pastor Lenny Smith officiating.

Graveside will be Monday at 1:00 pm at Maple Lawn Cemetery of Jonesborough. Pall bearers will be Evelyn's grandsons and great-grandsons: Jamey Jackson, Brad Tester, Brian Tester, Reggie Jackson, Josh Tester, Austin Casey, Aaron Clevenger, and Brian Moore.



Would you like to leave an eulogy or condolence for Evelyn Kathleen Bair Tester? If so, simply click HERE
EULOGIES & CONDOLENCES
04-13-2019
gary and sharon woods
Kathy, we are very sorry for your loss.
04-13-2019
gary and sharon woods
KATHY, WE ARE VERY SORRY FOR YOUR LOSS. MAY GOD BLESS AND KEEP YOU SAFE.
04-12-2019
Danny and Nancy Carver
Randy and Connie sorry for your loss Prayers for your family at this time.
04-12-2019
Susan Hatchett
Our sweet Aunt Evelyn, we will always love you. ❤️ Love, Susan and Lisa Hatchett, and Steve Littleton.
04-12-2019
Tracy Francis
To the Tester family, your mom was a wonderful person that was always sweet and kind to me and my family. My heartfelt sorrow goes out to the family. God bless
Dillow-Taylor is a third generation family-owned business...established in 1929
---
Dillow-Taylor Funeral Home and Cremation Services
P.O. Box 98, Highway 11-E, Jonesborough, Tennessee 37659
Office: 423.753.3821 Fax: 423.753.7409

Hours of Operation:
Monday - Saturday: 8am - 5pm
Sunday: 12pm - 4pm
---