04-02-2019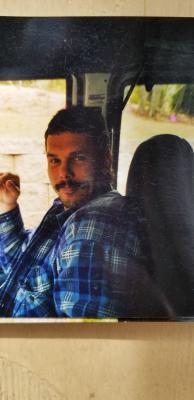 SERVICE SCHEDULE

Mr. Charles Scott Dugger, age 47, Johnson City, passed away on April 2, 2019.

He was born in Tampa, FL.

He loved music, drawing, and playing with his grandchildren he was also self-employed as a custom painter.

He is proceeded in death by his father Jimmy Dugger Sr and grandparents.

He is survived by his wife, Nicola Dugger, two daughters Casey Dugger and Brittni Collins(nick), and grandchildren Parkar and Tucker Collins Cheryl Proulx (mother) Jimmy Dugger Jr. (Brother), sisters Brittany Proulx and heather Mullins(randy) Alice Dugger (step-mom) and several special aunts, uncles and cousins. Two very special friends Ron Hicks and Randy Garrett (Melissa).

Services will be held at a later date.



Would you like to leave an eulogy or condolence for Charles Scott Dugger? If so, simply click HERE
EULOGIES & CONDOLENCES
06-11-2019
Nicola Dugger
I love & miss you sooo much my darling Scott! None of this seems real to me still! You are & were the true love of my life!It doesn't matter what(CERTAIN)other people thought of our life together,Every relationship has their own problems & issues at one time or another,we were not perfect,but being together for 27yrs especially when your still in your 40's,that speaks volumes about our love! ONLY YOU & I will ever know the truth of the strength & depth of our love! Please watch over our 2 daughters & our 2 grandsons.. They love you very much..Be one of all of their Guardian Angels as well as mine..I wish u didn't leave me..I will for always miss you & love you! Always Know that!..I love you yesterday, today and always forever!!!
04-05-2019
Nioka birchfield
I love you cousin you will be missed
Dillow-Taylor is a third generation family-owned business...established in 1929
---
Dillow-Taylor Funeral Home and Cremation Services
P.O. Box 98, Highway 11-E, Jonesborough, Tennessee 37659
Office: 423.753.3821 Fax: 423.753.7409

Hours of Operation:
Monday - Saturday: 8am - 5pm
Sunday: 12pm - 4pm
---

| | | | | |

Copyright ©2019 Dillow-Taylor Funeral Home and Cremation Services. All Rights Reserved.
Programming & Web Development by .