03-28-2019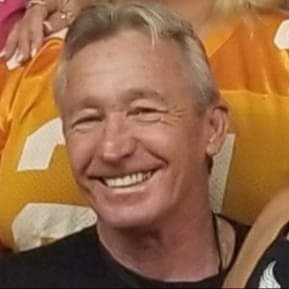 SERVICE SCHEDULE

Mr. Robert Tate "Bobby" Hodges, age 59, Gray, passed away early Thursday, March 28, 2019 at his residence.
Mr. Hodges was born in Banner Elk, NC to the late Haskell Tate Hodges & Mary Ruth Stout Hodges. He was also preceded in death by his grandparents, Willard & Texie Hodges and Wiley & Hazel Stout, and a great nephew, Tate Jeremiah Hodges.
Robert was a 1979 graduate of David Crockett High School and was an employee of Old Dominion Freight Lines for many years prior to his death.
Robert is survived by his wife, Sandi Montoya Hodges; step-daughters, Jenna Kellogg (of the home) and JoDee Montoya California); son, Marshall Hodges (California); sister-in-law, Roxanne Ridgway (Napa California); three grandchildren; brothers, Bennie Stout (Kathy), Telford, Boyd Hodges, Gray; sisters, Becky Hodges Krieger (Tom) and Beth Hodges, both of Jonesborough; nephews, Kevin Stout, Keith Stout (Janet), all of Telford, Joshua Hodges (Meredith), Knoxville, Jeremy Hodges (Katie), Seymour, Jason Hodges (Rebekah) Jonesborough; numerous loving cousins, nieces, nephews, great-nephews and special friends, Keith Howze and Phil Pipkin.
Funeral services will be conducted 7:00 pm Sunday, March 31, 2019 at Dillow-Taylor Funeral Home. The family will receive friends from 5:00-7:00 pm Sunday prior to the services and other times at the home in Gray or the Krieger home in Jonesborough.
Entombment services will be conducted 11:00 am Monday, April 1, 2019 at Washington County Memory Gardens.
Pallbearers will be Glenn Stout, Ronnie Stout, Michael Stout, Josh Hodges, Jeremy Hodges and Jason Hodges.
Memorial donations may be made to Coalition for Kids 2423 Susannah St. Johnson City, TN 37601.



Would you like to leave an eulogy or condolence for Robert Tate 'Bobby" Hodges? If so, simply click HERE
EULOGIES & CONDOLENCES
04-01-2019
Robert Johnson
Your struggles here are over, Rest In Peace.
04-01-2019
Jeffrey Johnson. ( two Js)
Gonna miss a good friend and mentor . Robert taught me several things in the trucking business. He will be missed.
03-31-2019
Donna(Munday) Doty & David Doty
Robert, you were one of my best (male) friends in high school. You were a GREAT FRIEND, even after school! You helped me out many times during our High School Years & even after we got out of school! I was so BLESSED to have you as my friend. I could have a problem & if I couldn't figure it out, I knew you could help me, as you did many times. David & I are going to miss you so much, I know you're at the feet of our SAVIOR. We love you & will miss you so very much. BUDDY(that's what I called you in School) ONE FINE DAY We'll see you in HEAVEN, FOREVER YOUR BUDDY(BUG) Donna & David Doty
03-31-2019
Rusty Mitchell
So sorry for your loss of a good guy that enjoyed simple things in life, He was a good friend and a man that I trusted in life. Thankful for how he touched my life
03-30-2019
William Pipkin
My sympathy to the family. Robert was a truly special person. His laughter and smile were contagious. I remember when I was a young guy, Robert was friends with my older brother. Phil's friends didn't always want the young kid hanging around with them and weren't always so nice to me, but Robert was the exception. He was always kind to me. He will be missed.
03-30-2019
Jimmy Wagner
My sincere condolences to Robert's family he was a longtime friend and one of the best men I have ever met. I will miss him dearly.
03-29-2019
Chuck Gilley
Rest in peace Robert. This world lost a good soul and you will be greatly missed by everyone who knew you.
Dillow-Taylor is a third generation family-owned business...established in 1929
---
Dillow-Taylor Funeral Home and Cremation Services
P.O. Box 98, Highway 11-E, Jonesborough, Tennessee 37659
Office: 423.753.3821 Fax: 423.753.7409

Hours of Operation:
Monday - Saturday: 8am - 5pm
Sunday: 12pm - 4pm
---