03-21-2019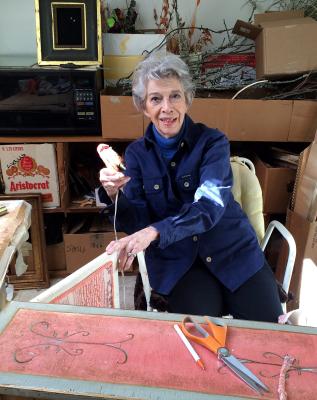 SERVICE SCHEDULE

Marion Myers Collins, formerly of Lexington, Ky. and Appalachia, Va., passed away January 26, in Knoxville. Artist, visionary, builder and adventurer, she transformed ordinary things and places into works of beauty and enchantment.
Born in Lexington, she became known as one of Kentucky's pre-eminent portrait artists. She later moved her home and studio to Virginia where she took up the cause of preserving and revitalizing the picturesque little town of Appalachia. To raise funds and awareness she organized and served formal multi-course dinners in the ballroom of the stately but abandoned Appalachia Hotel. She painted murals, oversaw landscape improvements and donated long-term architectural plans for reviving the town's quaint main street and attracting visitors. On moving to Knoxville to be near several of her children and adored grandchildren she discovered the little house that would become her most rewarding remodeling project. The grounds too had endless potential and neighbors helped celebrate every stage of progress. In later years, up until the week of her death, Marion returned to her drafting table where she created stacks of drawings of dreamy houses and idealized communities. These she left as gifts to everyone.
Marion traveled the world. Early solo adventures involved rough transatlantic crossings and long train rides to exotic places. On later road trips throughout Europe, companions knew her as a fearless driver given to off-road shortcuts, parking tickets and beautiful surprises. Italy was her first and favorite destination and the source of much artistic and culinary inspiration. She tracked down long-lost relatives near Lucca in the Renaissance north and gathered wild herbs for dinner while researching the evil eye in the rustic south, always making new friends along the way.
Old friends say they remember Marion best for decadent candlelit dinners in her mountain home, nestled in the fairy-tale forests of southwest Virginia; impromptu sunset soirees on the grass at the building site of her country house in Lexington, and intoxicating Derby and Halloween parties in her charming Knoxville home and torch-lit gardens. Some remember her as a glamorous gypsy fortune-teller on Midsummer Eve in Willie Broyles's Kentucky herb garden. There she dispensed powerful potions and advice to the lovelorn, by the flickering light of a bonfire.
Preceded in death by her parents, John Edward and Josephine Myers; brother, Dr. John E. Myers Jr., and husband, Howard Collins, she is survived by her children, Carolyn Yeager, Cynthia Yeager Wages (Bill) and Kimberly Mincey (Brian) of Knoxville; Bruce Yeager (Sandra) of Panama City Beach, Florida; Celeste Moneypenny (Steve) of Jacksonville, Florida; grandchildren, Drew Hutchison, Brandon Mincey and Kristine Thompson; great grandchildren, Lindsay and Chase Thompson, and several special nieces and nephews.
Family and friends will host a reception to celebrate Marion's very spirited life March 28, from 5 to 8 pm at 458 Circle Hill Dr. in Knoxville. In lieu of flowers, please consider a charitable gift.




Would you like to leave an eulogy or condolence for Marion Myers Collins? If so, simply click HERE
EULOGIES & CONDOLENCES
03-27-2019
Dorothy (Dedee) Leet Boone
I remember Marion well as a teenager . My Parents, Dr Halbert and Dottie Leet commissioned her to do an Oil Painting of me! I was told that she was my cousin and thought she was so interesting and unusual . I recall the Little House she lived in was very quaint and I believe was on either on North Limestone or Broadway in Lexington Kentucky . My condolences to her children and grandchildren. Sincerely, Dedee Leet Boone of Lexington
03-24-2019
Connie Enlow
My dining room has three cherished portraits of my three children done by Marian almost 50 years ago. They will a lasting memento for generations in the future. She loved to share her gifts and was a part of my life for decades. She will be missed by those of us who were blessed by her as she touched our lives.
Dillow-Taylor is a third generation family-owned business...established in 1929
---
Dillow-Taylor Funeral Home and Cremation Services
P.O. Box 98, Highway 11-E, Jonesborough, Tennessee 37659
Office: 423.753.3821 Fax: 423.753.7409

Hours of Operation:
Monday - Saturday: 8am - 5pm
Sunday: 12pm - 4pm
---