03-08-2019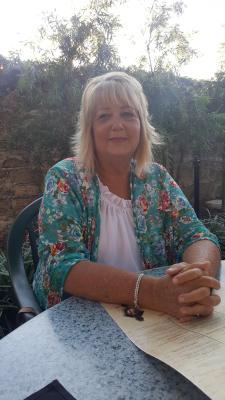 SERVICE SCHEDULE

Pamela Sue McNabb, age 61, Bethlehem, GA, formerly of Jonesborough, passed away Friday, March 8, 2019 at Gwinnett Medical Center in Lawrenceville, GA.
Ms. McNabb was born in Erwin, TN and the daughter of the late Claude & Helen Casey Richardson.
She was a Teacher's Aide at Lamar Elementary School for twenty years.
Ms. McNabb was a member of Cherry Grove Baptist Church and attended Bethlehem Church while living in Georgia.
Survivors include three daughters, Natalie McNabb (Jeffrey Matteson), Olivia Amiscaray (Clint), all of Bethlehem, and Rachel McNabb, Orlando, FL; grandchildren, Kenna Amiscaray, Graham Amiscaray, Adaline Amiscaray and Kylie Boozer; three sisters, Kathy Camp (Jackie), Tammy Roberts (Roger) and Sheila Lafollette; and several nephews and nieces.
Funeral services will be conducted 2:00 pm Monday, March 11, 2019 at Dillow-Taylor Funeral Home with Rev. Jon Reed and Mr. Jackie Camp officiating. The family will receive friends from 12:00-2:00 pm Monday prior to the service. Interment services will follow at Cherry Grove-Keplinger Cemetery.
Pallbearers will be Jon Reed, Matt Doster, Tommy Wilson, Clint Amiscarary, Jeffrey Matteson and Jackie Camp.



EULOGIES & CONDOLENCES
03-12-2019
Lara Vierdag
I am so sorry to hear of your loss. Prayers and love to your family.
03-11-2019
Charlie and Carolyn Lewis
Sweet dear daughters of Pam. Charlie and I send our sincere sympathy for the tremendous loss of your Mother! She was such a beautiful, great lady and so much fun. We will always remember the fun times at the many ballgames we shared! May God comfort you in this season of grief and give you peace in your heart as only He can do! We send our love and prayers to each of you❤️
03-11-2019
Charlie and Carolyn Lewis
Dear sweet daughters of Pam: Charlie and I send our most sincere sympathy for the loss of your Mother. She was such a beautiful, loving lady and so much fun! She loved you girls so much! All of you brought her great joy! We cherish the times we spent with all of you at the many ballgames we shared. We pray that God will give you peace and comfort as only He can do! We send our love and prayers for Him to pick you up and carry you through these difficult days to follow ❤️
03-11-2019
ROBIN BROYLES BANKS
I JUST LOVED PAM. I COULD ALWAYS COUNT ON HER TO MAKE ME LAUGH. I KNOW YOU WILL MISS HER DEARLY.
03-11-2019
Keith Love
Nat I am so sorry for your loss, I will always remember your mom! She was a hoot to work with! I missed the service today I thought it was this evening. I would call but I don't have your phone #. I will try to get your # from Penney and call you.
03-09-2019
Connie Townsend Saldana
My thoughts and prayers are with you all. May you find comfort in the days to come.
03-09-2019
Tom and Claudia Lee
We are so sorry to hear of Pam's death. I remember all the fun times we had together at church events, basketball games, and birthday parties. She was a wonderful lady! Love and prayers for you all.
03-09-2019
Matt Richards
I'm very sorry for your loss! I enjoyed working with her, she was a sweet lady and will be missed. Praying for you all.
03-09-2019
Jenny Lee Deranzio
Olivia and Natalie, I was so very sad to hear about the loss of your mom! She was such a sweet lady, and I have so many good memories of her. I know you both will miss her so much. You all will be in my prayers.
03-08-2019
Frances Gouge
So sorry to hear about the lose of your mother! Praying for the Lord to give the family the peace that only he can give! She will be greatly missed!
03-08-2019
Janice Smith
So sorry for your loss. God's got this. I'm praying for all the family. We had some great times together she will be missed.I pray that God will give you peace and comfort.i know that she we truly be missed.
03-08-2019
Summer Hughes
So sorry for your loss. Prayers for you all. She was a wonderful woman.
03-08-2019
The Palmers
Pam was such a special lady and certainly knew how to make you smile and laugh. I'm so sorry to hear of her passing, please know my family will be praying for your family in the difficult days ahead. Ivy, Ethan and Emily Palmer~
03-08-2019
Menessia Shoun
My beloved friend. I am so sorry. I had no idea how sick you were. Since you moved to Georgia we had not kept in touch. You will always be close to my heart and I will never forget you. I still laugh at the funny things we were involved in. I love you and will never forget you.
03-08-2019
penny smith
I'm glad your not suffering anymore and walking with Jesus. There may have been many miles between us but I love you and glad you have peace.
03-08-2019
Jeanette Knight
So sorry to hear of this sadness, we all loved her at Lamar. She will be missed by many.
03-08-2019
Anita Street
Pam was always such a sweet person she was always so much fun to work with she will be missed so sorry for your loss