02-02-2019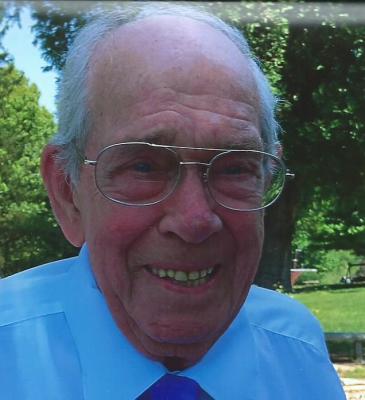 SERVICE SCHEDULE

Clarence Honeycutt, born March 31, 1933, in Buladean, North Carolina, passed away February 2, 2019 at Ballad Health Medical Center in Johnson City. Mr. Honeycutt was an Army Veteran serving in the Korean War from 1953-1955.
He was a manager at Century Blueprint Company in Chicago, Illinois for 35 years. After his retirement, he moved back to East Tennessee. While in Chicago, he was an active member of the Lutheran faith. He attended Salem Presbyterian Church, Limestone for the past there years.
He was predeceased by his parents, Walter and Lockie (Hill) Honeycutt, his loving wife of 56 years, Irene Marie Honeycutt (Taylor); two brothers, Doss Honeycutt, Gene Honeycutt; three sisters, Luerema Harris, Roberta Hughes, and Madeline Rich; one son, David Harris September 2009; and his second wife of the past three years, Jane Archer, who passed away in December 2018.
Those left to cherish having him in their lives are his daughter, Sandra Lynn Emmett; three grandchildren Myles Joseph Emmett, Haley Marie Emmett, and Lindsey Nicole Emmett and one great-grandson, Joseph Jason Emmett; one son, Robert A. Harris; one brother, Gene Honeycutt (Marie Honeycutt); and several nieces and nephews, Nora Moris, Ginger Banks, and Sheila Kirkland. Much thanks and appreciation are extended to his sister-in-law Marie Honeycutt for her help; to friend and caregiver Ashley Greene, Ray Ford; Chaplain Karl Gassner, the V.A. Staff; the staff of The Waters of Johnson City, and Hospice Nurse, Becky.
Graveside services will be held 2:30 PM, Wednesday, February 6, 2019 at Mountain Home National Cemetery Pavilion with Chaplain Karl Gassner officiating.



Would you like to leave an eulogy or condolence for Clarence Honeycutt? If so, simply click HERE
EULOGIES & CONDOLENCES
02-17-2019
Janet Jhanel Honeycutt Shipley
Great Uncle Clarence was such a joy! I only got to meet him a few times but I was touched by his faith and his love for family! My prayers are with his immediate family that they be surrounded in Grace and Knowledge that he is healed and we shall see him again! Praise JESUS for this Heavenly Peace!
02-07-2019
Jeff Asher
My condolences to Clarence's family. I had the opportunity to spend some quality time with him after my Mother's passing in December. He was a blessing to her and brought a lot of joy to her in the last years of her life. I was saddened to see his grief and suffering at the end of his life. May he rest in peace.
Dillow-Taylor is a third generation family-owned business...established in 1929
---
Dillow-Taylor Funeral Home and Cremation Services
P.O. Box 98, Highway 11-E, Jonesborough, Tennessee 37659
Office: 423.753.3821 Fax: 423.753.7409

Hours of Operation:
Monday - Saturday: 8am - 5pm
Sunday: 12pm - 4pm
---