01-26-2019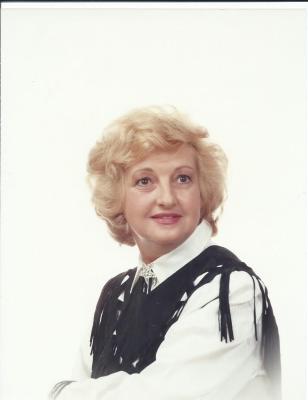 SERVICE SCHEDULE

Shelby Jean Davis Weaver
March 17, 1934- January 26, 2019
Shelby Jean Davis Weaver passed away peacefully at home with her loving husband at her side on Saturday, January 26, 2019. Born March 17, 1938 in Waynesville, NC, she was the daughter of the late Claude William Davis and the late Ruby Price Davis.
She is survived by her husband of 53 years, Dr Kenneth Weaver, a daughter, Cindy Price and husband Steve, five step-daughters, Teresa Meyer, Janice Weaver, Beverly Brown, Pamela Foster and Cynthia Sneed, a grandson, Kenneth Dane Voss and fiance' Whitney Wattenbarger, and her 3 month old great grandson, Kenneth Lee Voss.
She was preseeded in death by her parents and her brother Jackie Lee Davis.
Shelby Jean graduated from Waynesville Township High School and became a talented, self-taught musician, artist and poet. She formed the country band, "Tennessee Gold", who performed in Nashville and regularly at the Music Place in Jonesborough, TN. The highlight of her musical career was traveling to Denmark with Grand Old Opry regular Norma Jean. However, she was most proud of her role as wife, mother and grandmother and most recently thrilled to welcome her first great-grandson.
A celebration of a life well lived will be held on her birthday, Sunday March 17, 2019. Details will be announced at a later date.
In lieu of flowers please make donations to the Lupus Foundation of America.



Would you like to leave an eulogy or condolence for Shelby Jean Davis Weaver? If so, simply click HERE
EULOGIES & CONDOLENCES
02-04-2019
Roger Bradley
Kenneth, I am so sorry to hear of your loss. Jean will always be a pleasant memory, as you are also. I am in very bad health and will not be able to attend a service. But know that I will be thinking of you all. I know the hurt, but if you will ask the Lord to take the hurt but leave the memories he will. Love & Prayers, Roger Bradley
02-02-2019
Pat Griggs, RN, CNM
Oh, dear Ken! I know there's nothing I can say right now to make things better, but I also know that having someone to talk to at times like this is really important, so don't hesitate to call me whenever. The glow of Jean's goodness always remains to give light to your path. Holding you in my heart and thoughts.
02-01-2019
Kathleen West
A life very well lived. A special woman.
Dillow-Taylor is a third generation family-owned business...established in 1929
---
Dillow-Taylor Funeral Home and Cremation Services
P.O. Box 98, Highway 11-E, Jonesborough, Tennessee 37659
Office: 423.753.3821 Fax: 423.753.7409

Hours of Operation:
Monday - Saturday: 8am - 5pm
Sunday: 12pm - 4pm
---