01-30-2019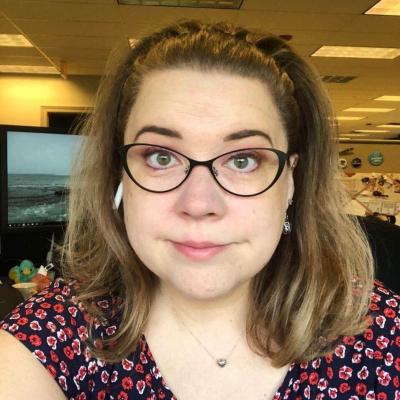 SERVICE SCHEDULE

Rachael Leigh Barry, age 43, Knoxville, TN, passed away Wednesday, January 30, 2019 at her residence. Rachael was born June 2, 1975 in Norton, VA and the daughter of John C. & Linda S. Barry, Gray. She was a member of the Christian Church.
Rachael was a Program Developer for 21st Mortgage Company, Knoxville, TN.
In addition to her parents, survivors include aunts and uncles, James R. Barry (Margie), Mary A. Barry, Betty J. Barry Barr (Larry), Martha M. Barry West (Greg), Elizabeth A. Barry Jaynes (David), Pam Sanders (Freddie), Sam Slaughter, Jim Slaughter (Debbie); and several cousins and special friends.
The family will receive friends from 2:00 -4:00 PM Sunday, February 3, 2019 at Dillow-Taylor Funeral Home and other times at the home of the parents, 100 Keeview Court, Gray, TN.
Interment services will be conducted 11:00 AM Monday, February 4, 2019 at Hales Chapel Cemetery.









Would you like to leave an eulogy or condolence for Rachael Leigh Barry? If so, simply click HERE
EULOGIES & CONDOLENCES
02-18-2019
Richard Ralston
I'm sorry to hear of Rachael's passing. She was among the kindest and most beautiful people I've had the privilege of knowing. We had great times in high school and college with wonderful friends. I remember fondly prom night in 1992 and that huge dress! That photo on the steps at the Vista Hotel is a a special memory. Rest In Peace, my friend
02-10-2019
Libby Taylor
Linda I am so so sorry for your loss.I know the days and months ahead are going to be so hard for you and your family. I pray for God to comfort you with his love
02-04-2019
David Kanon
I was shocked and saddened to hear of Rachael's passing. My deepest condolences to her family. I'll always remember Rachael as a kind, lovely, upbeat and positive person who laughed often and offered friendship to everyone. She was taken from this world far too soon. RIP, Rachael.
02-03-2019
Rodney and Sharron
John and Linda, we are so sorry for your loss. You are in our thoughts and prayers. All our love.
02-03-2019
Martha Hyder
I am so saddened to hear of Rachel's passing. I know you will miss her immensely. You are in our thoughts and prayers.
02-02-2019
Brett Story
I am so terribly sorry for your loss. I graduated from South with Rachael. She was so sweet and kind. God seems to always take the best of us first unfortunately. I lost a cousin our age last year to breast cancer and It's just hard to get over how young they were taken. We will see them again though. May God comfort you in this difficult time.
02-02-2019
Terri & Mike Patillo
John and Linda: Please accept our sincere condolences and deepest sympathies. We know how much you loved and cherished Rachael. We pray that you are comforted knowing that Rachael is at peace in the arms of our Lord and Saviour.
02-01-2019
Jen Bloom
Hello. I knew Rachel from the online journaling community and also Weetacon. I considered her a dear friend. She was an extraordinarily kind, loving, funny, and giving person. Once, when I was going through a terrible depression, she sent me a gorgeous bouquet of flowers. I will never forget her kind gesture. We texted frequently, about our lives, and later about her treatments. She was usually very upbeat and positive. She was a beautiful soul and I will miss her so much. My deepest condolences to her family and other friends. I like to believe she's in a place in which all of her dreams have come true.
02-01-2019
Martha & Greg West
Very sad for the loss of our precious niece. She was a smart & beautiful person who will be in our hearts forever. Prayers for John & Linda.
02-01-2019
John Joyce
Dear Linda and John, I was saddened to learn of Rachael's passing. My condolences to your family. You are in my thoughts and prayers. With deepest sympathy, John
02-01-2019
Cathy Ball
Linda & John, I was so shocked and saddened to hear of Rachael's passing. Joetta sent me a message to let me know. I cannot express how sorry I am for your loss. I know your hearts are broken. Rachael was such a sweet girl and she sure did bring a lot of joy and love into Mommy and Daddy's lives when she was a little girl. My heart is aching for you. I cannot imagine how you are feeling. My prayers go up for you. May God bring you comfort during this difficult time. Love - Cathy
01-31-2019
Lars Dorton
Linda, Very sorry for your loss. I'm praying for you and John, and all who loved Rachel. May the God of Peace comfort your hearts. Lars
01-31-2019
Lucy and Jason Neely
We're heartbroken to hear of Rachael's passing. She was a big part of my life throughout high school and beyond. I cherish the memories of traveling up to Penn State Behrend and, later, Cleveland to visit her. Rachael was always steps ahead of all of us when it came to technology. I remember the novelty of her car phone ages before we all had cell phones. Rachael was the first person that I knew who had her own website. We chatted online long before instant messaging or texting was commonplace. Rachael was a kind, talented woman who left us too soon.
Dillow-Taylor is a third generation family-owned business...established in 1929
---
Dillow-Taylor Funeral Home and Cremation Services
P.O. Box 98, Highway 11-E, Jonesborough, Tennessee 37659
Office: 423.753.3821 Fax: 423.753.7409

Hours of Operation:
Monday - Saturday: 8am - 5pm
Sunday: 12pm - 4pm
---