01-25-2019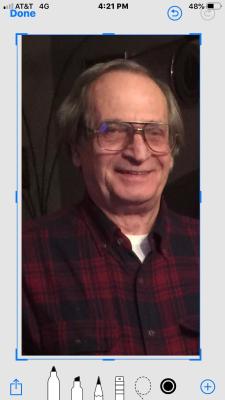 SERVICE SCHEDULE

Mr. David Lee Woodruff, age 73, Jonesborough, passed away Friday, January 25, 2019 at his residence.
Mr. Woodruff was born in Washington County, TN and the son of the late Opie & Florence Keefauver Woodruff.
He was a United States Air Force Veteran.
Survivors include a son, Troy Woodruff; a daughter, Tammy Woodruff; companion and caregiver, Rose Green; a sister, Delores Daniels; and several nephews, nieces and cousins.
The family will receive friends from 5:00-7:00 pm Wednesday, January 30, 2019 at Dillow-Taylor Funeral Home.
Graveside services will be conducted 1:00 pm Thursday, January 31, 2019 at Sulphur Springs Cemetery.
Pallbearers will be family & friends.



Would you like to leave an eulogy or condolence for David Lee Woodruff? If so, simply click HERE
EULOGIES & CONDOLENCES
01-31-2019
Bill and Gail Rambo
We know David was special to you. His mom and dad were also so special to our family. Florence and my moma Jessie McCracken were like sisters. Our deepest sympathy for your loss.
01-30-2019
Amy Crain
David was such a joy to be around. He will surely be missed. Prayers, love, and hugs to the loved ones for peace and comfort.
01-29-2019
Richard Joseph Linville
I worked with David many years at TPI Corp and was very saddened to hear he had passed.He was as honest and good hearted as they come.Dave was a hard worker and went above and beyond what his duties required.He will be missed by a lot of people.I send my deepest condolences to his family and friends.
01-29-2019
Sharon Maloney
My dearest David , I still can not believe you passed so quickly .My plan was to get there when needed to say good- bye but I guess you thought better of it. All you love, generosity, friendliness and assistance to everyone you met defines the work that God sent you here to do . Your Never ending talk and worry And love for your children was your strength and will always be felt for the rest of all of our lives and also to the lives of strangers you helped along your travel of life. David I told you a long time ago we got each other's friendship and we valued that right up to you last day. I forever have you on my mind & 4 ever in my heart I love you buddy say hi to your mom & dad for me watch over your 2 babies as usual only From a far . Rest well my friend miss you buddy
Dillow-Taylor is a third generation family-owned business...established in 1929
---
Dillow-Taylor Funeral Home and Cremation Services
P.O. Box 98, Highway 11-E, Jonesborough, Tennessee 37659
Office: 423.753.3821 Fax: 423.753.7409

Hours of Operation:
Monday - Saturday: 8am - 5pm
Sunday: 12pm - 4pm
---

| | | | | |

Copyright ©2019 Dillow-Taylor Funeral Home and Cremation Services. All Rights Reserved.
Programming & Web Development by .