01-20-2019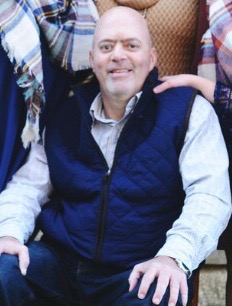 SERVICE SCHEDULE

Mr. Brian Scott Utsman, age 50, Jonesborough, passed away Sunday, January 20, 2019 at his residence.
Scott was born October 26, 1968 in Washington County and the son of Johnny Utsman and step-mother, Gayle Utsman, Jonesborough and the late Jane Croyle Utsman. He was also preceded in death by his maternal grandparents, Ralph & Pauline Croyle and paternal grandfather, Cecil Utsman.
He was a member of Boones Creek Christian Church, where he taught Sunday School, served two terms as Elder and Deacon and was also a Team Cooking Leader.
Scott graduated from Daniel Boone High School in 1986 where he was on the wrestling, track and football teams. He received a BS Degree from ETSU in 1991. Scott retired from Eastman Chemical Company after almost 25 years and served in various roles, including Team Manager. As a hobby, he enjoyed repairing sewing machines for Bernina In Stitches.
In addition to his father and step-mother, survivors include his wife, Carol Saylor Utsman, of the home; three daughters, Victoria Utsman, Knoxville, Saylor Utsman and Julia Utsman, both of the home; brother, Jason Utsman (Mindy), Jonesborough; step-brothers, Brian Arwood (Leigh) and Mike Arwood; nephews and nieces, Elizabeth Price (Caleb), Margaret Bixler (Todd), Caroline Conley, Jackson Utsman and Bailey Utsman; step-nephews and nieces, Mike Arwood, Jr., Steve Arwood, and Vivienne Arwood; paternal grandmother, Lottie Utsman; father & mother-in-law, David & Margaret Saylor; brothers & sisters-in-law, Mike & Donna Saylor and John & Sandra Conley.
Funeral services will be conducted 7:00 pm Thursday, January 24, 2019 at Boones Creek Christian Church with Minister David Clark officiating. The family will receive friends from 5:00-7:00 pm Thursday prior to the service.
Interment services will be conducted 11:00 am Friday, January 25, 2019 at Highland Cemetery.
Pallbearers will be Chad Drain, Todd Mussard, Jimmy Milhorn, Ron Burns, Joseph Redman and Jacob Redman.
Memorial donations may be made to Boones Creek Christian Church 305 Christian Church Rd. Johnson City, TN 37615.



EULOGIES & CONDOLENCES
01-25-2019
Michelle Reese
Carol and Family, I was so shocked when I saw this. I know Scott will be missed. He was one of the good ones. Praying that you will find peace in God's love. Michelle
01-25-2019
Charles and Alma Jean Reese
Just learned of Scott's death (Friday, 1:30) and were truly saddened to learn it. Scott was everything you would want to find in a Christian. So faithful to family, the Lord and His church. Our thoughts and love are for all the family.
01-25-2019
Steve and Lois pendleton
We are sending prayers to the "utsman family. We are so sorry for your loss. Scott was a fine young man.
01-24-2019
David and Ramona Bird
Carol, David and I were planning on coming to the receiving of friends this evening, but we are both sick and do not want to spread these illnesses. We are so very sorry for your loss and wish that we could tell you in person. He was one of a kind and will be missed. You are in our thoughts and prayers.
01-24-2019
Paul & Carol Buck
In case we don't get to see you at the services at church, please know how much we loved Scott. He was such an inspiration to us. We will miss him dearly. We love you and will be praying for God's peace for you and all the Saylors and Utsmans.
01-24-2019
Lanny & Betty Love
Carol sorry to hear about scott pass away. He was a great friend and great shepard to the Lord. You are in our thoughts and prayers.
01-24-2019
Leslie Franks
Thinking of your family at this time and remembering the times Scott was at Tammy and Kelly's as kids and how we all loved him coming over... he sure made Snyder Rd. more fun! Celebrate a life well lived as it goes on through his beautiful family.
01-23-2019
Pamela Overbay
Such a wonderful Christian man. He is definitely an angel in heaven and was dearly loved by everyone! Prayers and love sent for the family. Love, Pam
01-22-2019
Cathy Utsman
God blessed us with the presence of Scott being in our lives. Rest in Peace Scott Utsman, you will never be forgotten.
01-22-2019
Gerry and Glenda Rhodes
We are so saddened to hear of Scott's passing. We thought so much of him. He certainly was an inspiration to us and all who knew him. We love the Saylor and Utsman families and pray for God's comfort and peace during their time of grief.
01-22-2019
Karen Odle
Carol and family, I am so very sorry for the loss of your precious husband and father. Please know I am praying for you all.
01-22-2019
Lori Anderson Hilbert
Carol and all family members on both sides. I am so sorry to hear of Scott's passing. I had been updated from time to time by a co-worker about Scott. Goodness I remember him in the youth group when I was there in the early 80's. So sorry for your sadness during this time and years to come. God be with you all.
01-22-2019
Sherri Adams
My heart and my prayers are with you during this time.
01-22-2019
Debbie Fox Burchett
Carol, I'm so very sorry to hear see this. I remember Scott as a wonderful person. Please know you and your beautiful family are in my thoughts and prayers. I'm so thankful that we have the wonderful promise that beyond the grave there is everlasting life and we will be able to see our loved ones again. Blessings, Debbie (Fox) Burchett
01-22-2019
Cindy Butler
Sending deepest sympathy to Scott's lovely family. I will be keeping you all in my thoughts and prayers through the difficult days ahead. I feel blessed I was able to get to know Scott through Bernina in Stitches. He taught us a lot about Bernina sewing machines and their care.
01-22-2019
Donna Kitch
Dear Carol, Please accept my sincere condolences for the passing of Scott. Please know that you and your family are in my thoughts and prayers.
01-22-2019
Mary Nell, Deborah and TaylorAnn
We are praying for the UTSMAN family! May God bless and rap each of you within His loving arms! We will miss Scott,but God needed him so he wouldn't suffer anymore! Scott is now and forever your guardian angel! He and Dad are talking about the good ole times,we enjoyed at the Sulphur Springs basketball games. Love you our dear friends, The Webb girls
01-22-2019
Sid and Mardy Weikel, Harwood, TX
Our sincere condolences to the family of Scott..especially, our friends Johnny and Gayle. He was a wonderful son for you to enjoy here on earth and know he will be missed. Much love....to all of you. (we are Michael, Jr and Steven Arwood's maternal grandparents..)
01-22-2019
Jim Milhorn
A great worker, a great father, a great husband, a great Christian. He was loved by all who knew him. Our prayers are with the Utsman/Saylor families. Scotty will be missed.
01-21-2019
Jackie Fleenor
Our thoughts and prayers on your loss.
01-21-2019
Vicki Shell
One of our finest. Peace to my dear cousins as they carry on.
01-21-2019
Nichole Adamo
Carol, Danielle and I send our love and condolences to you, Julia and the entire family. We pray that your memories of Scott will soon replace your tears with smiles.
01-21-2019
Wendy Bruner Goodman
Thoughts and prayers hold you all during this most difficult time. Look to Jesus for strength and comfort. Scott is safe and whole and what a blessed man to have been surrounded by such sweet women and family. His legacy and love will hold you until you see him again.
01-21-2019
Jeff Parnell
I am blessed to have known Scott. He was a true gentleman and I enjoyed my brief encounters with him. I know he loved Carol and his sweet girls. He let his light shine for sure and made a difference in this life. God Bless all !
01-21-2019
Shirley Dykes Harkleroad
So Sorry to hear this ♥️ prayers for Carol and children Rest in Peace sweet 1986 classmate
01-21-2019
Jason Light
Carol, Girls & Family : I used to work with Scott at Eastman. I remember the good times we had when we were at work & when we all got together with our families. I am so very sorry for your loss. Scott was a great man. He was always in a good mood & had a smile. Would make others smile when we weren't in the best mood. He was a great role model for us all. I am thinking of you & Praying for you all. Jason Light
01-21-2019
Ann lester
To carol and family. I am so very sorry for your loss. He always had a smile for everyone who came in Bernina. We will be thinking of you and praying for you in this difficult time.
01-21-2019
Ann lester
To carol and family. I am so very sorry for your loss. He always had a smile for everyone who came in Bernina. We will be thinking of you and praying for you in this difficult time.
01-21-2019
Shirley and Sue McIntosh
Scott you are in the presence of God and singing with the Angles.
01-21-2019
Ramona Bird
So sorry to hear of Scott's passing. Praying for your family during this difficult time.