01-17-2019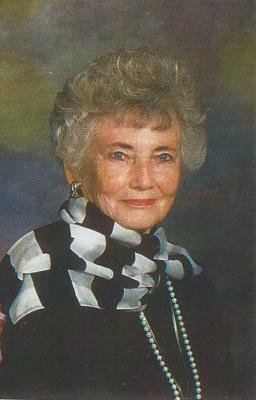 SERVICE SCHEDULE

Mrs. Grace Archer Muse, age 95, Johnson City, passed away Thursday, January 17, 2019 at Johnson City Medical Center.
Mrs. Muse was born January 2, 1924 in Washington County and the daughter of the late Elmer Eugene & Rose Keefauver Archer. She was also preceded in death by her husband of 49 years, Joseph Charles "Chuck" Muse, Jr., two precious sons, Joseph Charles "Jody" Muse, III and James Archer Muse, brothers, Phil, Kenneth, Warren, Fred and Paul Archer.
Grace graduated from Science Hill High School in 1942 and moved to Mountain City in 1946. She was an active member of Mountain City Church of Christ for almost 50 years and moved to Johnson City in 1996 and became a member of Central Church of Christ.
Grace was a caring and devoted resident of Johnson County for over 50 years. Her life's dream was fulfilled when she married Joseph Charles Muse, Jr. and had five wonderful children. Raising her children and serving the Lord faithfully was her joy. As a committed Christian, she showed the love of Christ to all she met with her kind and generous good works. She was tireless in serving others, visiting, sending cards, providing meals and always happy to host friends, new-comers and strangers. She was often the first person to call on a family at a time of adversity offering her condolences and bearing gifts of food. One of her greatest attributes was the time she spent visiting the elderly, shut-ins and sick. She would brighten their day with her sweet smile, baked goods and kindness. She was truly a woman of noble character as described in Proverbs 31.
Survivors include three daughters and sons-in-law, Margaret & Jack Briscoe, Memphis, TN, Luanne & Danny Hoilman, Johnson City, and Julie Muse, Johnson City; grandchildren, Nikki Hoilman, Grace Briscoe McKinney (Craig), Sage Briscoe Magid (Aaron), Allan Muse (Holly), Lindsey Muse Gastright (Andrew), Paul Hoilman, and Scott Hoilman; great-grandchildren, Mason Casey, Callie Grace Muse, Adar Muse Magid, and Westin James Gastright; a daughter-in-law, Judy Muse Sanders (Mike); sister-in-law, Charlotte Archer; and several nephews and nieces.
The family would like to extend a very special thank you to her loving caregivers Sandra Noble, Jean Hughes, and Linda Collins. Also thank you to 2600 ICU Nurses at JCMC, Randy, Andrew, Jessica and Dina.
Funeral services will be conducted 11:30 am Saturday, January 19, 2019 at Central Church of Christ with Mr. Tim Hall officiating. The family will receive friends at the church from 10:00-11:30 am Saturday prior to the service. Interment services will follow at 3:30 pm Mountain View Cemetery, Mountain City, TN.
Pallbearers will be family & friends.
In lieu of flowers, memorial donations may be made to Central Church of Christ P.O. Box 4021 Johnson City, TN 37602.










Would you like to leave an eulogy or condolence for Grace Archer Muse? If so, simply click HERE
EULOGIES & CONDOLENCES
01-24-2019
Peggy Mabry Leslie
I am sorry for your loss. I have such wonderful memories of this sweet neighbor lady. She was always so kind and welcoming. I have thought of her so many times over the years. My prayer is for you to be blessed with sweet memories.
01-21-2019
Rick Kind
Luanne, I am so sorry that I missed your sweet mother's funeral. I just read about her this morning in the paper. She was a real blessing to myself and everyone in our office. I feel lucky that I had the opportunity to get to know her. Your family is in my prayers.
01-20-2019
Linda Crowe Mazza
Margaret, Luanne, Julie and family, My sympathy on the loss of your beautiful mother. She always had a smile and kind words every time I saw her. Your family is in my prayers.
01-19-2019
Claude & Cindy Terry
You are in our thoughts and prayers,may God bless and comfort you.
01-19-2019
Ronnie and Jenny Dowell
So sorry to hear of the passing of your mom...loved her dearly....she was a good friend of my moms while both were in Mtn. City...Luanne, Margaret, Julie...wishing you special strength to deal with your loss...it hasn't been to long since mom passed and she is still missed greatly... love your family...may God bless each of you during this time...wish we could be there, but our daughter is in the hospital in Huntsville..looks like we will be here for a while. Love ya, Ron
01-18-2019
David Hicks
Luanne and Julie I was saddened to read of the passing of your mom but when watching the video was happy to see the same beauty and class she has apparently carried all of her 95 years. I pray for your families' comfort and great memories of a wonderful lady. We have all been blessed by our moms. Love to you and your families in these times
01-17-2019
Luci jernigan
Thank you for such a beautiful description of your sweet mommy's character , her faith and love of family and Jesus. We will truly miss her !!!!
Dillow-Taylor is a third generation family-owned business...established in 1929
---
Dillow-Taylor Funeral Home and Cremation Services
P.O. Box 98, Highway 11-E, Jonesborough, Tennessee 37659
Office: 423.753.3821 Fax: 423.753.7409

Hours of Operation:
Monday - Saturday: 8am - 5pm
Sunday: 12pm - 4pm
---