01-16-2019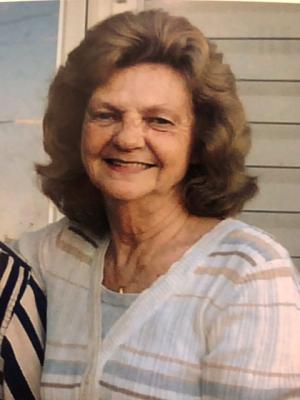 SERVICE SCHEDULE

Mrs. Brenda Gail Shew, age 74, Johnson City, passed away Wednesday, January 16, 2019 at her residence.
Mrs. Shew was born in Jonesborough and the daughter of the late Doyle & Edna Ricker Tarlton. She was also preceded in death by her husband, Donald Shew, a sister, Bobbie Storment, and a brother, Ronnie Dale Tarlton.
She was a member of Bowmantown Baptist Church.
Survivors include her children, Angela Carder, Tobie Hall and husband Roy, step-son, Rocky Shew and wife Natalie and Troyanna Helms, (who was like a daughter to her); grandchildren, Cierra Stroupe, Ashley Butler, Kobe Butler, Kristan Butler and Ronnie Hall; and one brother, Jimmy "Bud" Tarlton (Yvonne).
Memorial services will be conducted 4:00 pm Saturday, January 19, 2019 at Telford Baptist Church with Pastor Mike Faye officiating. The family will receive friends from 2:00-3:45 pm Saturday prior to the service.
In lieu of flowers, memorial donations may be made to Telford Baptist Church 1598 Old State Rt. 34 Telford, TN 37690.



Would you like to leave an eulogy or condolence for Brenda Gail Shew? If so, simply click HERE
EULOGIES & CONDOLENCES
01-20-2019
Marlene Adams
I'm so sorry for your loss, I've only known Brenda since I helped to sell her house in Bowmantown but I just loved that sweet lady so much. I had lost my Mother a few years before and Brenda in all her sweetness reminded me of her. I will miss her too. God Bless you all and I'm sure you have many wonderful memories.
01-19-2019
Teresa Milhorn
I am so sorry for your loss of your mom and grandmother ,you and your Family are in my throughts and prayers
01-19-2019
Teresa Milhorn
so sorry to hear about the loss of your mom and grandmother ,you all are in my throughts and prayers
01-18-2019
Richie, Robin, & Seth Saults
So sorry for your loss. What a sweet, beautiful person she was. Thoughts and prayers for you all.
01-18-2019
Sandy Keplinger Swofford
I am so sorry for your loss. Brenda was always smiling and enjoyed life. I didn't get to see her often, but when I did, I always enjoyed getting to visit with her!
01-17-2019
DEBORAH CLOYD
SO SORRY FOR YOUR LOSS. PRAYERS GOING UP FOR FAMILY DURING THIS TERIBLE TIME. LOVE YOY ALL !! GOD BLESS
01-17-2019
Tommie J. Douglas
Tobie and family I'm so sorry for your loss. I pray that the tender love of God bring peace and comfort in a special way to your hearts. May the joy you all shared brighten your days with the assurance that with God, Love Lives Forever. Your mom was loved so very much by everyone that entered her life. She will be greatly missed. Love all of you. Tommie Douglas Judy Briggs
01-17-2019
Jeff Cutshall
May the family be comforted knowing she is in the paradise of our Lord and Savior. God has wiped away all tears from her eyes, no more sorrow nor pain, only the constant presence of Gods neverending love.We look to the day that we can see you again and we will rejoice to be able to share our love to one another again.
01-17-2019
Jeanette Knight
So sorry that Brenda has left us. My prayers for you at this sad time Angela and Tobie.
Dillow-Taylor is a third generation family-owned business...established in 1929
---
Dillow-Taylor Funeral Home and Cremation Services
P.O. Box 98, Highway 11-E, Jonesborough, Tennessee 37659
Office: 423.753.3821 Fax: 423.753.7409

Hours of Operation:
Monday - Saturday: 8am - 5pm
Sunday: 12pm - 4pm
---