11-16-2018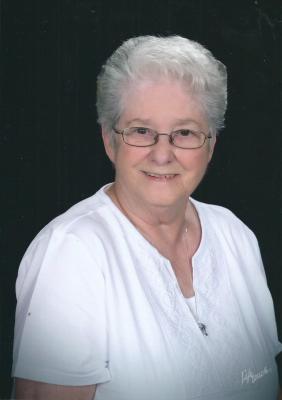 SERVICE SCHEDULE

Mrs. Phyllis Simpson Girouard, age 79, passed away Friday November 16, 2018 at Conerstone Village in Johnson City TN.
Mrs. Girouard was a native of Tell City, IN and the daughter of the late Calvin Simpson and Gertrude "Daisy" Bolin Roberts. She was also preceded in death by her husband Joseph Girouard and brother Kieth Dooley
Mrs. Girouard retired from lake City Bank, Warsaw IN, where she worked in bank operations.
Mrs. Girouard enjoyed quilting and sewing.
Survivors include one son John C. Ward and wife Julie, one daughter Mary Armey and husband Mike; two step-sons, Dale Girouard and David Girouard; grandchildren John A. "Drew" Ward, Justin Armey, Joel Armey, Zac Armey, Eric Girouard, Nichols Girouard, Stephanie Girouard, Michelle Girouard, Lisa Girouard, and Jeremy Girouard; brother Joseph Simpson and wife Judy; step-father Jesse Roberts and wife Clara and many nieces and nephews.
Memorial service for Mrs. Girouard will be held Saturday, November 24, 2018, 6:00 PM at Dillow-Taylor Funeral Home.



Would you like to leave an eulogy or condolence for Phyllis Simpson Girouard? If so, simply click HERE
EULOGIES & CONDOLENCES
11-24-2018
shirley cutshall
Phyllis was a person who came unto my life and changed it forever. Words can not express how much I loved her. When I called her with a need she was with me by the time I laid down the phone. I will hold tight to the memories and Rev. 21:4 until we meet again. Shirley cutshall
Dillow-Taylor is a third generation family-owned business...established in 1929
---
Dillow-Taylor Funeral Home and Cremation Services
P.O. Box 98, Highway 11-E, Jonesborough, Tennessee 37659
Office: 423.753.3821 Fax: 423.753.7409

Hours of Operation:
Monday - Saturday: 8am - 5pm
Sunday: 12pm - 4pm
---

| | | | | |

Copyright ©2019 Dillow-Taylor Funeral Home and Cremation Services. All Rights Reserved.
Programming & Web Development by .