10-25-2018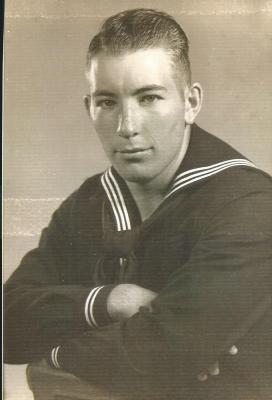 SERVICE SCHEDULE

Charles Thomas "Tom" Jennings, 96, of Gray passed away peacefully on Sunday September 30th 2018 at the V.A. Mountain Home CLC Center.
Tom was born in Erwin,Tn. on February 4, 1922, son of the late John Hubert Jennings and Myrtle Williams Jennings. In addition to his parents he was preceded in death by his wife of 45 years, Margaret Jane Kyker, and his brother John Hubert Jennings Jr..
Tom proudly served his country during WW2 in the navy aboard the USS Chickasaw assigned to the 5th Fleet in the South Pacific. He was present during many of the campaigns including Iwo Jima and Okinawa .
He returned from the war to continue his education, graduating from East Tennessee State University and receiving his Master of Education degree from Vanderbilt University. He lettered in football, baseball and basketball.
Like his father, Tom hired on at the Clinchfield Railroad as a fireman, then locomotive engineer, and finally retiring after 37 years with the title of Trainmaster/ Road Foreman of Engines. He loved the railroad and the many friends he worked with.
Survivors include his sons Charles Thomas Jennings Jr.and wife Debbie of Gray, John Allen Jennings and wife Linnie of Johnson City and daughter Julie Diana Kilby and husband Marty of
Gray; 6 grandchildren, Matthew,Lucas and Thomas Jennings, Maggie, Will and Katherine Kilby;
3 great grandchildren, Harper and Townes Jennings and Julie-Ann Duffield Kilby.
The family also wishes to thank the staff at the VA for the love and compassion they showed their father while he was there.
A memorial service for Tom will held on Oct. 28th, 2018 at the Christian Life Center of the Munsey Memorial United Methodist Church 201 E. Market Street in Johnson City, Tn. The family will receive friends from 2 to 3:00 pm with a short service to follow.
Tom donated his body to the the Quillen College of Medicine and the family asks that in lieu of flowers, please make any memorial contributions to the college.



Would you like to leave an eulogy or condolence for Charles Thomas Jennings? If so, simply click HERE
EULOGIES & CONDOLENCES
10-25-2018
Kathy & Bill Hayes
From your Yankee friend - I remember many nights sitting and listening to your stories and laughing uncontrolably while visiting with my cousins Marty and Julie. You always made fun of me being "the Yankee". When I would call and you answered it was -"Hi Tom, it's Kathy, how are you" "Oh - it's the Yankee". Will always remember you. Will miss you dearly. Love, Kathy & Bill
Dillow-Taylor is a third generation family-owned business...established in 1929
---
Dillow-Taylor Funeral Home and Cremation Services
P.O. Box 98, Highway 11-E, Jonesborough, Tennessee 37659
Office: 423.753.3821 Fax: 423.753.7409

Hours of Operation:
Monday - Saturday: 8am - 5pm
Sunday: 12pm - 4pm
---