10-20-2018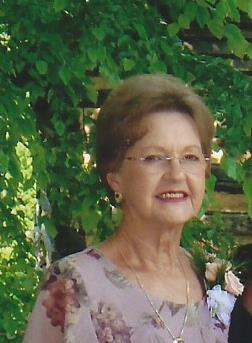 SERVICE SCHEDULE

Mrs. Claudine Ford France, age 84, Jonesborough, passed away Saturday, October 20, 2018 at Johnson City Medical Center surrounded by her loving family.
She was preceded in death by her husband of 63 years, Jack R. France; and two sisters, Dorothy Fox and Brenda Briggs; and her parents, Carl Hyman and Erma Cox Ford.
Claudine graduated from Sulphur Spring High School in 1952. After 21 years of being a "stay-at-home" mom, she began working for the Washington County Highway Department. She retired with 28 years of services in 2005.
Claudine loved spending time with her family. Her grandchildren and great-grandchildren were the highlight of her life. In addition to being an "out-of-control" housekeeper, she also loved working with her flowers, especially her beautiful lilies and hydrangeas.
Left to cherish her memory include son and daughter-in-law, J. R. & Sara France, Johnson City; daughter and son-in-law, Jennifer & Michael Price, Jonesborough; grandchildren, Dustin Price (Candice), Jonesborough, Lauren Miller (Chance), Irmo, SC and Jameson France, Charlotte, NC; great-grandchildren, Jackson & EllieKate Price, and Cason & Caylor Miller; brother, Carl Ford; special niece and nephew, Linda and Gary Pierson; and several other nieces and nephews.
The family will receive friends from 6:00-8:00 pm Wednesday, October 24, 2018 at Dillow-Taylor Funeral Home and at the home between 11:00 am-6:00 pm on Monday and Tuesday.
Honorary pallbearers will be Dustin Price, Jameson France, Chance Miller, Gary Pierson, Franky Bacon, Johnny Crawford, Dave Burleson, Howie Alexander, Steve Young, Dexter Young, and Dave Wood.
Memorial donations may be made in Claudine's memory to Fairhaven United Methodist Church, 3131 W. Walnut Street, Johnson City, TN 37604, where she was a member for over 60 years.








Would you like to leave an eulogy or condolence for Claudine Ford France? If so, simply click HERE
EULOGIES & CONDOLENCES
10-25-2018
Evelyn M. Reilman
J.R., was so very saddened to see in the paper that your Mom passed away. Although I only met her at your Dad's funeral in July, she seemed so very kind-hearted and loving. I can't imagine what you and the family are going through. My thoughts and prayers are with all of y'all at this most difficult time.
10-24-2018
Mark and Lisa Bacon
We want to express our sorrow on the passing on such a special lady. We will keep you in our prayers during this difficult time
10-24-2018
Rebecca Oliver
Thinking of you all during this time of grief and sadness. Bobby thought a lot of you all and I wish he were here to tell you himself. Saying prayers for the family.
10-24-2018
Colleen Rowe
My deepest sympathy for the France family. Thoughts and prayers are with you.
10-22-2018
Karen Reaves Huffine
Jennifer my heart goes out to you at this very difficult time for the passing of your mother, I didnt know your mom, but if you are anything like her she was beautiful, kind and understanding and had a good heart. I wish and pray for you to have peace at this time of her passing.
10-22-2018
Jeff Payne
So sorry for your loss she was a very special person praying for the family
10-21-2018
Mary Kaye Brobeck O'Brien
My sincerest sympathy to the France family. Claudine was such a sweet lady. Prayers for comfort and strength at this difficult time.
Dillow-Taylor is a third generation family-owned business...established in 1929
---
Dillow-Taylor Funeral Home and Cremation Services
P.O. Box 98, Highway 11-E, Jonesborough, Tennessee 37659
Office: 423.753.3821 Fax: 423.753.7409

Hours of Operation:
Monday - Saturday: 8am - 5pm
Sunday: 12pm - 4pm
---