10-19-2018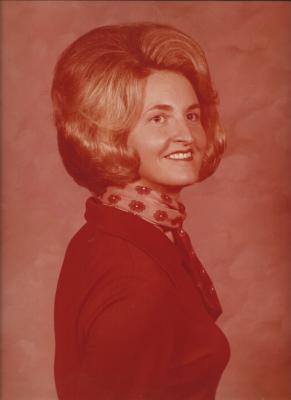 SERVICE SCHEDULE

Mrs. Bobbye Ayers Webb, 78, passed away at her home on Friday, Oct. 19, 2018.

A native of Day Book in Yancey County, N.C., she was the daughter of Murlin Junior and Geneva Peterson Ayers. She had lived in Washington County for 60 years.

Mrs. Webb began her career in accounting with Blackburn, Childers and Steagall. A proud patriot for her state and nation, she served Washington County faithfully as budget director for 40 years.

She was preceded in death by her husband, Jack Webb; by her parents; and by a brother, Sidney Ayers.

Mrs. Webb is survived by her brothers, Kent Ayers, and his wife Carolyn, and James Ayers; by her niece/sister, Kim Sams; by her son, Chris, and his wife, Len; by her granddaughters, Angela Davidson and Lenea Munday; by her great-grandchildren, Dakota, Harley, Dylan, and Cash; by her sister-in-law, Linda Chapman, and husband, David; by her brothers-in-law, Randy Webb, and his wife, Patricia, and Ronnie Webb, and his wife, Pat; by several nieces and nephews; by her special friends, Patricia "Sissy" Webb, Marilyn Minella, Penny Clark and Janice White, each of whom extended many courtesies and great kindness; and by her loving aunt, Jane Moseley, and her husband, John.

The family wishes to extend special thanks to Dr. "C" and the staff at the Regional Cancer Center; the nurses and staff of the 3300 wing at the Princeton Rehabilitation Unit; and the nurses and staff of Amedysis Hospice.

The family will receive friends at Dillow-Taylor Funeral Home, 418 W. College St. (Highway 11-E), Jonesborough, on Monday, Oct. 22 from 5-7 p.m. The memorial service will follow, beginning at 7 p.m. Officiating will be Bill Murray, preacher of the Greenwood Baptist Church, which Mrs. Webb attended for many years.

The graveside service will be held Tuesday, Oct. 23 at 1 p.m. in the Maple Lawn Cemetery, Highway 11-E, Jonesborough.

Pallbearers will be Randy Webb, Jeff Thomas, Jim Smith, Richard Campbell, Mitch Meredith, Tim Roberts, Chris Webb and Jon Ruetz. Honorary pallbearers will be Dakota Bragg; Dylan Davidson; George Jaynes; Dan Eldridge; Joe Grandy; and the members of the Washington County Commission from 1974-2018.

Washington County Budget Director Mitch Meredith announced the formation of the Bobbye Webb Endowment Accounting Scholarship. In lieu of flowers, the family encourages friends to honor Mrs. Webb with donations to the scholarship, in care of Northeast State Foundation, P.O. Box 246, Blountville, TN 37617.



Would you like to leave an eulogy or condolence for Bobbye Ayers Webb? If so, simply click HERE
EULOGIES & CONDOLENCES
10-27-2018
John & Carla Moseley
Chris..we extend our deepest sympathies to you and your family on the loss of your beautiful, sweet Mom. We are honored and blessed to have known her. Remembering her wonderful & gentle soul will forever remain in our hearts. May God give her eternal rest, and the family the strength to bear the great pain. We hope our prayers serve as comfort to you and your loved ones. We are a phone call away if there is anything we can do to help you get through this. All Our Love, John & Carla Moseley
10-22-2018
Geneva & Alvin Ray
Chris & Family, I was so sorry to hear about Bobbye's passing. She was a childhood friend,cousin & classmate for 12 years. Bobbye never changed, had a wonderful loving personality. She always welcomed you with a smile. Her favorite subject was Chris, she felt so blessed to have him in her life. She will be missed by all of us, but we know she is in a better place.
10-22-2018
carol carpenter
chris and family am so sorry and praying for the family. will miss her very much. she was a beautiful person so kind and caring to everyone.
10-22-2018
Carol Bradley
To the family of Mrs.Bobbye Webb I'm sorry to hear of her passing. She was the sweetest person I've ever met and I will really miss her.
10-22-2018
Carol Bradley
To the family of Mrs.Bobbye Webb I'm sorry to hear of her passing. She was the sweetest person I've ever met and I will really miss her.
10-22-2018
Bill Brown
So sorry to hear about Mrs. Webb. You will be in our thoughts and prayers.
10-21-2018
Karen and John Judd
So very sorry for your loss. She was a lovely lady and a kind and generous human being.
10-21-2018
Jerry Huskins
I served on the County Commission from 1982 thru 1990. Bobbye was a great help to me. Anytime I ran into a financial problem I didn't understand, I called on her. When I left her office, I understood.She was a dedicated servant to Washington County.She will be missed by her family and her many friends.
10-20-2018
Lillian Babb
To all of Bobbie Webb Family I am so sorry for your loss Bobbie was a wonderful person and so kind to everyone she Came in contact with she will be missed Praying for you all Much love to all Lillian Babb
10-20-2018
Kate and Jim Hagan
Chris and family, we were deeply saddened to learn of your mother's passing. She was truly an inspiration of living a full life and never giving up. The neighborhood will not be the same. Again, our deepest condolences.