09-22-2018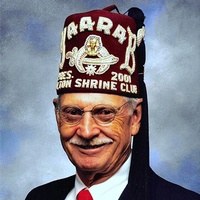 SERVICE SCHEDULE

After surviving 2 unrelenting bouts with cancer, strokes, pulmonary embolism, atrial fibrillation, and a recovered alcoholic, Jack Bright Rogers, Sr. of Dalton, GA, having fought the good fight, went to be with his Lord at Memorial Hospital in Chattanooga, Tennessee surrounded by his family on September 22, 2018.
He attended Rock Bridge Community Church and Kinsey Drive Baptist Church of Dalton, GA. He was our spiritual leader, a Godly man and our family's hero. He was a man who loved his Lord and his family with all his heart. He regularly spoke to His Lord and Father, and addressed him as "Sir", and would pray "Lord, you're in charge…" He loved spending time with his family and his grandkids. He loved playing golf with his son, grandson, and his friends. He loved fishing, gospel music – Gather Trio, Elvis, Neil Diamond, Peter Paul and Mary. He cherished his time with the Shriners and made several visits to the Shriner's hospitals and was a devoted ambassador. He also valued his time as a devoted member of A.A. at the Serenity Club at St Mark's Episcopal Church in Dalton for over 30 years, and called the other members his 'extended family'. He has met prolific personalities like Lester Maddox, Ronald Reagan, Zell Miller, George Wallace, Louis Armstrong, Sandy Weil, W.A. Criswell and others. He has attended Super Bowls, Nascar Races, Indy 500s, multiple cruises, but took his (150+) accolades and accomplishments with such humility that he rarely, if ever spoke of them.
He is survived by the love of his life and wife of 60 years, Gayle Hilbert Rogers, his son, Jack Bright Rogers, Jr. (Shannon) of Flintstone, GA, his daughter, Julie Rogers Turner (Douglas) of Marietta, GA: his grandchildren, Mallory Rogers Clark (Jason), William Madison Rogers, Grace ("little Squirt") Rogers, Julianna ("Julie-nanna") Turner, Rebecca ("Becca Boo") Turner, and Jack Turner. He was preceded in death by his parents, William Rogers and Mary Basket Rogers (Big Sandy, TN), his sisters: Ann Rogers McCourry, Edith Rogers Street, and his brothers: Ralph Rogers, Hervy Rogers, and Gerald Rogers. Sisters-in-law: Peggy Breeden Rogers, and Jean Rogers, Brothers in Law: Cecil Street, and Dean McCourry. He is survived by his sisters: Dorothy (Dot) Rogers Lynch, Buena Rogers Stallard (Jack), and his sister-in-law, Audrey Carter Rogers; Also several nieces and nephews.
Jack was born to William and Mary Rogers in Big Sandy, TN, May 30, 1938 as the 7th of 8 children. He loved hard work, and did so on his families and neighbor's farms working on thrashing machines, cutting hay and tobacco, digging basements, and other laborious chores. As an aside, those days weren't without mischief, Jack and his brother Gerald accidentally set the barn on fire at one point, but were ratted out by their friend "Speedy" Adams. (Jack had the facetious name of "Lightening" because he moved so slowly). He attended Big Sandy School, and attended Bowmantown Baptist Church. At the age of 10, his mother, Mary, went to be with the Lord, and less than a year later his father, William, joined his wife in the Lord's rest. Jack then lived with his eldest sister, Edith, her husband Cecil, and their 3 children. Prior to his birthday in 1956, at the age of 17, he joined the U.S. Army as a paratrooper where he trained at Fort Benning, GA and Fort Bragg, NC. He was stationed in the Panama Canal Zone where he helped to protect the Pacific (southern) end of the Panama Canal and train fighters. He had never been in a plane (much less jumped out of one); however, he said that – after his first jump – he was "hooked", and "loved jumping out of planes" to the tune of 45 times. He stated many times in his final days that he "would love to do it all over again". In 1956, he also met the love of his life (Lois Gayle Hilbert of Jonesboro, TN). It was a love that defined both of them. She was his soul mate - and he was forever smitten. He would trek back and forth from Fort Bragg to Jonesboro on leave (and once even went AWOL, which cost him a stripe) to see her – most times by hitchhiking rides as he carried his duffel bag, wearing Army fatigues and trudging up the highways toward Jonesboro. She remembers how he would come home for visits and strut down the halls of Jonesboro High School in his Army uniform to pick her up from class and walk with her, arm-in-arm. They were married August 8, 1958, and lived in Jonesboro. Jack was honorably discharged from the Army in 1959. In 1960 their son, Jack Jr was born in Johnson City, TN. Jack worked for a nuclear fuel company in Erwin, Tennessee, and eventually went to work for Home Finance Company in Johnson City. Later he and Gayle were relocated to Chattanooga, TN, and after moves to Morristown, TN, and then to Boone, NC, they had their daughter, Julie, in 1964. After several job-related moves, Jack and Gayle settled in Dalton, GA in 1966, where Jack was District Manager of the Dalton office for American Credit Co. 3 years later their 3rd child, Jason, was born (and died) November 8, 1968. American Credit was eventually acquired by Barclay's of England, and ultimately by Citigroup, where Jack earned over 150 awards, and accolades for his hard work and performance. In fact he was the number 1 profit-maker for the multi-billion dollar giant for 10 years in a row. He received the Lifetime Achievement Award with Citigroup Finance, Top Performer awards, Trips, and was invited annually to the estate of Sandy Weil, former chief executive and chairman of Citigroup and American Express Company, for Chairman's Forum / Advisory Council meetings.
Jack was President of the United Way of Northwest Georgia in 1973, and helped drive record setting growth in the mid-1970s. He was President of GIADA (Georgia Independent Automobile Dealers Association). A few of his many accolades are listed below:
• Shriner of the year (2003)
• Shriner of the year (2005)
• Shriner's Special Merit Award (2002),
• Shriner's President's Merit Award (1997)
• Shriner's President's Merit Award (1999)
• Shriner's President's Merit Award (2000)
• Shriner's President's Merit Award (2007)
• President of Dalton Shrine Club (2001)
• Citi Financial Legacy Award (2005)
• 11 Time Citigroup Chairman's Forum Attendee (in 14 years),
• American Financial Services Association Merit Manager Award (1996),
• National Merit Manager Barclays American (1988),
• American Financial Services Association – Lifetime Achievement Award (2004),
• Commercial Credit Top Performers Award (1990)
• Commercial Credit Top Performers Award (1991)
• Commercial Credit Top Performers Award (1994)
• United Way of Northwest Georgia President / Distinguished Service (1973)
• 2009 Shriner's President's Special Merit Award
• Citigroup 45 Years of Service
• Founder and Coach, Murray County Recreation Baseball League / Murray County Braves Baseball (League Champions)
• And many other accolades (too many to list)

You will always be our hero, and we will keep your memory alive always. You are home now with those you love. Rest now, in His arms. We love you, and we will miss you.
Funeral services will be conducted 3:00 pm Saturday, September 29, 2018 at Jackson Park Church of the Brethren with Pastor Ronald Wine officiating. The family will receive friends from 1:00-3:00 pm Saturday prior to the service. Interment services will follow at Maple Lawn Cemetery.
In lieu of flowers, memorials may be made to Shriner's Hospitals for Children, P.O. Box 1571
Dalton, GA 30722 or to one's favorite charity.



Would you like to leave an eulogy or condolence for Jack Rogers? If so, simply click HERE
EULOGIES & CONDOLENCES
09-28-2018
Walter&Pat Trotter
May care and love of those around you provide comfort and peace to get you through the days ahead. Our most sincere condolences.
09-27-2018
Martha Jo Izaguirre
Dear Family, remember so well Jack calling Izzy up middle of the night for a pick up on Rt 11 back to base so he wouldn't be AWOL after hitching all the way to TN to see Gayle. He was happy to do this. Jack was such a special person and friend. We admired him so re his AA commitment as well as the Shriners. His family can look on with pride and know that he deserves to be in heaven without pain and suffering. Will miss him. Love to all MJ and family.