09-21-2018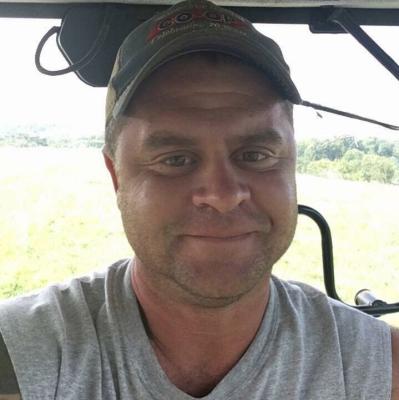 SERVICE SCHEDULE

Mr. Ben Grizzle, age 42, Jonesborough, passed away Friday, September 21, 2018 at Johnson City Medical Center.
Mr. Grizzle was born in Honolulu, Hawaii and the son of Charles Ed & Cheryl Zwakenberg Grizzle, Jonesborough.
He was of the Christian faith.
Ben was an Assistant Superintendent for the Town of Jonesborough's Water Distribution Department, where he had worked for twenty plus years. He was the "Best Dad" in the world and was "Mr. Fix It". He had a contagious smile and knew everybody. He enjoyed softball, four wheelers, drag racing and fireworks.
In addition to his parents, survivors include his wife, Ashley Mashburn Grizzle, of the home; two daughters, Emily Grizzle (Luke Cole), Jonesborough and Kyleigh Peterson, of the home; one brother, Josh Grizzle (Gina), Jonesborough; father & mother-in-law, Greg & Janet Mashburn, Limestone; brothers-in-law, Allen Mashburn and Chris Golden; sister-in-law, Beth Mashburn; and several nephews and nieces.
Memorial services will be conducted 7:00 pm Tuesday, September 25, 2018 at Dillow-Taylor Funeral Home with Pastor Josh Grizzle officiating. The family will receive friends from 4:00-7:00 pm Tuesday prior to the service.







EULOGIES & CONDOLENCES
09-29-2018
Christine and Scott H.
We hadn't got to know Ben long.. but what time we did ...he was a super sweet and all around nice guy..and most importantly.. he made my cousin Ashley and daughter Kyleigh very happy...the happiest I've seen them in a long time...he fit into our family perfectly.Ashley and Kye..now and in the days ahead... we will keep you in our thoughts and prayers...lov you both!!
09-25-2018
Mary Rivers
Although I didn't get to meet Ben, knowing you, Ed and Cheryl, tells me what a wonderful man he must have been. Having a son the same age, I can only imagine the loss you and his family are feeling now but pray that God will give you the strength to see you all through this difficult time. May God's peace be with you.
09-25-2018
Amanda Thompson Hope
Ben was one of the kindest sweetest people you could meet. Me and my family have known him since Lamar Elementary. To his mom, dad, brother, daughter and wife, It is my prayer that God comfort you all in this time grief and sorrow. God bless you all!
09-25-2018
Jeffrey & Julia Thomas
I have been absolutely blessed to know Ben Grizzle. A wonderful spirit filled with joy! Teamwork is a word that Ben embraced, never knew how to say "no" to anyone. Although, we worked in separate departments for the Town of Jonesborough, whenever we needed someone, we would call on Gentle Ben. May you rest in peace Gentle Ben. You will be missed! God Bless!
09-25-2018
Billie Hensley
I'm sorry for your loss and I'm sorry I was unable to attend. I worked with Ben for several years and he was always such a kind guy. He will truly be missed.
09-25-2018
Jenna M.
I am terribly sorry for your loss. May the God of all comfort provide your family with strength during this very difficult time. (2 Corinthians 1:3;4)
09-25-2018
Andrea Sawyer
Ed, I was so very sorry to hear of the passing of your son. From all that was written about him and the video he must have been one terrific man. Its impossible to know what to say in a time like this but I wish you and all your family peace and strength to come through this. I hope good memories fill your heart and eventually push out the grief. With deepest sympathy - Andrea Sawyer, AARP Tax Aide
09-25-2018
amber jones
Emily im very sorry to hear about your dad i hope that you and your family are doing well and you have been in my thoughts the last few days. hang in there . im sure he is having a blast with the rest of the loved ones where ever he is. i know that he would be so proud of you and i have no doubt that you were his shinning joy.
09-25-2018
Sandra houchins
So sorry for your lost. My family will be praying for you during this time of loss.
09-25-2018
Wayde Brown
Josh and Bens family sorry for your loss.
09-25-2018
Yvette Font
Dear Cheryl and Doc - I can't express the sadness I feel when I heard of lil Ben's passing. I will always remember him as little sweet Ben. You know how time flies by. I am so sorry for you because I know your pain. I have experienced it with my loss. I just wanted to express my condolences to you and Ed. I can't really go to these services any more but I wanted you both to know that Ben is in my prayers.
09-24-2018
Thomas Madison
I am so sorry for your loss! Ben was an amazing guy every time I saw him his intentions were to make someone smile! He will truly be missed!Love you my brother! Rest easy!!
09-24-2018
Johnny & Tina Edwards
Ben was a great person that always helped anyone he could. Thoughts and prayers to his family, friends and all who knew him as he will be Greatly missed. May all find some peace in this loss.
09-24-2018
Pamela Holcombe
I am so very sorry to hear of your son's passing. The two of you, his wife and children must be devastated. All of you are in my prayers that God will give each of you comfort and peace in this time of sadness. My deepest condolences, Pamela H. Holcombe AARP Foundation Tax-Aide Program
09-24-2018
Fancycocoa2016@gmail.com
To The Grizzles, The Wonderful Mom & Dad and to his pride and joys Emily and ashley.We are so very very sorry for your loss.Their are few words that can comfort at this time but please know that we will keep this while family in our Prayers and Pray that God see s you all thru this passing of such a wonderful person.God gained his newest Angel just too soon.Sincerely from Joe & Debbie Higgins
09-24-2018
Ramesh Munjal
So sorry to know about Ben's untimely demise. My sincere condolences to the grieving family. May God give you the strength to bear the loss. You are in our thoughts and prayers. May peace be with you.
09-24-2018
malcolm highsmith
Dear Family, I work in the Street Department, right beside Ben. It has been an honor and privilege to have worked along side your Ben. We are blessed who were able to call Ben 'friend'. I'm not sure there was anything he could not do, except say the word 'can't'. Hopefully once in everyone's life, you work along side someone who when things look tough, you are glad they are there, because you know things are gonna be all right. That's Ben. We cannot imagine your loss Dear Family. We grieve along side you. The whole town feels a huge void, please know we will continue to pray for you. We are so very sorry for your great loss. May God grant you the peace and grace that surpasses all understanding.
09-22-2018
Michael & April Payne
I have known Ben ever since elementary and he was a good friend, Family Man, had a good heart. Ben was just an all-around great guy. I know he loved his daughter Emily with all his heart and was very proud of her. It is a shame to hear of his passing but I have no doubt that he is in heaven and no longer suffers. His family is in our thoughts and prayers
09-22-2018
Mark Brumback
My sincerest condolences to the Grizzle family, especially to Emily and Ashley, my heart goes out, prayers.
09-22-2018
Bill and Trudy Freeman
What a great person so sorry so soon. Will always be in our thoughts. We will alway be there for your family
09-22-2018
Kay Gentry
Ashley & Emily I am so sorry for your loss Ben was a wonderful person, Emily your dad thought the world of you, You all are in our prayers