09-17-2018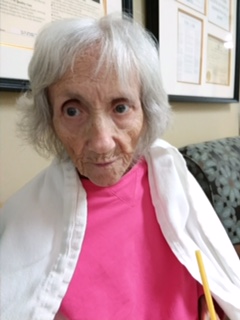 SERVICE SCHEDULE

Mrs. Bonnie Jane Cody, age 85, Jonesborough, passed away Monday, September 17, 2018 at Four Oaks Healthcare Center.
Mrs. Cody was born in Elizabethton, TN and the daughter of the late Clarence W. Snodgrass, Sr. & Selma Blevins Snodgrass. She was also preceded in death by her husband, Frank J. Cody, and two brothers, C.W. Snodgrass and Gene Snodgrass.
She was of the Baptist faith.
Mrs. Cody was a Certified Nursing Assistant.
Survivors include a son, David Cody (Shirley Derrick); brother, Roger Snodgrass (Bonnie); nephews, Jonathan Snodgrass and Roger Snodgrass, II; nieces, Cathy Snodgrass, Wendy Lyons and Tammy Smith; and many cousins.
Graveside services will be conducted 12, noon Thursday, September 20, 2018 at Fairview Cemetery.
Pallbearers will be family and friends.



Would you like to leave an eulogy or condolence for Bonnie Jane Cody? If so, simply click HERE
EULOGIES & CONDOLENCES
09-22-2018
ron chesney
I knew Bonnie in the 70's when she worked for Dr. West. She was a outstanding person. I send my condolences to the family ron chesney , st. pete, florida
09-20-2018
Sandra Kyker Holt
Mrs. Cody was a wonderful neighbor and friend to our family. She always had uplifting things to say to me that made me feel as if I were a queen that just walked into the room. One time, as a young teen, I was at her house and I loved this zodiac ash tray that she had made in ceramics and she gave it to me. My mother didn't want me to take it but she insisted that I did. She showed me another one she had made like it only a different color and she let me pick which one that I wanted. She always gave out of the kindness of her heart because that is just the kind of woman she was! David and family,we send our condolences to you and know that you are in our thoughts and prayers. May you treasure all the fond memories in your hearts as the days go by.
09-19-2018
Connie Verran
Roger, Sorry to hear about your sister. My condolences go out to you and your family. At least we know that she is in a much better place now. To be absent from the body is to be present with the Lord. My sympathies and blessings to you and your family. You're in my thoughts and prayers.
09-19-2018
Alan Cowden
Sorry for your loss David. We are praying for you and your family
09-18-2018
Tim Lovell
David, we are so sorry for your lost. Our prayers are with you during this time.
09-18-2018
Thelma Owings
So sorry for your loss. She was a sweet person and a great friend. I was proud to be a part of the family. Can't be with you David and Shirley Thrusday, but will be in your heart and prayers. I love you both...
09-18-2018
Wanda Green
David I am so sorry about your mama. She was always so kind and thoughtful every time we would come up with Joe and Thelma. Y'all will be in my thoughts and prayers.
Dillow-Taylor is a third generation family-owned business...established in 1929
---
Dillow-Taylor Funeral Home and Cremation Services
P.O. Box 98, Highway 11-E, Jonesborough, Tennessee 37659
Office: 423.753.3821 Fax: 423.753.7409

Hours of Operation:
Monday - Saturday: 8am - 5pm
Sunday: 12pm - 4pm
---