05-03-2018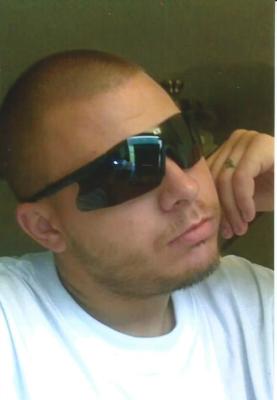 SERVICE SCHEDULE

Mr. Gregory Allen Ruddlesden, Jr. age 30, Denver, Colorado, passed away Thursday, May 3, 2018 at his residence.
Mr. Ruddlesden was born in Baltimore, MD and son of Tammy Lanham and step-father, Ken Lanham of Gray and the late Gregory Allen Ruddlesden, Sr. He was also preceded in death by his sister, Tabatha Ruddlesden and a brother, Kenneth Lanham, Jr.
He served in the 776th Maintenance Army National Guard, Elizabethton. and was a great dad.
In addition to his mother, survivors include his son, Gregory Allen Ruddlesden, III and Gregory III's mother, Dolly Ruddlesden both of Elizabethton; grandmother, Susan "Ma" Martin, Gray; niece, Kashmir Ruddlesden, Gray; a brother, Shawn Lanham, Maryland; aunt and uncle, Debbie & Gary Lord; three cousins, Gary Jr., Brianna and Michael, all of Maryland.
Military Committal Rites will be conducted 11:30 am Friday, June 1, 2018 at Mountain Home National Cemetery.



Would you like to leave an eulogy or condolence for Gregory Allen Ruddlesden, Jr.? If so, simply click HERE
EULOGIES & CONDOLENCES
06-01-2018
Momma freetard
Well Son, today is the day I lay you down to your final resting place. This is one of the hardest things I have ever had to go through. Just know that I have always and will always love you more than anything. I wished we coulda spent more time together for the past few years, but I will always treasure our moments together.... I Love You Son, May you Rest In Peace...... ps.. I guess your eyebrows will now be forever safe
05-29-2018
Stoob
My amazing Uncle, who I always looked up to, and you're a big inspiration to the person I am today. Love you, forever.
05-22-2018
KK
Greg, You will always be "My Babe", friend, lover, secret obsession. So much love and fun we shared. The years we had will never be forgotten. I miss the times we shared as a family with Tammy, Kashi, and G, as well as our personal time. I will always love you and will see you again one day. Until then enjoy your pranks in heaven with Kenny and Tabby.
05-17-2018
Brianna (cousin)
I and my entire family will miss and love Greg for the rest of our lives. His humor and ability to make everyone laugh will be a gift that we can never hear again, but we will never forget. And we will never forget all the other great memories of Greg because they are a gift we can still cherish.
05-16-2018
Ma
My heart is so sad, but I know you are in a better place. You were always there when I needed you. I'm gonna miss your great smile and sense of humor. Please save me a seat near you when I get there. Every time I look at the sky, I will think of you. RIP until we meet again, my angel soldier..... Love you, Ma
05-15-2018
ma
my beautiful solder my heart is so sad knowing you wont be herre anymore but i know you are in a better place with your dsd sister kenny and richard every itime i look at the sky i will be thinking of you till we meet again RIP i will never forget you
05-14-2018
Christina Diaz and Kids
Greg was an incredible man and it is impossible to put into words how much he means to me and how much I will miss him. Although our time was cut short, Greg was my soul mate. Never did I think that I would meet the man of my dreams and create a life and relationship out of a harmless conversation on a Thursday night in September. He has left lasting impressions and wonderful memories imprinted on our hearts. From his beautiful laugh and glowing smile to all the funny jokes we shared. The best part of each day was waking up to see him by my side and the best part of each night was going to sleep knowing he was laying next to me. On the difficult days, no matter how hard things got, or how scary it was, all I had to do was see him and sit in his embrace to make me realize that nothing else mattered. Although I was not able to say my goodbyes, I know that we will see each other again. We will embrace, and our souls will unite for our eternal sunlight and happiness together. I love you My King, My love, my everything. I will hold you with me until we meet again. I mooper love you, my space angel.
05-13-2018
Cody Reed
Greg was loved by many. Especially, his son who bears his namesake. He will be missed and mourned greatly. Sometimes our pain is more than we can take. More than we can speak or express. I hope that solace is found by him and those who are left to keep his memory alive.
05-13-2018
Aunt Debbie
I loved from the day you were born, I will love you till the day I die,you were always a funny kid,and a funny adult also,I loved your laugh,when you were happy,you could see it in your eyes,also when you were sad,and when you told a fib,your eyes always gave you away lol. You will always be my boogs,and a part of me will always be "bloke". I have so many proud and happy memories of you,and I will share them wit G always,I hope with all my heart that you are at peace,I love you forever.
05-12-2018
Ken
Sorry we never got to work things out , I only wish we would of taking the time to get past the past ,you are missed and loved.I promise to you I will take care of your mom and Kashmir to the best of my abilitie and if your son is ever in need I will stand for him and make sure he will be safe . Rest In Peace son and I hope that Tabby, Kenny and yourself are together . Love and Respect forever
05-12-2018
Shelley Briscoe
Tammy, Words alone can't express my feelings for what you and your family are going through right now. Know this... that you raised a man, a honorable man. You did a wonderful job Tammy! If you or the family need anything...don't hesitate to ask. My prayers for strength during this difficult time goes out for you.
05-12-2018
Daniel green
I will always Cherish the memories we had and may you rest easy my friend!!
05-11-2018
Amanda Sexton
Tammy, No words can express how difficult a time this must be. I am so very sorry for your loss and wish you the very best on healing and moving forward after such a sorrowful loss. You and your family have been and will remain in my thoughts and prayers. Amanda Sexton
05-11-2018
Mom
My Dearest Son, I love you more than you will ever know, I know now that I will never be able to hold you, hug you, or kiss you again, you were my youngest, and will always be my baby.... I know you hated it when I called you my baby but in my eyes you were, and still are.....you were a man to the world but always my baby boy.... I love you son, may you Rest In Peace
05-11-2018
Nancy Zrenchik
Tammy, my heart aches. I will miss Greg. Fortunately, I have only good memories of Greg. That night with the front door. The look on his face was priceless. I hope in time you find peace. Please know I'm here for you.
05-11-2018
Ambre
You was my everything , my soul mate, my brother, you taught me so much, your thenmost difficult human im the world, but thats what i loved about yoi. You made me look at the world differently and also raised my tolerance so high. You was my everything and you knew it. You knew we was here. Ill take care kf kashie and ma and hrammy while yoir gone. But we will meet again my friend. My brother, my life, my soul mate my bestie with testies.i love you
05-11-2018
Dolly ruddlesden
My dear my love husband that was supposed to be our forever I'm so sorry that things didn't work out how we planned them to be and I'm so sorry that you felt however you felt That this is where we are today now you're going to have to wait even longer until we can be together again because I got a lot of work to do here and although it's going to be hard to do it alone as our son still looked at you as his Hero i will forever make sure that that will always stay true I know now that you see how much deeply you were loved and how many lives you made a difference in how many people really cared about you I'm just so sorry that you couldn't see it while you were still here my heart is hurting so bad for you and since I never thought it would I love you and miss you very much may your soul rest in peace and you continue to watch over all of us we need it