04-11-2018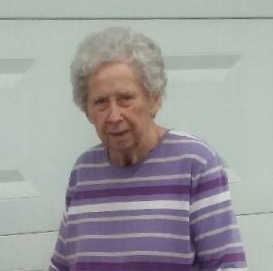 SERVICE SCHEDULE

Mrs. Myra Jane Osborne, 87, Jonesborough, passed away Wednesday, April 11, 2018 at the Johnson City Medical Center.
Mrs. Osborne was born in Washington County to the late Wayne and Ada Smith Patton. In addition to her parents, Mrs. Osborne was also preceded in death by her husband, Carl Osborne.
Mrs. Osborne was a faithful member of McCarty United Methodist Church.
Survivors include her son, Marty Osborne and wife Patricia; granddaughter, Heather Osborne; sisters and brother-in-law, Bartley and Helen Sparks and Imogene Hawkins.
Funeral services for Mrs. Osborne will be 7:00 PM, Friday, April 13, 2018 at Dillow-Taylor Funeral Home with Reverend Garland James officiating. The family will receive family and friends 5:00-7:00 PM prior to the service.
Graveside services will be 11:00 AM Saturday, April 14, 2018 at McCarty Cemetery. Pallbearers will be family and friends.



Would you like to leave an eulogy or condolence for Myra Jane Osborne? If so, simply click HERE
EULOGIES & CONDOLENCES
04-15-2018
The Weavers
We are so very sorry for your loss! We pray that "the Father of tender mercies, and the God of all comfort" will give you peace of mind and comfort in your hearts. (2 Corinthians 1:3, 4) We are grateful that our loving God looks forward, as much as we do, to reuniting us with our loved ones. (Job 14:14, 15)
04-14-2018
Earl and Connie Creasy
To the family of Jane Osborne Please accept our deepest sympathy the your great loss. Earl and Connie Creasy
04-13-2018
James & Polly Reed
Marty & Family, We are so sorry for your loss. Jane was a wonderful lady and a pillar of the church. We regret that we will be unable to attend the service as we are out of town this week end.
04-13-2018
Heather Osborne
I miss you mamaw. I take comfort in knowing that you are no longer sick and hurting. You are reunited with your parents, sisters and brother. Most of all you are with papaw now, so tell him to come in from heavens barn and say hi to you. Love and miss you.
04-13-2018
Juanita O'Dell
Marty, I am so sorry for your loss. I am unable to attend the services. Jane was a goof neighbor to the O'Dell family.
04-13-2018
Bill & Janie Rider
We got to know her when I went Mcarty Church. May she rest in peace
04-13-2018
Danny Clark
Marty & Family, Sorry for your loss of your mother. I remember being at her house as a kid with Ernest & Erma and getting to go down and play in the creek. She was a special lady. Danny Clark
04-13-2018
Artavan Hart
Marty & Family, Even in your darkest days there is an angel by your side, to guide you along the way. Please accept my sympathy for you loss.
Dillow-Taylor is a third generation family-owned business...established in 1929
---
Dillow-Taylor Funeral Home and Cremation Services
P.O. Box 98, Highway 11-E, Jonesborough, Tennessee 37659
Office: 423.753.3821 Fax: 423.753.7409

Hours of Operation:
Monday - Saturday: 8am - 5pm
Sunday: 12pm - 4pm
---