03-25-2018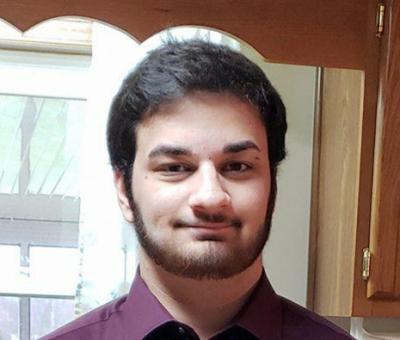 SERVICE SCHEDULE

Jonathan Patrick Gunter, Jonesborough, was taken home far too early for us on Sunday, March 25, 2018.
Patrick was born in Chesapeake, VA, a son of Paul and Robin Gunter.
Patrick loved his family and friends, hiking, and the St. Louis Rams.
Left to cherish his memory are his parents, Paul and Robin Gunter, Jonesborough; sister, Abagail Gunter; grandmother, Karen Caputo; grandfather, Glenn Gunter; girlfriend, Faith Trivett, and countless friends.
Funeral services for Patrick will be held 2:00 PM, Saturday, March 31, 2018 at Dillow-Taylor Funeral Home with Pastor Richard Long officiating. The family will receive friends from 12:00 -2:00 PM prior to the service.
Graveside services will follow at Fairview Cemetery. Pallbearers will be Tony Ludwig, Sean Elliott, Bobby Evans, Alex Capps, Freddie Wilcox, and Jody Trivett.



Would you like to leave an eulogy or condolence for Jonathan Patrick Gunter? If so, simply click HERE
EULOGIES & CONDOLENCES
04-02-2018
Stacy (Stephens) Tegan
Robin and Paul, I just saw this tragic, beyond terrible news. I can't imagine words that could be comfort to you, but know you both and your family will be in my prayers. -Stacy
03-30-2018
Mike and Ann Bell
Mike and I send our condolences to each and every one of you. The loss of a child is the worst feeling a parent could ever experience. Give your sorrows and pain to the Lord as he placed his loving arms around you.
03-29-2018
Natalie Livers (Sharp)
Paul and Robyn, his sister, family and friends, I cannot even begin to comprehend the loss you all are feeling. My prayers are with you for God to give you all comfort now and always. And I know from experience that with the loss of child, that as a mother/father Robyn and Paul your hurt and pain is so deep that it feels as if you will never be able to pick up the pieces. And I hope that my words bring you some peace by telling you that although you will never feel whole again because a piece of you is gone but with time, family, memories and giving this burden over to God for him to help you carry each day will be a little easier to cope and to find peace in knowing that he has his wings and that one day you all will be reunited in Heaven where you also will get your wings. I am so sorry for your loss and please know that Im praying hard for you all!! Love Natalie
03-29-2018
Jeffrey Bristow
Patrick, I never got to know the man you became, and for that I will forever have sorrow in my heart. I know your parents raised you right and they are proud of the man you were. I do remember how your family was there for me at a very difficult time in my life. Just being around your family helped, and I'm sure no one realized how much it meant to me. You and Abby (Goose) would always put a smile on my face. Paul,Robin,Abby, and Karen, You have been in my thoughts these many days. Words cannot express the hurt in my heart,the tears do nothing to ease the pain. Patrick will always live on in the hearts of the people that knew and loved him.
03-28-2018
Trish Jackson
So many thoughts and prayers for you and your family! I haven't known you a very long time, but the little time I did I know you were a great person. I know you made my niece happy and you treated her wonderful. You should be so proud of the person you were here on earth, I can't imagine how great you will be in heaven. Such a kind soul. You will be missed so much. I am lucky I feel blessed for sp bring even a little time with someone as sweet and kind as you.
03-28-2018
Jody Trivett
I just want to say Patrick was and always will be a great guy and probably was going to be my future son in law. He loved and cherished my daughter Faith dearly and treated her like a princess. They had so much fun together and he was always smiling. He was a wonderful loving and caring young man and I miss him dearly. Words cannot describe how I feel about loosing him and I can not even imagine how his parents are feeling. I just want to say you will always be in our hearts Patrick and and I appreciate letting us be a part of your family. Paul and Robin you guys raised a great young man and he loved you dearly. I appreciate you letting Patrick be a part of our family as well. My thoughts and prayers are with you and if you need anything please let us know thanks so much Jody Trivett
03-28-2018
Angie Hayden Barragan
Robin and Paul and whole family, my love and thoughts and prayers are with you. Love you guys. Angie and family
03-27-2018
Tommie Scott
Our Little Patrick, it just seems so unreal that you aren't with us. I remember when your mom was pregnant with you & the anticipation of your birth. Brendan was about 8 months older then you & the first day we introduced the two of you Bren wanted to touch you so bad he would shake all over. I knew then you two were gonna be best friends forever. When you guys moved to Tennessee that was really hard but this you being gone forever is killing me inside. I wanted you to make more memories, have more laughs, to share your heart with the love of your life & someday your children. To Brian & me you were our nephew. This has left us all devastated. I love you our Little Patrick (I know you found that nickname annoying)! Rest in Heaven & I can't wait till we meet again! Love your Aunt Tommie Girl!
Dillow-Taylor is a third generation family-owned business...established in 1929
---
Dillow-Taylor Funeral Home and Cremation Services
P.O. Box 98, Highway 11-E, Jonesborough, Tennessee 37659
Office: 423.753.3821 Fax: 423.753.7409

Hours of Operation:
Monday - Saturday: 8am - 5pm
Sunday: 12pm - 4pm
---