03-14-2018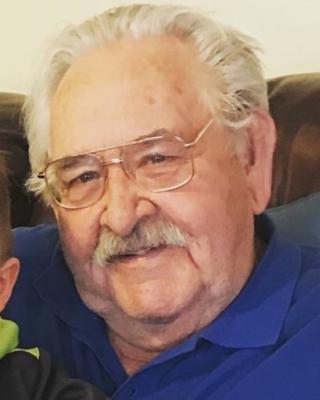 SERVICE SCHEDULE

Mr. Arthur Frank Bacon, also known as "Fat," of Johnson City, passed away Wednesday, March 14, 2018 at his residence at the age of 78.
Mr. Bacon was the youngest surviving son of the late William Winfield and Lela Belle Deaderick Bacon, born at his home place on Bacon Branch Rd. in Jonesborough, TN. He was also preceded in death by his brothers: William Virgil "Gus" Bacon, Paris "Curly" Bacon, John Bacon, Clarence Ray Bacon and Robert "Bob" Bacon; and a sister, Mary Ruth Jeffers.
Mr. Bacon was a veteran of the United States Army and attended Liberty Fellowship Church in Johnson City. He retired from Burlington Industries after 45 years. He enjoyed deer hunting in his youth. Later, he cut wood for others and spent time on his property in the outdoors of Jonesborough. He sought to grow a bountiful garden and gave most of the abundance away. He was a UT Football Fan and ushered the UT Games for over 30 years.
Survivors include his wife Diana Sexton Bacon, whom he would have been married to for 49 years this summer, one daughter and son-in-law Wendy Gail and Jeremy Owens, two grandsons, Arthur Lukas and Joshua Isaac Owens; two sisters-in-law, whom he helped raise, Maude White and husband Jimmie and Donna Sue Banner; and several nieces and nephews.
Funeral services for Mr. Bacon will be Sunday, March 18, 2018, 3:00 PM at Dillow-Taylor Funeral Home with Rev. Dan Foster officiating. Music will be provided by Amy Duncan. The family will receive family and friends from 1:00 to 3:00 PM prior to the service. A private interment will follow at Maple Lawn Cemetery then family fellowship at his home afterward.
Pallbearers will be nephews Gary Jeffers, Randy Bacon, JR Bacon, Dale Bacon, Larry Bacon and son-in-law Jeremy Owens. Honorary pallbearers will be Howard Jamerson, Beryl Cavins, C.B. Kinch and Jimmie White.



Would you like to leave an eulogy or condolence for Arthur Frank Bacon? If so, simply click HERE
EULOGIES & CONDOLENCES
04-08-2018
Timothy Frank Raymond
Dear Arthur Frank "Fat" Bacon...Dad, I have fought to know you all my life, I have missed out on so much with you. I am sorry for Wendy and Jeremy and the boys loss. I know you are in a better place now with OUR heavenly father. God Bless you all. Your son Tim.
03-19-2018
The Weavers
We are so very sorry for your loss! We pray that "the Father of tender mercies, and the God of all comfort" will give you peace of mind and comfort in your hearts. (2 Corinthians 1:3, 4) We are grateful that our loving God looks forward, as much as we do, to reuniting us with our loved ones. (Job 14:14, 15)
03-18-2018
PAT GREER EUNIS
A SPECIAL MESSAGE TO MY COUSINS WHOM I LOVE DEARLY DIANA= I AM SO SORRY THAT YOU WILL NO LONGER HAVE YOUR SWEET HUSBAND WITH YOU. ARTHUR WAS A VERY NICE MAN AND HE KNEW NO STRANGERS. I AM GRATEFUL THAT HE SAT WITH MY HUSBAND AND THEY TALKED ABOUT THE UT GAMES AND THEY TALKED ABOUT THEIR ARMY DAYS. WENDY= YOU WERE ALWAYS DADDY'S LITTLE GIRL, HIS PRINCESS. YES, IT IS VERY DIFFICULT TO LOSE A PARENT HOWEVER, THAT IS GOD'S PLAN OF ORDER IN HIS UNIVERSE. JUST KNOW THIS YOU DAD IS NOT LOST NOR IS HE A LOSS. WE ALL KNOW EXACTLY WHERE ARTHUR IS. I CAN ONLY IMAGINE THAT AFTER HE HAS TALKED TO JESUS AND SOME FAMILY MEMBERS, THE NEXT PERSON HE WILL FIND IS ELVIS PRESLEY. HE WILL TALK ABOUT HOW HIS LITTLE GIRL JUST LOVES HIM AND HIS MUSIC. ARTHUR BACON...YOU WERE ONE OF A KIND. WE ALL LOVED YOU VERY MUCH. WITH ALL MY LOVE TO ALL OF YOU PAT GREER EUNIS JOHNSON CITY, TN
03-16-2018
Maude 'Tyke' White
Dear Friend, I am sitting by the seat you always sit at. I am holding the fort down while Diana and Wendy's friend have gone to see you. I have been so sad today thinking about you and how much you have loved all of us, and the deep sadness I feel at your departure. I do miss knowing that I will not see your smiling face at all my craziness. I do know however you are free from all the pain of living in this sinful world. Diana, Wendy, Jeremy, Lucus, and Josh, please know as much sadness and hurt I feel, I know your pain and sadness is so much greater than mine. I know you rest in knowing he is with Jesus. Good bye my friend.
03-16-2018
Donna sue Cain Banner
Thank you for the all the good times we had in the early years. Thank you for being such a sweet person. You are singing high on that mountain now! Go rest, will see you again my friend. Love and miss you .
03-16-2018
Linda Cole
I am so sorry about Arthur.I haven't seen him in years but considered him a friend.He was a pleasant gentleman.Wendy,Diane and family,you are in my thoughts and prayers at this very difficult time.
Dillow-Taylor is a third generation family-owned business...established in 1929
---
Dillow-Taylor Funeral Home and Cremation Services
P.O. Box 98, Highway 11-E, Jonesborough, Tennessee 37659
Office: 423.753.3821 Fax: 423.753.7409

Hours of Operation:
Monday - Saturday: 8am - 5pm
Sunday: 12pm - 4pm
---