02-22-2018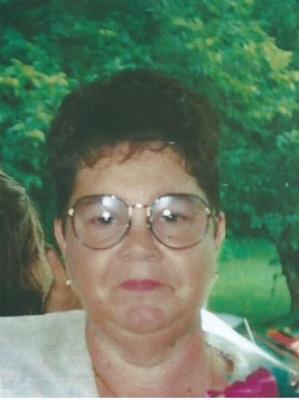 SERVICE SCHEDULE

Ms. Carole Lee McCoy Davis, (aka "Mammaw") 80 a native of Buchanan County, Virginia, but currently residing in Jonesborough, Tennessee passed away Thursday, February 22, 2018 at the Johnson City Medical Center. She was a lifelong advocate for her children and grandchildren and was there to support them in all their endeavors. She was a role model for ethical living and although she had a bit of spunk about her, most all her family and friends joked it was because of her original McCoy heritage. Ms. Davis had lived in Richlands and Lebanon, Virginia until moving to Tennessee to be near her daughter and her grandchildren about ten years ago.
Ms. Davis was born in Grundy, Virginia and was the daughter of the late Chris and Florence Blankenship McCoy. In addition to her parents, she was also preceded in death by her brothers Sam McCoy and Dave McCoy and her sister Helen McCoy McKinney. She also had another sister, Rita Colena McCoy and a brother, Harry McCoy that passed as infants or toddlers and preceded her in death as well. She is also preceded in death by the father of her children and the real love of her life, Mr. Graham E. Davis and Russ Miller, her second husband, who was a tremendous man of God and a real role model to her children.
Left to cherish her memory are her daughter and son-in-law, Carrie Davis Marchant and Dave Grubb of Jonesborough; son and daughter-in-law, Benny and Cathy Davis of Midlothian, VA; grandchildren, Sam Davis (who she was so proud of because he was so very smart and kind) and wife Danielle (who had a head on her shoulders), David Marchant (her first grandchild and who she so beloved for his giving and friendly heart), Channing Marchant (of whom she shared a very special and unique relationship and absolutely adored—her joy in life) and wife Juliette (of whom she trusted with all her heart and joked she was her REAL favorite), Carole Madison Marchant, (of whom was chosen to carry on her name's sake…daily was told by Mammaw just how pretty she was and how very proud of her she was-- love ran very deeply) and Nirvana Marchant-Grubb (who was her playmate and little helpmate--they shared a very special bond); brother-in-law and sister-in-law who have been cherished lifelong devoted friends, Ervin B. and Shirley Davis; and her beloved niece, Fonda McKinney who was her best friend and daily spiritual guide. She has numerous other much-loved family members and friends who could not be mentioned but were very important to her. Her children, grandchildren, family and friends have big holes in their hearts and are hoping to fill them with every sweet, funny and even trying memory.
The family extends their special thanks to the nursing staff of ICU 2900 at Johnson City Medical Center for their professional care and affection during her time of need.
Condolences may be sent to the Davis family online at www.dillow-taylor.com. Ms. Davis chose to have a private service with family; however, please make donations to the Washington County/Johnson City Animal Shelter, as Ms. Davis loved and cherished her pet family and cared for animals greatly. She left behind as well her treasured grand-fur-babies: Remie, Gracie, Karma and Nacho. (Roxie preceded her in death and was loved and missed by her dearly.)



Would you like to leave an eulogy or condolence for Carole Lee McCoy Davis? If so, simply click HERE
EULOGIES & CONDOLENCES
03-05-2018
Phyllis & Earnie Jackson
Carrie, Fonda & family, so sorry for your loss. I have very fond memories of Carol, the short time I knew her. God blessed you with a sweet Mom and Aunt, and Grandmother.
02-23-2018
Tommy Horn
Sorry of the loss of your loved one.Knew Carole well in our younger days.Went to school with her also was her mail man her in Richlands. May God Bless. Whitewood High School zclass of 1956.
Dillow-Taylor is a third generation family-owned business...established in 1929
---
Dillow-Taylor Funeral Home and Cremation Services
P.O. Box 98, Highway 11-E, Jonesborough, Tennessee 37659
Office: 423.753.3821 Fax: 423.753.7409

Hours of Operation:
Monday - Saturday: 8am - 5pm
Sunday: 12pm - 4pm
---