02-02-2018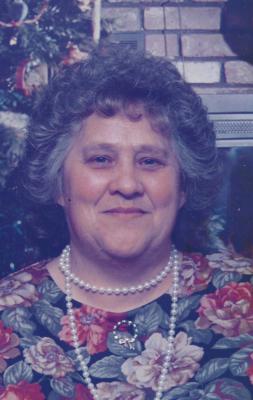 SERVICE SCHEDULE

Romans1:16
For I am not ashamed of the Gospel of Christ; for it is the power of God unto salvation to everyone that believeth….

Mrs. Shelva Jean Jones, age 79, Rose Hill, VA, went to be with the Lord, Friday, February 2, 2018 at her home.
Mrs. Jones was born in Rose Hill and was the daughter of the late Elijah Park & Opal Pace Daniels. She was also preceded in death by her husband, Lee Jones, a brother, Donald Daniels and a sister, Faye Washam, and many aunts, uncles and cousins.
She was a member of the Rose Hill Pentecostal Church. She loved the Lord with all her heart. She was a wonderful wife, mother, grandmother, and sister. Her life was dedicated to the service of the Lord. She was a great example of a Christian, especially to her children. We never went to bed without praying and a lot of times she would pray in her bedroom till the early morning hours praying for her family that they would all be saved. She loved to read her Bible and talk about the Lord to anyone who would visit. She loved singing in all denominations of churches for revivals and sang for many funerals.
Survivors include five daughters and sons-in-law, Christine & Clyde Scott, Ewing, Teresa Michael, Rose Hill, Tammy Jones, Snellville, GA, Pattie & Jack Martin, Rose Hill and Brenda & Tom Howard, Jonesborough, TN; grandchildren, Marie Rouse (Chad), Eric Scott (Carmen), Travis Scott (Carolyn), Bryan Scott (Brandy), Harold Michael (Laura), Jeffery Michael (Willa), Aundrea Smith (Christian), Dana Weaver, Preston Turner, Justin Martin, Jonathan Howard (Morgan) Joshua Howard (Ashley) and Jared Howard (Chelsey); great-grandchildren, Ryan, Tyler, Morgan, Elijah, Cortney, Journey, Jericho, Hunter, Casey, Madison, Haley, Allen, Zach, Dylan, Colton, Jacob, Jaidyn and Jaxton; great-great-grandchildren, Braxton, Atlee and Emanuel; two brothers, Harold Daniels (Debra) Kentucky and Ray Daniels, Rose Hill; three aunts, Verda "Aunt Sis" Livesay, Maude DeBusk and Jeanette Daniels; one uncle, Harmon Daniels; sisters-in-law, Ruth Cope and Pauline Jones; brother-in-law, Howard Jones (Helen); and many nephews, nieces, cousins and a host of friends.
Funeral services will be conducted 5:00 pm Sunday, February 4, 2018 at Rose Hill Pentecostal Church with Mr. Tom Howard, Mr. Eric Scott and Rev. J. Harold Smith officiating. The family will receive friends at the church from 2:00-5:00 pm Sunday prior to the service.
Graveside services will be conducted 11:00 am Monday, February 5, 2018 at Bradford-Daniels Cemetery, Rose Hill. Friends are requested to meet at the Rose Hill Pentecostal Church to go in procession to the cemetery at 10:30 am Monday morning.
Pallbearers will be grandsons and grandsons-in-law.



Would you like to leave an eulogy or condolence for Shelva Jean Daniels Jones? If so, simply click HERE
EULOGIES & CONDOLENCES
02-05-2018
Kenny Taylor
Brenda,Tom,Jonathan,Fish,and Jared. We are so sorry for your great loss.You guys are in our prayers.You all are always doing wonderful things for everybody else, if we can do anything for you please let us know.
02-04-2018
Kevin W. Jerrell
Jean was such an influence in the local community, and a spiritual mother to so many of us. She will be greatly missed, although her witness will continue for years to come!
02-04-2018
Sandra Wilson Kohlhepp
I am so sorry I will not get to come to the visitation or the funeral today. You all are in my thoughts and prayers. I have known Jean since I was a little girl. Always loved her. Thought she was the most Godly woman ever. She is in a much better place. Prayers and love to you all.
02-03-2018
John R. Hagan, Big Stone Gap, VA
Tom and Brenda: Beth and I send our condolences on the passing of your mother, Brenda. Please know that you will be in our hearts and prayers.
02-03-2018
Carolyn Moles
I'm so sorry about sweet precious Jean passing. She had that beautiful light that shines all around her. She always wanted to go see Jesus and now she is there .Bless her heart and my prayers, comfort and love for ALL OF YOU !
02-03-2018
Candi Bays
Brenda and family, Prayers for peace and comfort.