01-21-2018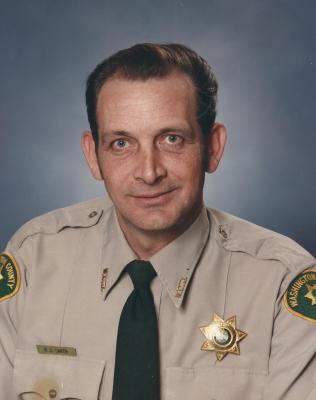 SERVICE SCHEDULE

Mr. Rhonald "R.D." Smith, age 72, Limestone, passed away Sunday, January 21, 2018 at his residence.
Mr. Smith was born in Washington County and a son of the late Robert and Thelma Shorter Smith. In addition to his parents, he was preceded in death by a son, Billy Smith, a sister, JoAnn Keplinger and a brother, Harold Smith.
He was of the Baptist faith.
Mr. Smith was a retired Deputy from the Washington County Sheriff's Department.
Survivors include a son, David Smith; three sisters, Stella Benfield (Mike Edwards), Doris Casey (Rick) and Marie Elkins; three brothers, Carl Mac Smith (Christine), Daniel Smith and Chad Smith (Aimee); two grandchildren, Cloee-Anna Smith and Chasity Smith; two great-grandchildren; several nephews and nieces; and his beloved dog "Peanut".
The family will receive friends from 6:00-8:00 pm Wednesday, January 24, 2018 at Dillow-Taylor Funeral Home and other times at the home of his sister, Stella.
Interment services will be conducted 2:00 pm Thursday, January 25, 2018 at Seviers Cemetery with Rev. Joey Murdock officiating.
Pallbearers will be family & friends.



Would you like to leave an eulogy or condolence for Rhonald Smith? If so, simply click HERE
EULOGIES & CONDOLENCES
01-25-2018
Jill keys emmert
Just found out about Ronnie if there was anyone who taught me about real life it was him I have nothing but respect for this man I never seen him mistreat anyone only help he saved me several times at road runner may he rest in peace
01-24-2018
Denise Frisby
I'm honored to have known this man and his family. My condolences go out to the family. I love this man so much and I have learned a lot from him. I will truly miss him. As of even today I've been wanting to call him then I realize I can't. My prayers will always be with the family. I pray for peace to just cover eachone in the family. My love goes out to each of you.
01-23-2018
Sonya Stewart
My thoughts and prayers are with the family. Sorry for your loss.
01-23-2018
Richard Cox
you will be missed my friend..thank you for the training and wisdom in my early years as a young pair of boots my favorite quote from you " i took and told you"
01-23-2018
David Wayne and Sheri Lynne Smith
So much left unsaid and undone, but we know you're watching over us along side Bill in Heaven now. Thank you for all you taught me in life. You'll be missed forever... David says to tell everyone thank you for looking out after his daddy, he misses everybody and hopes to see y'all real soon.
Dillow-Taylor is a third generation family-owned business...established in 1929
---
Dillow-Taylor Funeral Home and Cremation Services
P.O. Box 98, Highway 11-E, Jonesborough, Tennessee 37659
Office: 423.753.3821 Fax: 423.753.7409

Hours of Operation:
Monday - Saturday: 8am - 5pm
Sunday: 12pm - 4pm
---