12-31-2017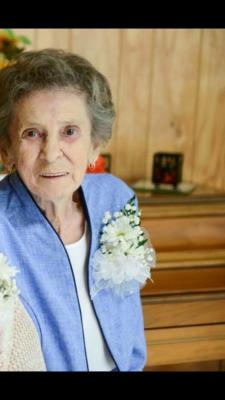 SERVICE SCHEDULE

Mrs. Mary Sue Bolton, 87 of Limestone, TN passed away Sunday, December 31st at Franklin Woods Hospital following an extended illness with family by her side.
Born July 11, 1930 in Chuckey and raised in Jonesborough, TN she was the daughter of the late Cling E. Blankenship and Nancy Estelle Watts Blankenship Arnold(Charlie).
She retired from Magnavox/Phillips Consumer after 35 years of service.
In addition to her parents she was preceded by her husband of 62 years, Billy Joe Bolton, daughter Nancy Bolton, son Randy Bolton Sr, Sister Miami(Penny) Phillips and great granddaughter Summer Lewis, Niece Sunday Blankenship and Nephew Ted (Ervin) Blankenship.
Those left behind to cherish her memories of always loving and giving are son Frank Bolton(Sandy) Chuckey, son Tim Bolton, Limestone, sister Judy Fay(Nellie) Hall, Washington, brother Ted Blankenship(Jan), Florida. Grandchildren Lisa Durbin(Bobby), Scott Reaves (Denah Brown), Kim Hedrick (Brian), Shaun Bolton (Jamie), Chad Bolton(Kristie), Sandy Bolton (Jonathan Hartman), Jason Bolton, Amy Lewis (John), Randy Bolton Jr, Jody Bolton, Step Grandchildren Chad Wallace, Brian Wallace and Todd Wallace(Tammy) 34 Great Grandchildren, 8 Great great grandchildren and many other family members she adored.
A service to honor the life of Mrs. Sue Bolton will be conducted at 1:00pm Saturday, January 6, 2018 at Mount Bethel Christian Church, Limestone, TN. with Great Grandson Jordy Whetsell officiating.
Always thinking of others Mrs. Bolton donated her body to ETSU Quillen College of Medicine to help the education of future generations and aid in the research of illnesses such as COPD.
The family would like to thank Dr. Livingston, Mountain States Hospice, the nurses and staff of Franklin Woods and Dr. Stuart for their kindness and caring during her illness and also to Joe Reid, PA for being a continued family friend and medical caregiver.



Would you like to leave an eulogy or condolence for Mary Sue Bolton? If so, simply click HERE
EULOGIES & CONDOLENCES
01-05-2018
Darlene Fann and Family
my sincerest condolences, deepest sympathy, I am so very sorry for the families loss. Thoughts and Prayers for all the family.
01-05-2018
Charles Morgan
We are sorry to hear of your loss. Mrs.Bolton was a sweet lady. I always enjoyed visiting with and hear late husband.
01-04-2018
Susan Hensley Penley
Sue was a very sweet person. She will be remembered by all who knew her. Prayers for the whole family. Sorry I couldn't be there in body but I'm there in spirit with everyone.
Dillow-Taylor is a third generation family-owned business...established in 1929
---
Dillow-Taylor Funeral Home and Cremation Services
P.O. Box 98, Highway 11-E, Jonesborough, Tennessee 37659
Office: 423.753.3821 Fax: 423.753.7409

Hours of Operation:
Monday - Saturday: 8am - 5pm
Sunday: 12pm - 4pm
---