12-21-2017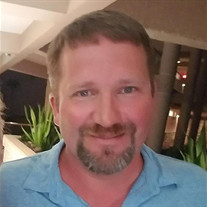 SERVICE SCHEDULE

John E. Miller, 44, a native of Johnson City, TN and a resident of Houma passed away on December 21, 2017.

He is survived by his wife Amy Grindstaff Miller; son, Christopher Miller; mother, Barbara Martin Miller; father, Edward C. Miller; aunts and uncle, Anita Raines, Mary Anne and Carl Stubblefield, Betty Ray; numerous cousins; beloved pets, Rusty II, Brees, and Bjor Bjor.

He is preceded in death by brother, Jonathan Miller; maternal grandparents, John and Pauline Martin; paternal grandparents, Bufort and Francis Miller.

In his spare time he loved to cook especially, steaks. He was a member of the Krewe of Hercules. He loved fishing, throwing darts and spending time with his family and friends.
Funeral Services will also be held on Friday, December 29, 2017 in Jonesborough, TN at First Baptist Church (201 E. Main Street, Jonesborough, TN, 37659) from 10:00 AM until service time. A religious service will take place at 11:00 AM at the church with Dr. Aaron Rayburn officiating. Interment will follow in Washington County Memorial Gardens in the mausoleum.



Would you like to leave an eulogy or condolence for John E. Miller? If so, simply click HERE
EULOGIES & CONDOLENCES
01-05-2018
Kim Gentry Garrett
Amy, You are in my thoughts and prayers!! Love u!
12-29-2017
Ernie Ferguson
Ed,Barbara and Amy so sorry to hear about John .I am praying for all .May God comfort you during this time .God Bless you .
12-29-2017
David & Sandy Friesland
Ed and Barbara, this was such sad news. We will pray for strength beyond any you can imagine. Ours hearts are with you.
12-28-2017
Becky Miller
E.C.& Barbara my heart is so heavy with the passing of John I have walked a lot of roads of death but I can not imagine the pain you feel losing a child. John won the battle of going on to our heavenly home we are the losers for we have to wait to join our loved when the Lord calls us home. Prayers for your family Friend of many yrs Becky Barnes Miller
12-28-2017
The Weavers
We are so very sorry for your loss. We pray that "the peace of God that surpasses all understanding will guard your hearts and your mental powers by means of Christ Jesus" as you deal with the intense grief that comes with losing your loved one. (Phillipians 4:6, 7) The Bible assures us that God "is near to those that are broken at heart; and those who are crushed in spirit he saves." (Psalm 34:18) We look forward with you to the time when we will be able to welcome our loved ones back! (John 5:28, 29)
Dillow-Taylor is a third generation family-owned business...established in 1929
---
Dillow-Taylor Funeral Home and Cremation Services
P.O. Box 98, Highway 11-E, Jonesborough, Tennessee 37659
Office: 423.753.3821 Fax: 423.753.7409

Hours of Operation:
Monday - Saturday: 8am - 5pm
Sunday: 12pm - 4pm
---