12-24-2017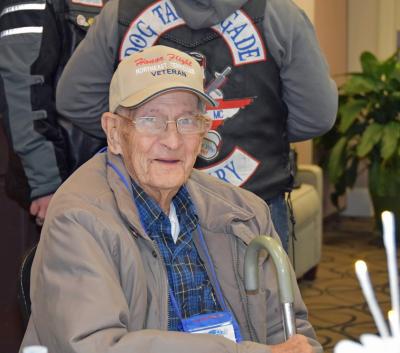 SERVICE SCHEDULE

Sherman Dulaney, 90, of Jonesborough, TN passed away, December 24, 2017, at Lakebridge Health Care Center, leaving a hole in the hearts of so many family and friends who loved him.
Sherman was born May 25, 1927, to Ira and Jesse Dulaney of Jonesborough, TN. He enlisted in the Army in 1945, where he served as a 1st Infantry guard at the Nuremberg Palace of Justice War Crime Trials. He enjoyed gardening, farming, playing cards and attending David Crockett High School Sporting events. He worked at Newport News Shipyard, Franklin Milk Company, Burton Rubber, and later in life working for Jones and Church Farms where he enjoyed working until age 86. He was a member and Deacon at Vincent Methodist Church for many years.
Sherman is survived by his wife Verna Lou Dulaney of Jonesborough, TN, his son David Dulaney and wife Kim of Johnson City, TN, his daughter Martha Horton and husband Richard of Jonesborough, TN; three grandchildren, Brooke Phillips and husband Josh of Johnson City, TN, Brian Horton and wife Amy of Jonesborough, TN, Beth Horton Pettit and husband Drew of Jonesborough, TN ; five great grandchildren, Brady Horton and wife Brie, Connor Horton, Duncan Horton, Cooper Pettit, Tanner Pettit; a niece, Pettis Ann Kernoodle, nephews, Fred Dulaney, Curtis Dulaney and numerous great nieces and nephews.
He was preceded in death by his parents Jessie and Ira Dulaney; his grandparents: two brothers, Fred and Paris Dulaney.
A very special thank you to the staff at Lakebridge Health Care and the Mountain Home Veterans Hospital for the love, kindness and exceptional care provided to Sherman. And a special thank you to the Rook players at Pioneer Market for all of the years of friendship and comradery.
The family will receive friends from 5:00 to 7:00 on Thursday, December 28, 2017, at Dillow Taylor Funeral Home. The funeral services will follow at 7:00pm with Pastor Jeremy Dykes officiating.
Graveside services will be held 11:00 am Friday, December 29, 2017 at Vincent Methodist Church Cemetery.
Pallbearers Brian Horton, Drew Pettit, Connor Horton, Josh Phillips, Greg Church and Mike Church. Honorary Pallbearers, Pioneer Market Rook Players.
Those who prefer memorials in lieu of flowers, may make donations to Disabled American Veterans Fund at www.dav.org.



Would you like to leave an eulogy or condolence for Sherman Dulaney? If so, simply click HERE
EULOGIES & CONDOLENCES
12-31-2017
Mike Alabed (Chico)
David I feel for you, I see you every now and then if there's anything I can do please feel free to ask.
12-29-2017
Larry Ouellette
Had the honor and pleasure of meeting this hero after escorting Honor Flight on their return from Washington, DC. I remember him telling us about the welcome they received there, and how it made them all feel like heroes.Mr Dulaney, you are a true American hero, and the world will be a lesser place without you. Prayers and condolences to friends and family. RIP Warrior, your watch is over
12-29-2017
Jewell Susong
Martha and Family, I only learned today of your father passing away. Please accept my condolences and know that you and your loved ones will be in my prayers. From the obituary, it sounds as though your dad lived a full and interesting life. Martha, I think of you often and miss you. Hope to see you soon and give you a hug.
12-28-2017
Mark jones
We're so sorry for your loss. I truly enjoyed talking to Sherman every time I ran into him. May God bless and comfort each one of you.
12-28-2017
Amy Lamb
So sorry for your loss he was a good person to know and a great rook player I knew him through my grandfather from up at pioneer grocery ....Our Prayers and thoughts are with you .....
12-27-2017
Dottie Stout
So very sorry to hear of the loss of your precious Dad. My thoughts and prayers are with you during this difficult time
12-27-2017
Mary Southerland
My mother called when she read about Mr. Dulaney's passing. I had the privilege to teach Brian and Beth at David Crockett. Until this morning I had no idea that their grandfather was responsible for saving my mother's life when she was a young girl. He was a young boy sitting on the porch talking to my grandfather when my mother fell off a footlog and hit her head on a rock in the creek. He saw her fall and ran down to pull her out of the creek. Such a small world and so grateful he was there. So sorry for your loss.
12-27-2017
Jane Langston
Heartbreaking to hear this....I have many sweet memories of Sherm and Aunt Verna Lou....your family in Mississippi will be thinking and praying for you.
12-27-2017
Everette L. Horton jr.
David I am so very sorry for your loss... May The GOD of all creation comfort You at this time... Proverbs 3..read it...TRUST GOD, with all your heart, its the instruction we have, it is more than enough. That is the promise , The Heaven promised is real, The soul never dies. God is forever..... May the FATHER, SON, & Spirit of God.,,,, Be with You & yours.ALWAYS...E.L.H.jr. Again, I am, so sorry for Your loss.....Comfort Your Mother in faith, and love. Comfort Your Mother, most of all. jr. horton
12-26-2017
Bob Runion
David and family - So sorry to hear of Sherman's passing. David - I know Sherman's passing is hard, but remember the good times you had with him and pray for the better times to come. Phyllis and I send our love and support.
12-26-2017
David Proffitt
So sorry for your loss if I can help in any way let me know. I will be praying for you and your family.
12-26-2017
Jimmy Booth
Sherman was a great friend and neighbor, back in the day when my Daddy has his store "J&J Market "you set your watch for certain times of the day for Sherman to be there. Especially early of the mornings & Rook game time. So so sorry for your loss. He will be missed .....