12-21-2017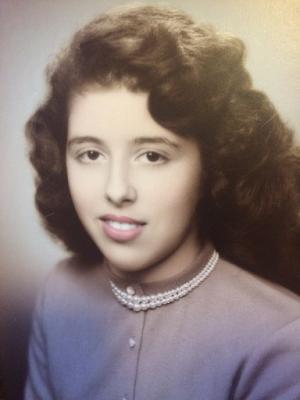 SERVICE SCHEDULE

John 14:2 In my Father's house are many mansions: if it were not so, I would have told you. I go to prepare a place for you.

Jacqueline Helen Curd, Telford, passed away Thursday, December 21, 2017 at her residence.

Mrs. Curd was born in Steubenville, Ohio, daughter of the late Christine and Sam Gualtiere. In addition to her parents, she was also preceded in death by her son, Kris Michael Curd, and brothers Sonny, Monte, and Eddie Gualtiere.

Jacque was a wonderful and giving wife and my best friend. We talked about everything, no matter what it was. She was the most wonderful person I've ever met. From the first moment I laid eyes on her, I knew that I loved her. She loved to travel and we went to so many places together. We cruised often. She especially loved the Mayan ruins and we would always make sure we visited those sites. We didn't get to all the places she wanted to see but I believe she will be there in spirit. She loved our farm and took such delight in watching the calves play while the donkeys watched over them. Now that I look back, I realize that she taught me a lot about how to enjoy life.

Her faith in God was strong and she read her bible every day. She touched a lot of people's lives and was a very giving person. She supported many Indian orphanages because she was raised in an orphanage and knew what it was like to be a kid in that situation.

She loved her Italian heritage, Italian food, and especially those homemade gnocchi. And lastly, she was very organized in her own disorganized way. It made us all laugh, but it was her way and it worked for her.

My mom was my inspiration. We did some cruises, we did girl-and-her-dog trips, and we made shrimp scampi on a camping trip because you can still eat well even when you're in a tent. She listened to me when I needed her and now I know just how wise and kind she was. Miss you, Mom, but I know that you're not far away and you'll always be in my heart.

Jacque was a wonderful stepmom to all of us kids, grandkids, and great-grandkids. She was always a positive person, loved to laugh, and looked forward to our huge family get-togethers in Florida. She was such a classy woman and always dressed to the nines; and made sure our Dad looked good, too!

Jacque was a good Christian and a great influence on my life. We had a happy, wonderful life together. I love you and will miss you something terrible.

Left to cherish her memory are her loving husband, Donald R. Curd of Telford; daughter, Kathy (and Terry Ethridge) of Lenoir City, TN; stepdaughters, Cindy (and Jim) Eldred, Donna (and Jeff) Payne, Jacque (and Gabe) Garcia, and Becky Toulouse all of South Florida; stepson, Donald (and Jackie) of South Florida, and sister, Irene Gualtiere of New Albany, Ohio; and numerous cousins, nieces, nephews, grandchildren, and great-grandchildren.

Funeral services for Mrs. Curd will be held 7:00 PM, Tuesday, December 26, 2017 at Boone Creek Christian Church with Minister Dick Morris officiating. The family will receive friends from 5:00 to 7:00 PM prior to the service.

Graveside services will be 11:00 AM, Wednesday, December 27, 2017 at Monte Vista Burial Park. Pallbearers will be family and friends.

Memorial donations may be made to Jack Ballard Church Builders 614 Beaver Ruin Rd. Lilburn, GA 30047 or any charity of your choice.



Would you like to leave an eulogy or condolence for Jacqueline Helen Curd? If so, simply click HERE
EULOGIES & CONDOLENCES
12-28-2017
Karin Jessen
Kathy and family, I am so sorry to hear about your mom's passing. Although I did not know her, she sounded like a wonderful mom. I know you will miss her. Karin
12-25-2017
Mr and Mrs Earl W Harmon
"We hope you feel surrounded by much love during this difficult time."
Dillow-Taylor is a third generation family-owned business...established in 1929
---
Dillow-Taylor Funeral Home and Cremation Services
P.O. Box 98, Highway 11-E, Jonesborough, Tennessee 37659
Office: 423.753.3821 Fax: 423.753.7409

Hours of Operation:
Monday - Saturday: 8am - 5pm
Sunday: 12pm - 4pm
---