11-21-2017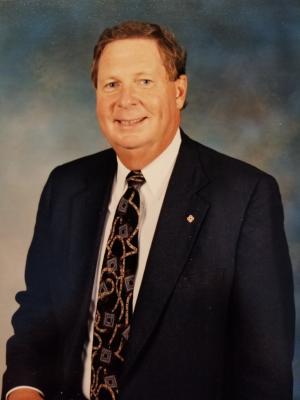 SERVICE SCHEDULE

Jerry Lee Taylor, age 74 of Portland TN, passed away on November 21, 2017, after a brief illness.
Jerry was born in Richlands, Virginia on March 16, 1943 to Kyle and Elizabeth Wysor Taylor. Jerry spent most of his early years in Jonesborough, TN and after graduating from Jonesborough High School, he received a B.S. Degree in Finance from East Tennessee State University, graduated from the Tennessee School of Banking at Vanderbilt University, and the School for Bank Administration at the University of Wisconsin-Madison.
Jerry worked as an Executive Vice President at First Tennessee Bank in Johnson City, Tennessee, before relocating to Portland, TN in 1984 to assume the role of President and CEO of The Farmers Bank. He was a Director at The Plateau Group, Inc., Chairman at Tennessee Business & Industrial Development Co., Director for the Federal Home Loan Bank of Cincinnati, Board Member at Cumberland Mental Health Services and Financial Institution Products & Services, Inc. Jerry retired from The Farmers Bank in 2005 but stayed active as a Director until 2017.
He joined the Portland Rotary Club in 1985 and served as Club President in 1995 and 2000 as well as serving on Board of Directors for many terms. Jerry was awarded a Paul Harris Fellow for his service. He was also the Chairman of the Portland Area Planning Commission and Board Member for the Portland Area Library Foundation.
Jerry is preceded in death by his parents, Kyle and Elizabeth Wysor Taylor, sister Joyce Taylor Bagot, brother Larry Joe Taylor and sister Judy Taylor Onks.
Jerry is survived by his wife of 52 years, June Good Taylor; daughters, Jennifer (Mark) Smith of White House, TN, and Jeanna Taylor of Portland, TN; and grandchildren, Matthew Smith, Evan Smith and MaKenzie Campbell. He will be missed by his loving dog and companion Scooter.

Visitation will be held on November 24th from 4:00 pm - 8:00 pm at Wilkinson & Wiseman Funeral Home in Portland, TN, and at Dillow-Taylor Funeral Home in Jonesborough, TN on November 26th from 1:00 pm – 3:00 pm with a graveside service to be held immediately following at Fairview Cemetery.
In lieu of flowers, the family requests that gifts be made to Moon Ranch Adventures in Portland, TN (www.moonranchadventures.com) or the charity of your choice.



Would you like to leave an eulogy or condolence for Jerry Lee Taylor? If so, simply click HERE
EULOGIES & CONDOLENCES
11-30-2017
Dale Gross
June: So saddened to hear of your loss. Just heard the news from Vince Keefauver today. My prayers are with you and your family. We will all miss Jerry.
11-27-2017
Sam and Judy Keen
June, So very sorry to learn about Jerry's passing. Reading the obituary says what a full life he had. He will be missed by his loving family and many many friends
11-25-2017
Brenda Bennett Webb Campbell
June, So sad to hear of Jerry's passing, he was always like a brother to me, when we worked together. Really thought a lot of him. Love and prayers to you and your girls.
11-24-2017
Lew Weems
I am saddened to learn of Jerry's death. Privileged to work with him for several years early in his career. A good man and a dedicated banker.
11-23-2017
Jack and Sonja Cole
June, I am so sorry to read of Jerry's passing. He was a good man and was always nice to me. It hurts so much that we have not stayed in touch. There was a sad misunderstanding and it still hurts. My love to you and your girls and family. May God richly bless you, Sonja
Dillow-Taylor is a third generation family-owned business...established in 1929
---
Dillow-Taylor Funeral Home and Cremation Services
P.O. Box 98, Highway 11-E, Jonesborough, Tennessee 37659
Office: 423.753.3821 Fax: 423.753.7409

Hours of Operation:
Monday - Saturday: 8am - 5pm
Sunday: 12pm - 4pm
---