11-05-2017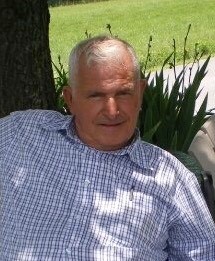 SERVICE SCHEDULE

Mr. James M. Cheek, Jr. age 77, Greeneville, passed away Sunday, November 5, 2017 at Life Care Center of Greeneville.
Mr. Cheek was born in Rose Hill, VA and son of the late John Morgan & Catherine Martin Cheek. He was also preceded in death by his wife, Zelma Cheek, two sisters, Betty Lemons (Buford) and Mazil Cheek and a brother-in-law, R.C. Wilder.
He was a member of Pleasant Grove Missionary Baptist Church.
Mr. Cheek enjoyed fishing, baseball and farming.
Survivors include two sons, Rick & Bridget Cheek, Johnson City and Randy & Suzanne Cheek, Mohawk, TN; daughter-in-law, Debbie Cheek; brothers and sisters, Virginia Wilder, Lou Ella Ray (Roy), Bennie Lou Gibson (Everett) and Jimmy Cheek (Patricia), grandchildren, Richie Cheek (Rikki), Nichole Solomon (Jon), Shawn Cheek, Charleston Cheek; Jordan Cheek (Savannah), Emily Cheek, Casey McAmis (Brandy), Holly Denton ( Brian), Taylor McAmis( Colleen), Macie Heck, Addison Heck, Luke Heck and Lori Ricker; sister-in-law, Goldie Williamson; and several great-grandchildren, nephews and nieces.
Funeral services will be conducted 2:00 pm Thursday, November 9, 2017 at Dillow-Taylor Funeral Home with Minister David Clark officiating. The family will receive friends from 12:00-2:00 pm Thursday prior to the service. Graveside services will follow at Pleasant Grove Baptist Church Cemetery.
Pallbearers will be Richie Cheek, Tanner Cheek, Jon Solomon, Jordan Cheek, Taylor McAmis, Luke Heck, Bobby Vereeke and Casey McAmis.







Would you like to leave an eulogy or condolence for James M. Cheek? If so, simply click HERE
EULOGIES & CONDOLENCES
11-08-2017
Mary Barnett
Sending our Condolences to James Family. I worked with James years ago & in fact he was my Boss!! Great Man! I Loved coming to work mainly because of him, he always made your day Bright!! Loved his Smile!!! And Best of all he was a Good Christian Man. Will miss you 'Jimmy'!!
11-07-2017
Carley Lester
My condolences to the family. I knew Mr. Cheek from the days at Big Valley Dairy and after. As an ABS rep we had many training sessions there and he was always very accommodating. I later would see him at the farm store. I consider him a friend whom I haven't seen for some time. he will be missed. Carley Lester
11-07-2017
Charles Morgan
My family and I are sorry to hear of your loss. I didn't get to know James really well in that he became ill about the time I came to Pleasant Grove Missionary Baptist. But through visits to his home and at the nursing home found him to be a very pleasant and enjoyable man. Our prayers are with the family.
11-07-2017
John & Linda Whaley & Family
So very sorry for your loss. You are in our thoughts and prayers.
Dillow-Taylor is a third generation family-owned business...established in 1929
---
Dillow-Taylor Funeral Home and Cremation Services
P.O. Box 98, Highway 11-E, Jonesborough, Tennessee 37659
Office: 423.753.3821 Fax: 423.753.7409

Hours of Operation:
Monday - Saturday: 8am - 5pm
Sunday: 12pm - 4pm
---