10-27-2017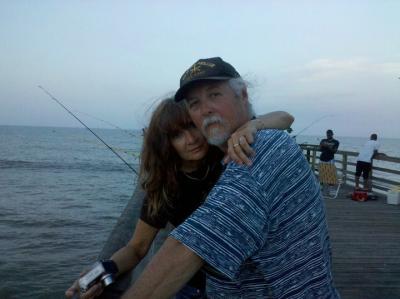 SERVICE SCHEDULE

Samuel Jessie Burke III of Jonesborough passed away suddenly on Friday, October 27 at Johnson City Medical following complications due to open heart surgery. He was born to Samuel and Natalie Burke on May 2, 1950 in Dante, Virginia and was a longtime resident of Jonesborough, Tennessee. He is survived by his loving wife, Nicki Burke, three children, Carlo Gerarde and his son Corbin, Beau Gerarde and his daughter Milania, and Natalie Michels, her husband Joseph and their daughter Quinn, three sisters, Jayne Ambrose, Teresa Burke and Rebecca Burke, nieces, nephews, and life-long friend Tom Lloyd.
Raised in a military family, he graduated in 1968 from Frankfurt High School-Frankfurt, Germany and spent some of his formative years living at Fort Richardson and Wildwood Station in Alaska where he discovered his love of fishing. Sam served as a Sgt. in the Air Defense Artillery branch of the US Army as a HAWK missile radar technician.
Music was Sam's passion. A gifted bass player and vocalist he was invaluable to the musical community. Following his stint in the Army as a young man, he became active in music and traveled extensively as a road musician. Since settling in the Tri-Cities he became a member and major contributor to many popular musical ensembles including the Jonesborough Novelty Band, the Johnson City Symphony, Steve Sheehan, Mirage, the Road Company, the Bill Perkins trio, the Normaltones, the Jazz Annex Trio, Blue Rapture, the Richard Houser/Greg Smith ensemble, Lightnin' Charlie and the Upsetters, Frito Puente, and the Mudbugs. As a member of the Jonesborough Novelty Band for 25 years, he helped to raise over $50,000 to benefit Habitat for Humanity. His knowledge and abilities made him a go-to sessions player and valued member of any musical project that was fortunate enough to attract him to join.
Sam was a faculty member in the Department of Computing at ETSU for 15 years. As director of the department's Using Information Technology component, he was responsible for providing computer knowledge to over 2000 students per year. His legacy will live on with all of the students fortunate enough to have learned from him.
For over 35 years, Sam was an integral part of the National Storytelling Festival in his role as Festival Tent Manager Coordinator. His work led to the continual refinement and seamless experience for festival attendees for decades. His love for the Storytellers, festival staff, audience, and the festival itself was evident in all of the work he did. His kindness and gentleness were hallmarks of his work.
Sam loved life. He loved his job, his family, his music, and above all his wife. Sam and Nicki's marriage was a miracle of compatibility- each treated the other as if they felt they'd gotten lucky beyond any expectation. "What we once enjoyed and deeply loved we can never lose, for all that we love deeply becomes part of us."
Sam's spirit, joy, and talents will be celebrated on Friday, November 3 at Dillow-Taylor Funeral Home in Jonesborough with visitation from 5:00-7:00 and an informal service to follow. Memorial contributions in Sam's honor may be made to the Washington County Humane Society.
Condolences may be sent to the Burke family online at www.dillow-taylor.com.
Dillow-Taylor Funeral Home & Cremation Services, Jonesborough, 753-3821



Would you like to leave an eulogy or condolence for Samuel Jessie Burke III? If so, simply click HERE
EULOGIES & CONDOLENCES
11-12-2017
Bob Ogulnick
Nicki I just wanted to send my heartfelt condolences to you on the loss of your husband. I am still a musician today, and we all feel your loss. While I didn't know Sam, I know you, so he had to be a great guy. May he rest in peace. With Best Regards Bob Ogulnick
11-05-2017
Henry Lister
Sam was an authentic person. He was himself and not apologetic about it. The memories are so numerous; fireworks in Barnes being a strong one. He and Tommy Lloyd were our dynamic duo. My sincerest sympathies to Nikki and the kids. Try not to be sad but thrilled to have lived and loved a man of his character.
11-05-2017
Diane Edgecomb
Although I did not know Sam as long as others - I so admired and appreciated him - he was an integral part of that deep and committed network - the fabric of the festival developed over so many years. His devotion along with that of others made the National Storytelling Festival supremely professional and supremely Family. He was an unforgettable help to all of us who performed and a fine musician to boot. Remembering him...
11-04-2017
Barbara McBride-Smith
Sam, sweetly crochety, dear Sam. He had a magical way of showing up whenever & wherever he was needed. He was a fixer, a take-charge, do-it-right kind of guy who made me wish he was my next-door neighbor. I loved seeing him early in the mornings during festival weekend, coffee in hand, ready to get the show on the road. We all knew we were in good hands with Sam Burke. How I will miss him!
11-03-2017
Tim Lowry
I am of the conviction that we are put on this Earth to serve. Sam certainly spent his life in service to others. A great giant of an example to us all.
11-03-2017
Teresa Milhorn
i am so sorry for your loss of your husband you and your family are in my through and prayers
11-02-2017
Ricky Schultz
I was truly blessed to have been a small part of Sam's life. Sam had a way about him that was so unique. Sam ran a tight ship at ETSU, he expected the best from every instructor that worked under him. And we, in turn, were inspired to deliver the best to the thousands of students that we were entrusted with. His style of management, and leadership was very rare and special jewel. I will treasure his friendship always. God bless.
11-02-2017
David Currie
Sam was a most thoughtful, considerate, respected, and helpful friend and colleague. He was always an uplifting soul ready to offer kind and valuable advice. I will sorely miss running into him on campus.
11-02-2017
Tom Raymond
My sincerest condolences to Nikki and all of Sam's family. Sam was one of the most kind hearted people you could ever know. Rest In Peace my friend.
11-02-2017
Perry Ann Butler
I met Sam years ago through storytelling and so enjoyed running into him whenever he played with his various bands. He was a kind and generous man and a good friend. I am so sorry for your loss tho know he was well loved and respected.
11-02-2017
Donald Davis
I still cannot believe Sam is gone from us. He was so alive and present. Sam was a tricky, growly, sweet and sensitive old bear. He took care of me always in a very dear way. I loved and am already missing him so very much.
11-02-2017
Dave Carter - WETS
Over the course of the 23 years Studio One has been on the air, Sam was in that studio no less than 20 times with one band or another. It seemed like he was everywhere. Always the professional, spot on musician and at the same time friendly, polite, courteous and super smart. Conversation with Sam was easy, because he could talk about anything. Knew something about everything. The thing I will remember most was that he was always glad to see me, at least he made me feel that way. I was certainly always glad to see him because I knew great music was just ahead. He loved his family, his community, his friends, his work, the arts and music, music, music. We all will miss Sam Burke. In so many ways. My deepest condolences.
11-02-2017
Joanna Cyrier
I had Professor Burke in class a long time ago for CSCI 1101 and since I became an Academic Advisor, I worked with him periodically at ETSU to help students. He was always so nice and friendly to work with. He will be missed and my condolences to his family and friends.
11-02-2017
Dwight Whitworth
I met Sam back in May of this year. I had never met him before. But there was a gentleness and loving personality about him that I liked from the minute we met. He shared stories with me on so many topics. I was looking forward to more times of sharing especially in the music and technology field. So sad. RIP Sam
11-02-2017
Sally Whiteman
My condolences to Sam's family. I had the pleasure of working with Sam in the early 1980's at ETSU. His laid back, easy manner counterbalanced Jim Patterson's explosive nature perfectly and enabled me to do my job. I enjoyed reading about his life these last 30 + years. These is a void in many areas now...
11-02-2017
David Lavigne
Rest In Peace Sam. You were a source of inspiration, a voice of reason and a large part of the reason I managed to finish grad school. Thank you for your guidance along the way.
11-02-2017
Deb Wilkinson/Rick Wimberly
Our condolences to Sam's wife Nicki and his family. He was an accomplished musician and supporter of music in the community. We will remember him as one of those who brought Jazz to the Tri-Cities many years ago. His death leaves a void in our music world.
11-01-2017
Ed Stivender, Storyteller
Sam Burke always had my back. During the Festival you could see him on the edge of the crowd watching carefully to see what needed to be done, and jumping in with his cart to get it done. The last time I saw him he noticed me trying to deal with an angry attender who couldn't get a cart ride to meet her mother. He tooled over to 'rescue' me and ended up taking the attender to where she needed to go, defusing the situation, and letting me get on with my work, stopping his own work to help a friend and serve a person in need. When he was in the area, all was well. There is no one like Sam Burke. I'll miss his knowing smile.
11-01-2017
Benjamin Burton
I am so sorry for your loss. Sam was a wonderful person and I enjoyed many warm and thoughtful conversations with him during my time as a graduate student at ETSU. I probably would not be where I am today if it was not for you. My deepest condolences. Benjamin Burton
11-01-2017
Connie Regan-Blake
My sympathies with Sam's wife Nicki,all the family and all of us who loved and respected him. Sam was a kind, smart, dedicated man and so many of us in the storytelling world are in shock with losing him. I first met Sam when he began working with the National Storytelling Festival all those years ago. And every fall we would reconnect. And the last time I saw him earlier this month, he was doing what he so often did - helping the festival and all us tellers and listeners have a memorable experience. My gratitude to him.
11-01-2017
Jeff Roach
Condolences to the family. Sam will surely be missed.
11-01-2017
Don Bailes
Sam was a great friend and colleague of mine. I met him more than 20 years ago via his music and I've been a colleague of his at ETSU for nearly 20 years. His passing has been a huge shock not only because of what his loss means to me but because he was always the constant, the rock I could depend on. His laugh was contagious and nearly always present. He could see the humor in so many situations. When things went wrong, I could always depend on Sam to show me that it was never as bad as it seemed. Sam was a joy to be around, and I will miss him more than I know how to express. May God comfort his family and give them strength to endure.
11-01-2017
The International Storytelling Center staff
Sam was a long-time friend to storytelling and the staff of the International Storytelling Center. He worked for the National Storytelling Festival for over three decades. Sam was an integral part of our team and central to the Festival's success. With great respect, the ISC staff sends condolences to Sam's family and many friends.
11-01-2017
Kiran Singh Sirah, Storytelling center, Jonesborough.
It has only been in the last four years I've personally got to meet and know Sam Burke. Sam, however, has a long history as a Tent Management Coordinator for the National Storytelling Festival. For over 30 years he did much of the work and coordination that goes on behind the scenes. He is one of the first on the festival grounds helping to set up tents up before everyone arrives and one the last to leave after everyone had gone. A hard working and passionate supporter of storytelling in our community. And always he was a joy to be around. A caring, kind and generous gentleman. He will be missed by storytellers, volunteers, all of us at the international storytelling center and i know many of the festival attendees and friends that visit. Our love and condolences to his family and his friends and all who knew Sam Burke. May Sam rest in peace.
11-01-2017
Rebecca Loyd
I am so very sorry. I will be thinking about all of you during this sad time. Sending lots of love.
11-01-2017
Cari Jarman
My heart is breaking for Nicki and the family. Through his behind- the-scenes management of the tents, Sam made made the festival experience better for thousands of people without their ever knowing. I always enjoyed the conversations I was able to have with Sam at various gatherings, mostly about food during pot luck picnics and dinners. It made me happy when I could make him laugh, or if I got an obscure musical reference he thought I wouldn't get. I will miss his humor, his warmth, and his gruff-but-lovable persona. I've had the lyrics to "Proper Cup of Coffee" in my head for days, and will always hear Sam singing that song in my heart.
11-01-2017
Mal Cooper
I really enjoyed playing music with Sam. He was a fine bass player and all around musician. He will be missed by all.