10-27-2017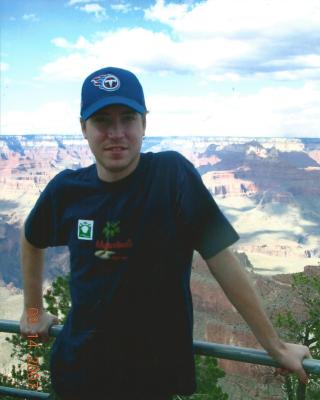 SERVICE SCHEDULE

Mr. David Scott Barker, age 34, Johnson City, passed away Friday, October 27, 2017 at his residence.
Mr. Barker was born in Knoxville, TN and son of Mark Randall Barker (Cindy), Jonesborough and Leigh Anne Boles, Limestone.
He had a passion for cooking for family and friends. He loved to work on cars. He collected memorabilia and antiques. He was a caring and generous to everyone and loved animals.
Mr. Barker was preceded in death by a brother, Daniel Barker.
In addition to his parents, survivors include a sister, Phebe Ruth Claris Boles, Limestone; and paternal grandparents, Bob & Martha Barker, Knoxville.
The family will receive friends from 12:00-1:30 pm Thursday, November 2, 2017 with a memorial service following at Trinity Baptist Church with Rev. Daniel Fink officiating. Graveside services will follow at Maple Lawn Cemetery.
Memorial donations may be made to Washington County Animal Shelter 311 N. Roan Street Johnson City, TN 37601.



Would you like to leave an eulogy or condolence for David Scott Barker? If so, simply click HERE
EULOGIES & CONDOLENCES
11-03-2017
Michael pace
Love you brother.You will be missed. I wil never forget our conversations I recorded for a our radio show. And all of our goofiness and good times we had. Picking ya up for church going crawdad fishing playing chess cooking crazy stuff and over all just awesome fellowship. You were a good friend to me and I considered you a brother. You have left an impact on me and many people's lives. Your time was short but your impact forever. Until we meet again. My brother
11-03-2017
Mike and Ann Tipton
Mark, Bob and Martha, We are so sorry for your loss. May God bless you all in a very special way. We are praying for you.
11-02-2017
Mary Barnawell
Bob and Martha, You and your family are in my prayers. Mary Barnawell Prayer Ministry Director Clear Springs Baptist Church
11-02-2017
Fred and Barbara Dees, Clear Springs Baptist Church
Sorry for you loss, Our Thoughts Prayers go out To the Family.
11-01-2017
Kat C
I worked with David and he was a really great person and he will be sorely missed.
11-01-2017
Fredia Isaacs
My condolences go out to David's parents, sister, and grandparents. David will be missed dearly and he will live forever in our hearts.
11-01-2017
Angel Merrill
I worked with David both times when he worked @ Hardees it was a pleasure to worked with him he was a great friend & I will miss him dearly
10-31-2017
Rhonda Edens
Mark and Cindy, I am so sorry for your loss. My thoughts and prayers are with you and your family. May the Lord comfort you in this time. Blessings, Rhonda
Dillow-Taylor is a third generation family-owned business...established in 1929
---
Dillow-Taylor Funeral Home and Cremation Services
P.O. Box 98, Highway 11-E, Jonesborough, Tennessee 37659
Office: 423.753.3821 Fax: 423.753.7409

Hours of Operation:
Monday - Saturday: 8am - 5pm
Sunday: 12pm - 4pm
---