10-05-2017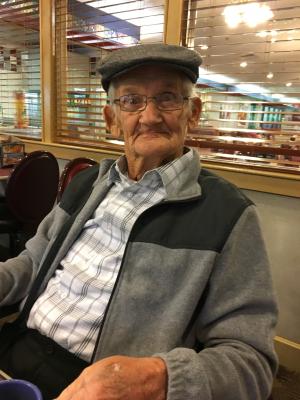 SERVICE SCHEDULE

Mr. Larce Thomas Arrowood, age 92, Telford, passed away Thursday, October 5, 2017 at Life Care Center of Greeneville.
Mr. Arrowood was born in Marion, NC and the son of the late Manuel & Creasey Estepp Arrowood. He was also preceded in death by his wife, Leota Starnes Arrowood and seven brothers and sisters.
He was of the Baptist faith.
Mr. Arrowood was a Farmer and a Truck Driver for Washington County Co-op.
Survivors include five children, Brenda Cutshall, Jonesborough, Larry Arrowood (Jean), Telford, Linda Massey (Gary), South Carolina, Noah Arrowood (Cathy), South Carolina and Diane Malone (Tom), Largo, FL; fourteen grandchildren and nineteen great-grandchildren.
Funeral services will be conducted 7:00 pm Sunday, October 8, 2017 at Dillow-Taylor Funeral Home with Rev. Larry Arrowood and Rev. Dale Mitchell officiating. The family will receive friends from 5:00-7:00 pm Sunday prior to the service.
Interment services will be conducted 11:00 am Monday, October 9, 2017 at Fellowship Freewill Baptist Church Cemetery.
Pallbearers will be family & friends.








Would you like to leave an eulogy or condolence for Larce Thomas Arrowood? If so, simply click HERE
EULOGIES & CONDOLENCES
10-08-2017
Mrs. Henry Wofford
My sympathy to the family in your loss. You will be in my thoughts and prayers in the days ahead.
10-08-2017
Jerry & Becky McNeese
Dear Family, Due to a surgery this past Friday, we will not be able to be with you tonight nor tomorrow. Please know that we counted Larce a dear friend, just as we did your mother, Leota. Many, many fond memories rush through our hearts as we remember both of them! They truly were wonderful friends! We understand your grief at this time, but also your knowledge of the presence of God with you. HE is forever faithful and we know HE will supply every need you have. May you feel HIM close with you --not just tonight and tomorrow--but throughout the days ahead as only HE can bring healing to your hearts! So sorry we cannot be there, but please know our thoughts and prayers are with you!
10-06-2017
Debbie Hammett Snodgrass
Please accept my deepest sympathy in your loss. Larce drove the fuel truck for Washington Farmers Co-op when I went to work there in 1974. He loved to kid me when I made a mistake on a fuel order.He knew my Dad as well as my grandfather and grandmother Hammett. I enjoyed the stories he would tell me about my grandparents. He was so proud of his family and spoke about you all often. After he retired, he would still come by the Co-op. I enjoyed working with Larce. May your wonderful memories comfort you during this difficult time. Your family will be in my thoughts and prayers.
Dillow-Taylor is a third generation family-owned business...established in 1929
---
Dillow-Taylor Funeral Home and Cremation Services
P.O. Box 98, Highway 11-E, Jonesborough, Tennessee 37659
Office: 423.753.3821 Fax: 423.753.7409

Hours of Operation:
Monday - Saturday: 8am - 5pm
Sunday: 12pm - 4pm
---