09-21-2017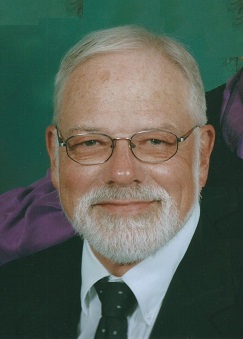 SERVICE SCHEDULE

We wish a sad and loving farewell to husband, father, brother, and friend Baxter Johnson Bledsoe, who died September 21, 2017.
Baxter was born December 25, 1944 in Charlotte, North Carolina and grew up in Sparta, NC and Johnson City, TN. He was the son of Duke and Virginia Bledsoe who preceded him in death along with his stepfather, Johnny Lucas and nephew Douglas Bledsoe.
From 1963 to 1969, Baxter served his country in the United States Air Force.
In 1974, Baxter and his wife Tobie, along with their four children, moved to Jonesborough. Baxter retired from Sears Roebuck and Company with 25+ years and was Jonesborough's first state-certified Building Inspector.
Baxter is survived by his loving wife of 54 years, Tobie and children, Billy (Jennifer), Virginia "Sissy" (Edward Mattie), Maria, and Jonathan (Stacy). Like their father, all four children service in the military. Baxter is also survived by his siblings, William Byron Bledsoe (Betty), DC Bledsoe, and Jane Davidson as well as a family of nine grandchildren, four great-grandchildren, nieces, nephews, cousins, and close and wonderful friends.
Visitation for friends and family will be Monday, September 25, 2017 from 5:00 PM to 7:00 PM at First Baptist Church, 201 E. Main Street in Jonesborough, TN. Following the visitation, Dr. James Harrison will conduct a memorial service at 7:00 PM.
Military graveside honors will be conducted at Mountain Home National Cemetery, Johnson City, TN at 10:00 AM the following Tuesday morning. The Greene County Honor Guard will provide military honors.



EULOGIES & CONDOLENCES
10-10-2017
Angel Maden
So sorry to hear of Baxter's passing. He was a good man. My thoughts and prayers go out to Tobie, Billy, Sissy, Maria, Jonanthan and the rest of all the family. Just because the distances are large doesn't mean the love is less.
09-27-2017
Rita and Murray Scher
We were so sad to hear of Baxter's passing. Please know that we are thinking of all of you. He was a wonderful guy and know that you will miss him terribly.
09-27-2017
Robert (Bob) fink
I worked with Baxter at Sears for many years. He was always a pleasure to see him at the start of the start of my day. He will be missed by everyone who knew him.
09-27-2017
Betty Geers
I am sending much love to the Bledsoe Family. I have many wonderful memories of the times we shared. Baxter was a good man, and a man of many talents. He will be long remembered. Love, Betty Geers
09-26-2017
Gina A. (Dugger) Davis
Baxter & I worked together at Sears when I was in college @ ETSU. He was a great supervisor & wonderful person to work with. He loved to laugh & joke--serious, but funny! I remember one year we had our work Christmas party at his house, & we turned it into a surprise birthday party. The cake we got had a johnny house on it; he laughed so hard!! He was a good man! Prayers for your family...I know I was blessed to know him. Another angel in heaven...he will keep them smiling!!
09-25-2017
ROSEMARY @ STEPHEN WATTS
STEPHEN AND I ARE SADDENED TO HEAR OF MR.BLEDSOE DEATH,STEPHEN JOINS ME IN EXTENDING CONDOLENCES TO THE FAMILY.
09-25-2017
Bufford and Debbie Hensley and girls
We spent many weekends over the past few years at Rock Creek Campground with Baxter, we will miss seeing him there. To his family please know you all are in our thoughts and prayers.
09-25-2017
Walter and Yvonne Buford
Tobie ... Walter and I were saddened in hearing of your loss. May you find peace during this time of loss and grief. Our prayers are with you and the family.
09-25-2017
Willa Davis Chambers family
Love and prayers for Tobie and family.
09-25-2017
Volena
Tobie & family, I'm so sorry to hear of Baxter's death. You all will be in our prayers.
09-24-2017
Jennifer Cowell Sherrod
Tobie and family I am so sorry for your loss. I remember Baxter from years ago when y'all were friends with my mama, Nelle D. Cowell. Mama is almost 97 so it will be impossible for her to comprehend your great loss. All I know is that she spoke of y'all often over these past years and thought very highly of the two of you. May God comfort you during this saddest of times.
09-24-2017
Dan & Ann Blevins
We were so sorry to hear this Tobie. May peace be with you.
09-24-2017
Don Harris
Tobie, I am so very sorry for your loss. You and the family are in my prayers.
09-24-2017
Mark H. Banks
Baxter was my very first boss. I remember his smile, sense of humor & most of all the way he treated all his people with dignity & respect. I'd have walked thru fire if he asked! He's one of two men I used as role models later in my life when I became a Manager.
09-24-2017
Wayde Brown
Sorry for your loss. Baxter and I work at Sears for a number of years. I will not be able to attend service, but you will be in my prayers
09-24-2017
Rebecca A. Lester
Tobie, I am sorry for your loss. I remember the warm, loving family you were from when I went to Unaka Avenue Baptist Church and lived on Holston Avenue in Johnson City.
09-24-2017
Judy Ramsey
Tobie I worked with Baxter at Sears. I remember how his face would light up when you came by. I'm praying God will surround you and your family with His love during this time.
09-24-2017
Bill Brown
My deepest sympathies. You will be in our thoughts and prayers.
09-24-2017
Deborah Montanti and Anne Mason
Tobie and family, we are so very sorry for your loss. Baxter was a wonderful, kind human being. He served his country and his community. He will be sorely missed, and his legacy will live on for generations. We are honored to have known him.
09-23-2017
Gina derrick
Mr. Baxter was a good man. I miss him. I am so sorry to his family and friends for their loss.
09-23-2017
Emma Constable-Creasy
Dear Tobie, my heart goes out to you in the loss of your beloved Baxter. Earl joins me in extending condolences to you and your family. May happy memories comfort you and give you peace.
09-23-2017
Gay and Jerry Whitt
Please accept our deepest sympathy in your loss. May your wonderful memories comfort you during this difficult time. Your family will be in our thoughts and prayers.
09-23-2017
Amelda F. stoermer
Tobie, I am so sorry for your loss. My heart and my love go out to you
09-23-2017
Carol (Clifford) Lynch
My Dear Tobie, I am so sorry to hear of your loss. I know nothing can be said to ease the pain, but I want you to know that my heart and my thoughts are with you and your family. I leave you with a quote from someone I have great respect for, Helen Keller, "What we have once enjoyed we can never lose... All that we love deeply becomes a part of us." With much love, Carol
09-23-2017
Donna Bailey
So sorry for your loss Tobie!!!
09-23-2017
Jo Anna Perry
Tobie I am so sorry for your loss. He was a good man an he had such a distinguished voice. Please know that you an your family are in my prayers. I pray that God will comfort you with good memories about your life together. Sincerely Jo Anna
09-23-2017
Carolyn Saylor
Bill & I are so sorry to hear of your loss. Our thoughts & prayers are with all of you but Bill, Sissy, & Maria you know you all will always have a special place in my heart.
09-23-2017
Wayne & Kathy McKee
So sorry to hear about Baxter. You and your family are in our thoughts and prayers.
09-23-2017
Charlotte Reed Dye
Tobie, I am so sorry that you have lost Baster. You and the family are in my thoughts and prayers. Would love to see you.
09-22-2017
Linda Miller
I am so sorry for your loss Tobie, you and family are in thoughts and prayers.
09-22-2017
Rebecca trotman
Rest In Peace dear friend. I worked with Baxter for many years at Sears. What a kind and talented mam. this gentle man will be missed by so many. (Remembering that Baxter always called me Lucy Ball)