09-09-2017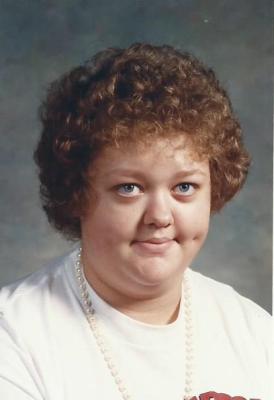 SERVICE SCHEDULE

Miss Melissa Ann Gass, 43, Greenville Tenn. passed away Saturday, Sept. 9, 2017 at the Johnson City Medical Center.
She finally earned her heavenly wing's. She was born in Greenville Tenn. To the late Grover and Brenda Morelock Gass Royston.
Melissa graduated from Daniel Boone High School. For the past ten years she has made her home at Comcare Inc. of Greenville. She loved her house-mates, especially Tammy, whom she considered a sister. Melissa loved her care-takers especially Cindy and Lola. At this time, her family wants to thank all the many special employees of Comcare Inc. for their love and care of Melissa. Melissa also loved Vanessa, Anita and Sandy in a special way. She loved her shopping trips, the trips to the park, eating out and especially singing in church with pastor Randy Davenport.
Those left to cherish her memory include her maternal grandmother, Mary Sifford, aunts and uncles, Bernice Cloyd, husband Larry, Lois Fletcher, Billy Sifford and Ray Morelock, cousin Angela Dickerson who she was very fond of, and was by her side until the very end, and many other cousins.
The family wants to thank Angela and the many doctors and nurses and everyone who was involved with her care during her hospitalization at JCMCH.
Funeral services for Melissa will be on Tuesday, September 12, 2017 at 4pm at Dillow-Taylor Funeral Home, with Pastor Randy Davenport officiating. The family will receive friends from 3 till 4 pm prior to the service. Interment services will follow in Fairview Cemetery.
Pallbearers will be family and friends.
In lieu of flowers memorial donations may be made to the American Cancer Society at 871 N. Weisgarber Rd. Knoxville, Tenn. 37909., or the Animal Shelter in Johnson City, Tenn.



Would you like to leave an eulogy or condolence for Melissa Ann Gass? If so, simply click HERE
EULOGIES & CONDOLENCES
09-12-2017
Sandy Turnmire
You will be missed. Go with God.
09-12-2017
Beth Barron Wolfe
Melissa and I were friends at Boone and we had Art class together for several years. She was such a sweet person and we always had fun in class. Sending prayers to her close friends and family.
09-11-2017
Vanessa Anderson
Melissa will be missed. She had an infectious smile and so loved to go to church to sing her songs and have the Pastor pray for her friends. Rest in Heaven my friend
09-11-2017
Anita Warren
Melissa was a very caring person and will be missed greatly. Her laugh and personality will be remembered with love. Melissa talked about Jesus and heaven often and prayed for others. We will meet again Melissa.
09-11-2017
Christy (Dunn)
So sorry to read this sad news. Melissa was one of my momma' s special kids from Boone she had Melissa for many many years! I was at Boone and always helped out in moms class and I was so crazy about sweet lil Melissa Gass! My precious momma will be greeting her with open arms and comforting love! Love and prayers to the family.
09-11-2017
Cindy Chapman
I was with her for 10 years. We had our up and downs. She was more family than an individual I took care of. Thank you for allowing her to be in my life. In hoping I made a difference I her life she made a bigger difference in mine. Love and already miss you Melissa. Love you Bernice, Mamaw Mary and Angela
Dillow-Taylor is a third generation family-owned business...established in 1929
---
Dillow-Taylor Funeral Home and Cremation Services
P.O. Box 98, Highway 11-E, Jonesborough, Tennessee 37659
Office: 423.753.3821 Fax: 423.753.7409

Hours of Operation:
Monday - Saturday: 8am - 5pm
Sunday: 12pm - 4pm
---