09-08-2017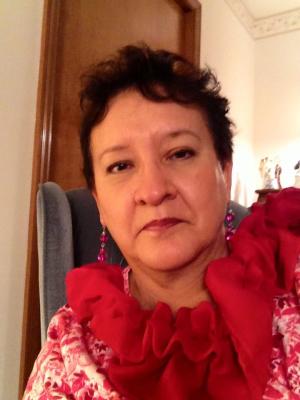 SERVICE SCHEDULE

Mrs. Juanita S. Blackburn, age 67, Jonesborough, passed away Friday, September 8, 2017 at Select Specialty Hospital in Bristol, TN.
Mrs. Blackburn was born in San Antonio, Texas and the daughter of the late Gilberto & Juanita Muniz Sanchez.
Survivors include her husband, Herschel Blackburn, Jonesborough; two sons, Pablo Rodriguez (Janie), Dallas, Texas and Adrian Rodriguez, Washington, DC; two grandchildren, Pablo Junior Rodriguez and Jianni Rodriguez, both of Dallas; great-granddaughter, Aviyah Lucia Rodriguez; one brother, Gilberto "Gebe" Sanchez, San Antonio; one sister, Elisa McDonald, San Antonio; and several nephews and nieces.
The family will receive friends from 5:00-7:00 pm Monday, September 11, 2017 at Dillow-Taylor Funeral Home.
Services will be conducted in San Antonio at a later date.



Would you like to leave an eulogy or condolence for Juanita S. Blackburn? If so, simply click HERE
EULOGIES & CONDOLENCES
09-14-2017
Mary Palmer
My thoughts and prayers go out to Jeanie's family. Jeanie has a very special place in my heart. She was a great spiritual teacher. I will miss her.
09-14-2017
Kitty Pierre
I was sorry to learn of Jeannie's passing. When I had open heart surgery, Jeannie came to Coastal NC to help take care of me. I will never forget her. Her kindness and compassion helped in my recovery. Jeannie was a wonderful and kind person. My sympathy to the Blackburn family.
09-12-2017
Amy Lewis
Herschel, I'm so sorry for your loss. You are in my thoughts and prayers. Amy Lewis
09-12-2017
Scott Coonrod
Prayers of sympathy, for strength, and of love for you and your family Herschel. I am sorry I never got to meet Juanita, but I know she had to be a special lady since you chose to spend your life with her.
09-10-2017
Renee Haugh
Crossing over is a change that comes when we leave the physical atmosphere of our earthly home. It is then, we enter the finer one of love and light. It is like the sun setting in one place and rising in another. Jeanie, I will never see a sunset or a sun rise with out thinking of you and whispering a prayer for you. We have been close friends for so long, laughing, giggling and sharing our thoughts. What a wonderful time to share those days with you. You are in my heart and soul, love you forever and a day, and for ever more. Rev.Renee From A Temple of Love and Light
09-09-2017
Bertha Moreno
My prayers are with the family during this time of loss may God bring the comfort and strength needed. Bertha Moreno, SATX
Dillow-Taylor is a third generation family-owned business...established in 1929
---
Dillow-Taylor Funeral Home and Cremation Services
P.O. Box 98, Highway 11-E, Jonesborough, Tennessee 37659
Office: 423.753.3821 Fax: 423.753.7409

Hours of Operation:
Monday - Saturday: 8am - 5pm
Sunday: 12pm - 4pm
---