08-30-2017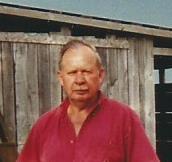 SERVICE SCHEDULE

Sergeant Eugene "Gene" Creasy, Jonesborough, passed away Wednesday, August 30, 2017 at his residence.
Mr. Creasy was born in Washington County a son of the late Ben and Blanche Cloyd Creasy.
Gene served his county in the U.S. Air Force as an Airborne Radio Operator on refueling tankers.
He retired form Eastman Chemical with over 30 years of service.
Gene was a long-distance runner winning many races and was an avid hunter and fisherman.
Left to cherish his memory are his sons David Creasy and Danny Creasy; daughter Debra Dirickson; brother, Earl Creasy; sister, Virginia Jones; and grandchildren Allan Creasy, David Creasy and Alicia Adams.
A graveside service for Mr. Creasy will be held Sunday, September 3, 2017, 2:00 PM at McCarty Cemetery with Pastor Billy Rhines officiating.
Pallbearers will be Stephen Creasy, Michael Creasy, David Creasy, Jr. and Stephen Roberts.
Those wishing to go in procession to the cemetery are requested to meet at Dillow-Taylor Funeral Home by 1:30 PM.



Would you like to leave an eulogy or condolence for Eugene Creasy? If so, simply click HERE
EULOGIES & CONDOLENCES
09-05-2017
Liz VanDelinder
Earl and Connie, as you know at a time like this, words are just words. Please know you are in my thoughts and prayers.
Dillow-Taylor is a third generation family-owned business...established in 1929
---
Dillow-Taylor Funeral Home and Cremation Services
P.O. Box 98, Highway 11-E, Jonesborough, Tennessee 37659
Office: 423.753.3821 Fax: 423.753.7409

Hours of Operation:
Monday - Saturday: 8am - 5pm
Sunday: 12pm - 4pm
---

| | | | | |

Copyright ©2019 Dillow-Taylor Funeral Home and Cremation Services. All Rights Reserved.
Programming & Web Development by .