08-02-2017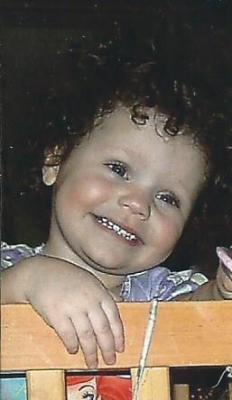 SERVICE SCHEDULE

Elizabeth Lynn Privette (Boo-Boo), age 7, Jonesborough, passed away at her home on August 2, 2017.
She was born on April 9, 2010 in Johnson City at Niswonger Children's Hospital.
Elizabeth was the beloved daughter of Angela Privette and Matthew Dearstone. She is survived by her maternal mother, Jessica Privette; grandmother, Wanda Privette; brothers Nicholas Privette and Dylan Privette; grandfather, Vestal Privette and Linda Ayers; great aunt, Lena May; Aunt Janice, Uncle Bobby, Uncle Eddie; and several other aunts and cousins.
Boo-Boo was loved by everyone and was a precious angel. She will be loved and missed by everyone.
The family will have a private service on Saturday, August 5, 2017.



Would you like to leave an eulogy or condolence for Elizabeth Lynn "Boo-Boo" Privette? If so, simply click HERE
EULOGIES & CONDOLENCES
08-05-2017
Pam Coggins Deakins
So sorry for ur loss:( I kno Crystal..... She was absolutely a living Doll !!!!!!!
08-05-2017
Linda bracken
I'm so sorry for your loss praying for your family ,she was a Beautiful girl
Dillow-Taylor is a third generation family-owned business...established in 1929
---
Dillow-Taylor Funeral Home and Cremation Services
P.O. Box 98, Highway 11-E, Jonesborough, Tennessee 37659
Office: 423.753.3821 Fax: 423.753.7409

Hours of Operation:
Monday - Saturday: 8am - 5pm
Sunday: 12pm - 4pm
---

| | | | | |

Copyright ©2019 Dillow-Taylor Funeral Home and Cremation Services. All Rights Reserved.
Programming & Web Development by .