07-31-2017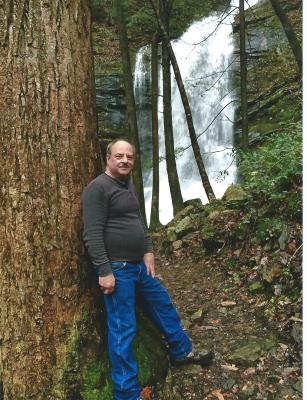 SERVICE SCHEDULE

Mr. Michael "Joe" Joseph Clay, age 52, Jonesborough, passed away Monday, July 31, 2017 at Franklin Woods Community Hospital.
Mr. Clay was born in Washington County and son of the late Robert Lee & Ann Camille Woodruff Clay. He was also preceded in death by his grandparents, Ollie & Louise Woodruff and Henry & Nell Clay and several aunts and uncles.
He was of the Christian faith. He was well liked and loved by all who knew him. He enjoyed hiking, taking pictures of wildlife and nature and collected Wizard of Oz Memorabilia. He was also a Vols and NASCAR fan.
Mr. Clay worked for Perma R Products for 30 years.
Survivors include four sisters and brothers-in-law, Donna & Gerald Laws, Limestone, Debbie & Terry Denton, Denise Clay and Abby & Mark Chamber, all of Jonesborough; three brothers and sister-in-law, James "P-nut" Clay, Gray, Calvin & Cindy Clay, Johnson City and Steve Clay, Limestone; nieces and nephews, Wyndi Laws, Telford, Chris Clay (Kelly), Jonesborough, Wesley Laws (Lisa), Jonesborough, Aaron Clay, Johnson City, J.D. Clay, Gray, Mikayla Chambers, Jonesborough, Casey Baker (Samantha), Gray, and Miranda Broyles, Jonesborough; great-nieces & nephews, Ava Legursky, Hudson Legursky, Tia Laws, Braylen Baker, Ella Baker and Sonny Banjo Clay; special neighbors, Sarah & Christy; and several cousins, aunts and special friends.
The family will receive friends from 6:00-8:00 pm Wednesday, August 2, 2017 at Dillow-Taylor Funeral Home.
Graveside services will be conducted 11:00 am Thursday, August 3, 2017 at New Victory Methodist Church Cemetery with Pastor Jim Cambron and Pastor Jeremy Dykes officiating.
Pallbearers will be brothers and nephews.








Would you like to leave an eulogy or condolence for Michael Clay? If so, simply click HERE
EULOGIES & CONDOLENCES
10-05-2018
Abby
To night I lay here thinking of you as I do almost every nigh ! I miss you more than I could ever put into words! This is the hardest thing I've ever had to try and get over! So much has happened since you went to be with the Lord. I feel your presence here everyday. I know you with God , Mom, Dad , Mike, sparky, and Ruth. But it doesn't make me feel better. I love and miss you with all my Heart and soul ❤️
09-17-2017
Abby
JOE, It's been almost two months since you've been gone. I'm still in shock the hurt is even worse than the day we laid you to rest! There isn't a night I don't think I've cried just knowing you want be coming back. This is the hardest thing I've ever been though.... I just want you home but I know your in a better place and no more pain I know sometimes your her with us at home because I can feel you smell you. I know you wouldn't want me to be in so much pain over losing you.But God only knows how very hard it is for me. Even before you got sick the time you, Denise and I spent together put an impact on my life some how for some reason.. Maybe God knew it wouldn't be long! I so wish you that you could have got what you only wanted when you got sick! Just for the ppl closest to you just to take time to be there to talk with and to love. The talks we had meant a lot to me and I'll never forget you just wanted me to be happy . I know your not on here but some how I feel you are and I talk to you everyday. I miss you my baby brother more than I could ever put in to words but I love you beyond words... I hope your with me everyday till we see each other again !
08-07-2017
Jaime Tester
Joe, I still cannot believe you are gone; Heaven gained a special angel& I know we should be comforted that you're no longer in pain, but we are still sad& heartbroken that you're no longer on earth with us. No matter what, you always saw the good in people& the humor in every situation. One of the last times I spoke with you after your first surgery you were joking& laughing like it was no big deal. That's just who you were& you will be dearly missed. Love you always, "Uncle Joe"! Sonny
08-06-2017
ABBY
Is I sit at home to night I think of the last 3 months I got to spend with you. I wouldn't change that for anything even if you sometimes it was time for me to go home. I had so much more I wanted to say to you. I still can't believe your really gone Imso numb and lost you took a pices of my heart when you left! It will never be the same here on earth without you. I was amazed how many people came to pay there respect to you. I hope you only knew how much you were loved by so many people. It was a honor to see grown men cry over you and tell us in some way you had touched their life one way or another. I miss you more than you'll ever know. I'll never understand why! I love you and miss you ever minute of the day. Rest in peace my little brother.....you'll never be forgotten
08-06-2017
Chris Clay
Joe it has been almost a week and I am still in shock I think, I stood at your grave today and still can't believe you are gone. My heart is broken as you were so much more than an uncle to me, you will always be my brother and my best friend. I know they say everything happens for a reason but I question that at times like this as I don't understand why you had to suffer with cancer and leave us so soon, we had so many more good times left. I know I shouldn't but I feel angry that you were taken so soon and that doctors were not completely honest with you. Letting you go is going to be one of the hardest things I have ever done in life and I am honestly not sure how to even start that process yet, I would give anything for another day with you just to tell you how much I love you and how much you have meant to my life. It will never be the same and you will never be forgotten buddy I can promise you that. It was hard seeing you in so much pain the last few weeks, especially the Thursday night I spent with you in the hospital before you passed but I will never forget the things we said that night and I will always be honored that I was able to be with you, help you, and comfort you as much as I could. Our trips to Clarks Creek will always be some of the best memories of my life, I will take a trip to our waterfall soon with Ole Girl and you will always be right there with me taking pictures and making us laugh. Rest In Peace and I will see you again someday, we will have so much to catch up on. I love you dearly Joe, your nephew, brother, and best friend Chris...
08-04-2017
Dawn aka Squidward, Punkinsquid
I miss our nightly calls already. I feel like I've got so much to tell you. But I can still talk to you any time I want to. Thank you for loving me when I thought I wasn't loveable. Thank you for being my best friend. I'll never forget all the times me, you & Chris went to Clarks Creek just to clear our heads & hang out. I LOVE YOU SO MUCH! I MISS YOU! My heart is broken! Please watch over all of us & guide us down the right paths. I Love You!!!!
08-04-2017
Abby <3
Joe, As I sit here tonight with my heart still numen. From the shock that your really gone! I don't think this nightmare will ever end. I'm mad, Confused and I fell hate in my heart. Because the Doctors here gave you false hope! Who does that to someone with cancer? I know you would tell me they'll be no crying up in here! But that seems like all I do. When God took you home he took a piece of my heart with you. I hope you know how many peoples life you have touched just by being you! This world will never be the same without you here! I know my life want be. I just don't understand why you! But I know I should feel comfort in knowing your in heaven and one day I'll see you again. but right now I feel nothing. I want let you down I promise you I'll do what you ask me to do. I only wish to God you could have got what you wanted most of all in the end. Just know I love you, I miss you and I wish you were here just for a few more days that's all I ask. BUT I HAVE TO LET YOU GO FOR GOD CALLED YOU HOME! I love you Jew with what heart I have left. The chain has been broken and it cant be fixed. Sleep with the angels now with no more pain. I love you your baby sister Abby <3
08-02-2017
Donna Hall Cox and Robert Cox and family
I'm so sorry to hear this, prayers for the family. I only new Peanut, Donna and Debbie. God bless you through this time.
08-02-2017
Tonya Ball Riddle
So sorry for your loss.Remembering each one of you in my prayers.May God Bless all of you!
08-02-2017
Sarah and christy
We will always remember all the good times we have together, the funny Joe the kindhearted Joe the loving Joe always there for us anytime we needed him. Always calling to check if we needed anything. If he thought anybody needed something Joe would be. The first to offer help. Christy says Joe will still be here with her this year when tenn. Vols plays their games and especially when they beat Alabama LOL. We will miss you JOE but we wil always have you in our hearts.Heaven gained a special angel the Night you got there Tell everyone in HEAVEN we love them. We will love you forever.
08-02-2017
Denise
Joe, I just wish you could somehow know how many people came by to pay their respects and to honor your life tonight. You had such a loving and caring soul and you touched more lives than you could imagine. I know I have to let you go but it is one of the hardest things I have ever had to do in my life. I would like to just have one more conversation with you so I could let you know how much you mean to me.I wish there was more that I could have done for you. You are our baby brother and life will never be the same without you,but I take comfort in knowing that you are with the angels in heaven and there is no more pain. I love you and wish I could thank you for taking care of me and always looking out for me.May you rest in peace,I will see you again someday,You will always be in my heart and I will love you forever. Your Sister Denise
08-01-2017
Sarah and christy
Well just can't believe that this is really happening,we will never forget you. You were the most loving,kind,sweetest,and so nice to anyone who needed you,never turned anyone down that needed help. Christy says she will miss watching VOLS GAMES with you but she knows you will still be with her right by her side at every game helping cheer them to win, also you and her have your special handshake. JOE me and mom will never forget you. We will miss your funny jokes and loving HEART we wil. Still wave across the street every day as we will always keep you in our hearts and mind. We are praying that GOD give the rest of the family peace, love and comfort as they go thru this sad time...WE LOVE YOU ALL VERY MUCH.
08-01-2017
Mike Wilson
Payers to family. Sorry for your loss.
08-01-2017
Bill and Gail Rambo
So sorry to hear about Joe. Its for sure he had the kindest mom ever. Also Easy and Ollie will always be remembered as my special aunt and uncle.xo
08-01-2017
Todd and Linda Walters
We were so very sorry to hear about the passing of Joe. Please know we are praying for you all and are thinking of you as well.
08-01-2017
Matoka Sproles
Dear Precious Abby, My heart hurts for you. I am so sorry and I pray God will provide you and your family with the strength needed to complete this difficult journey.. May your sadness be filled with pleasant memories of your brother until you meet again on those streets of gold. Love your friend, Matoka
08-01-2017
Ricky Oncale
To my dear friend Denise and her family. I wanted to share this poem with you all. God saw Joe was getting tired, And a cure was not to be; So He put His arms around Joe, And whispered, "come with me," With tearful eyes we watched him Suffer, and saw Joe fade away; Although we loved him dearly, We could not make him stay. A golden heart stopped beating, Hard working hands to rest; God broke your hearts to prove to you, He only takes the BEST!!! I pray this poem adds some comfort to your grieving hearts. God Bless, Ricky
08-01-2017
Bill Kees
Joe was a special person who will be missed. It is a comfort to know that Joe has entered Heaven and is no longer in any pain. Joe was a true pleasure to work with, but more importantly, he was my friend. Rocky Top is sad today, but Heaven is rejoicing over Joe's arrival.
08-01-2017
micheal inabinett
so sorry for your loss!!! joe was a great guy& friend, he will be missed!! prayers for the clay family!!!! love to you all!!!!
08-01-2017
Andra
Abby,Chris and Mark, I am so sorry for your loss. You and your families are in our prayers. Joe will definitely be missed. Please let us know if you need anything. Sincerely, Andra and Keith Kyker
08-01-2017
Scherry turbyfill
Sorry for ur loss spending prayers
08-01-2017
Don Percell
Sorry Abby and Mark and Family Enjoyed Having Joe For a Friend and times we spent together he will be missed sorry again for your lost
08-01-2017
Angela Cooter
I will miss this man from the bottom of my heart. Joe is the man who introduced me to my husband of close to 17 yrs. I just heard of his passing and I cannot help but be devastated. Besides him helping me introducing to my husband, Joe was Such a great friend. Me and Gary will miss him so much. Joe, thank you so much for bringing me and Gary together. I will never forget the Firat time that i met you. I was working at the Roadrunner across from David Crockett High School and you came in and picked up a banana and acted like it was a phone. I thought you was the funniest person ever! I am so sorry that your life was cut way too short. Me and Gary will ALWAYS love you and Joe, you will absolutely NEVER be forgotten. Ever! We miss you already
07-31-2017
Yvonne Shelton
Sending Prayers and Love in your time of this Loss !! So , Sorry !! MAY GOD HEAL AND BLESS THIS FAMILY !!
07-31-2017
Pat Percell
So sorry for your loss. I thought a lot of Joe praying for the family in the days ahead that he will give you peace and strength . Knowing one day you will see him again.
07-31-2017
Carl Miller
Prayers for the Clay family. RIP ole buddy!
07-31-2017
Dawn aka Squidward, Punkinsquid
Joe......I Love you & miss you already. Chris, our 3rd Musketeer is gone.
07-31-2017
Bernia Barnett
So sorry for your loss. Your family is in my prayers.