07-23-2017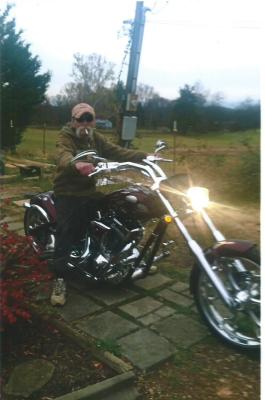 SERVICE SCHEDULE

Danny D, James "Squeaky" Jonesborough, TN went to his heavenly home unexpectedly
Sunday July 23rd, 2017. He was born August 29th, 1963 to O.L. James and Jenny Kalbfleisch.

He was born in Cocke County, TN but lived the majority of his life in Johnson City and
Jonesborough.

Danny was preceded in death by his son Benjamin Hughes, 2 brothers Jackie James and
Ronnie James and his father O.L. James.

Danny leaves behind his wife, Julie Hughes of the home; sons Caleb Hughes, Jonesborough
and Alex Hughes and fiancé Taylor Kurtzweil, Greenville; his mother Jenny Kalbfleisch, Johnson City; two sisters Darlene Gates and husband Bob, Houston, Texas, Peggy James and husband Derry of Cocke County TN; four brothers Dennis James and Donnie James, Johnson City, Gary James and Bobby James, Cocke County; very special mother-in-law, Phyllis Hughes, Jonesborough; sister-in-law, Tracy Hughes and companion, Tony Smith, Johnson City; very special friend, Tabra Ramsey, Swansea, S.C., and multiple nieces and nephews.

Danny owned and operated multiple businesses in Johnson City during his life. He also worked
as an electrician, which allowed him to travel around the country extensively. His favorite way
to earn a living was playing poker.

Later in his life Danny was able to stay home and enjoy raising his sons. He often said they had
saved his life and that Caleb and Alex each had a side of his personality. Any of you that have
met them know which son got which side.

Danny was not affiliated with any particular church or sect of religion. He was however a self
proclaimed "Jesus freak". He believed God had placed him in many situations and many hard
places so that he could bring God to many people that otherwise would not have known
the power of God's love and understanding. He read his bible and talked to Jesus every day.
The entire family hopes that our husband father son brother friend has finally obtained the
peace that he could never quite reach in this world.

His wife, Julie would like to especially thank Rhonda Saylor, J.D. Harris, The Johnson
family (Tammy and Dewayne) and The Morrell Family (Scott and Debi).
The family will receive friends from 6:00-8:00 pm Thursday, July 27, 2017 at Dillow-Taylor Funeral Home.







Would you like to leave an eulogy or condolence for Danny D. James? If so, simply click HERE
EULOGIES & CONDOLENCES
11-02-2017
Debbie Higgins
Today is Nov. 2 and i just only recently learned of Sqeaky s passing.Julie I remember from 30 yrs ago as i managed Downtown Apts. Squeaky playing his guitar for you in the shop on Main st.He was such a wonderful person and my heart is saddened to learn of his passing Julie.May God Be with you and your family during this tragic time.I know how very much he loved you Julie and Squeakys spirit i believe will be with you forever.He s in Heaven now with jackie and his other brother and your precious son Benjamin.I knew Sqeaky, darlene and Jackie most of my life and My heart breaks for you Julie and for your entire family.As i listened to the video tribute i instantly imagined Squeaky playing this song probably to you Julie.Although i have nt seen squeaky for many yrs.He was truly one of a kind and God gained a new Angel because squeaky would give anyone the shirt off his back if they needed it.May God be with you Julie and your entire family.Sincerely from.Mrs.Debbie Roberts Higgins.
07-31-2017
Bob Gates
Rest In Peace ✌️ You will never be forgotten
07-27-2017
Jerry williams
Just let you know my thoughts and prayers are with your family sorry to hear about squeaky I told Opie today he said he was sorry to hear about Danny Lord bless you all
Dillow-Taylor is a third generation family-owned business...established in 1929
---
Dillow-Taylor Funeral Home and Cremation Services
P.O. Box 98, Highway 11-E, Jonesborough, Tennessee 37659
Office: 423.753.3821 Fax: 423.753.7409

Hours of Operation:
Monday - Saturday: 8am - 5pm
Sunday: 12pm - 4pm
---